Long before Adam Rhoades became a successful Top Alcohol tuner he thought he would spend his career in drag racing as a driver. His father, Walt, made a name for himself as a Top Fuel and Top Alcohol Dragster driver, so why wouldn't he follow in his footsteps? While Adam did spend a few years behind the wheel, he's spent a majority of his career turning wrenches and reading Racepak graphs on just about anything that's supercharged, runs on nitromethane or is a combination of the two.
"When my grandfather was still alive, he told me I'd never be successful in drag racing unless I was a driver," Rhoades remembers. "So I always thought I had to be a driver. And to make a long story short, I drove for a couple years. I was marginal, at best. I was actually more into seeing how they worked or how fast they could go; that intrigued me more than driving. That's weird, I guess, to hear people say, but it's different strokes for different folks. So I didn't pursue my driving career for very long."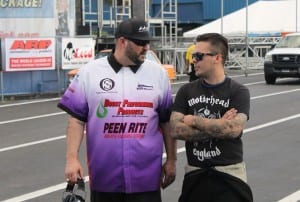 Rhoades spent many of his early years joining his father at the races. He then went out on his own to field a blown alcohol front-engine dragster with Brendan Murry and Nick Arias III. With Rhoades tuning and Arias behind the wheel, the trio qualified number one on most outings but didn't see much success in eliminations. The group sold their car and in 1999 Rhoades received an offer from nitro tuner Lance Larsen to work on Dean Skuza's Matco Tools Funny Car team. He spent the next six years as a crew member bouncing around between fuel teams, working for drivers and crew chiefs like Cruz Pedregon, Ed "The Ace" McCulloch, the late Darrell Russell and his team owner, Joe Amato. Rhoades even tried the IndyCar scene for a season, handling the shocks for the Chip Ganassi Racing entries of Scott Dixon and Darren Manning.
However, the grueling road life of a professional crew member wasn't working out for the father of a young son, Kace, who was born in 2003. After the 2005 season Rhoades got a full-time job as a forklift operator at an Indianapolis warehouse before getting the itch to go racing again. He found a better balance in the alcohol ranks, where he won the 2006 Division 2 championship as the clutch guy on Jim Rizzoli's Aaron Olivarez-driven A/Fuel dragster. It was at his next gig, working on Brooks Brown's A/Fuel dragster in 2009, where Rhoades' '66 Cadillac opened up a conversation with Chris Demke and the fun-loving Maddern Racing team.
"We were pitted about two trailers down from Demke. Kevin Watson, the car chief now, he walked down with Chris and they're like, 'Hey, who drives this Cadillac?' And I'm like, 'Well, I do.' And so we get to talking and, I don't know, 20 minutes into this conversation and Michael (Demke)—'Hamburger Mike'—walks around and goes, 'I'll be right back, I'm going to go grab the cooler.' Well, we were drinking beer already at our pit; we weren't running that day. Next thing you know, we all sat around and talked for a couple hours and the next weekend I was starting my career with Chris Demke," Rhoades recalls.
Seven years have passed since that encounter. Rhoades, who handles the clutch set-up and shares tuning duties with Demke, Watson, and team owner Jerry Maddern, points out that in that time, the team has won the 2014 TA/D national championship and a ton of races.
"The only feather in my cap is us as a team, with Chris Demke, we've never finished lower than second in the world since I've been with the team. We have 34 wins together and hopefully will knock out 10 more next year and put that number one back on the wing."
He mentions the feather in his cap, but it's usually what's on his feet that captures the attention of fans, crew members and announcers. Rhoades picked up a couple pairs of long socks with crazy patterns and bright colors to wear at the 2010 Northwest Nationals. He's rarely been spotted without a pair of funky socks since.
"Within that race, people were asking me if I would wear these socks or those socks and I'm like, 'Hey man, if you'll buy them I'll wear whatever. I don't care.' And honestly since 2010, I have not had to buy a pair of socks that you've seen at the race tracks—not one pair! People at the track buy them and bring them to me, from the Safety Safari all the way up to (NHRA chief starter) Mark Lyle. Fans buy them. I'll come home after a race or at the end of the year and there will be packages and packages of socks waiting for me."
Rhoades does what he wants and says what's on his mind regardless of what others think. That becomes apparent when he discusses his thoughts on the parity situation in Top Alcohol Dragster, between the blown alcohol cars that have won the last four national championships and the nitro-injected A/Fuel cars that won the 10 before that.
"I was talking with (2015 TA/D national champion) Joey Severance at the World Finals and he's on whatever committee that works with NHRA to represent the class. He had the qualifying sheets from all of the races leading up to Vegas and it really woke me up to see how far behind the blown cars were in 2015. On average, the A/Fuel cars were half a tenth ahead. Two years ago we were within a couple hundredths of each other at any track. Everything was split almost in half; race wins, regional championships and the best ETs of the year."
Going into 2014, the NHRA introduced new rules for the A/Fuelers, allowing another percentage of nitromethane and 10 degrees taken off of the minimum fuel temperature. Rhoades feels those rules were unnecessary even though blown cars won the last two national titles.
"You've got to figure there are five A/Fuel cars to every blown car. Honestly, whether you print this or not, there's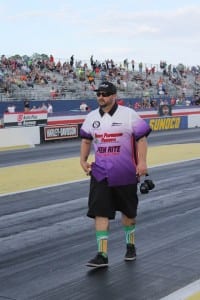 probably five blown cars across the country that are worth two cents. Not to take away from everyone else, because they've won races and they've beaten us, too. If you want to call a spade a spade there are probably five good blown alcohol cars across the country. There are good A/Fuel cars everywhere now. We're just outnumbered. We're surrounded by A/Fuel cars all the time. Everyone can say, 'Well, who won the championship again?' I get it. It wasn't us. It was a blower car and I'm happy it was a blower car, but an A/Fuel car is just as capable. They're going to do it and they're going to do it soon. Now that the A/Fuel car guys have had two full seasons with the rule changes you can see how well they run just about everywhere they go now, whether it's heat or killer conditions. They definitely have found their groove.
"The one thing I will say is the blower cars are probably more consistent than A/Fuel cars. I'm going to blame the guy or gal tuning the knobs for that and not the rule changes. We (the blower guys) still have to make our cars just as consistent, if not more consistent, which is why I think blown cars are winning the world championship the last few years."
The parity debate within the class has actually served as a motivator, insists Rhoades, who also consults on multiple Top Alcohol Funny Car teams.
"Knowing what the A/Fuel cars are capable of elapsed time-wise, you have to push yourself and get outside of your comfort zone and that's been good. It's made us work harder. After Dallas we really didn't have any control over our championship. We just tested stuff. From the manifold down we tried different things; any little wazoo thing we could try and we learned a lot. Unfortunately 90 percent of what we learned was what not to do. We're going to take 10 percent of that and apply it to 2016 and hopefully we can hit the ground running at Pomona with what we've learned. We'll need any little thing to help us out."
Away from his bold demeanor at the track, Rhoades is a family man who spends his time at home helping his parents. His mother, Diane, is currently fighting breast cancer and his father has an inoperable brain tumor. Adam says he receives a lot of inspiration from them and his now-12-year-old son, who rides along to races whenever his school schedule allows.
"Kace is starting to get interested in the technical side of it," adds the proud dad. "Every time I bring the race car home or he's at a race he wants to learn how to work on something. He's starting to show a lot of aspiration to do stuff and he's my biggest fan. It's great being able to take my kid to the races. I really enjoy our road trips together across the country."
With the 2016 season-opening Winternationals on the way, Rhoades' current plan is to start the season sporting the Peen Rite team shirt. He did, however, hint at a new two-car union between current TA/FC drivers that might transfer his focus to floppers down the line. The wheelbase might be different, and it won't be Demke behind the wheel of one of those alcohol Funny Cars, but one thing will be the same; Rhoades will be the one with the craziest socks.
UPDATE: Just a few weeks after this story was published, Rhoades announced on WFO Radio that he will leave Maddern Racing after the Winternationals to tune for Top Alcohol Funny Car driver Bryan Brown in a two-car alliance with Doug Gordon.
This story originally appeared in Drag Illustrated Issue No. 105, the Champions Issue, in November of 2015.