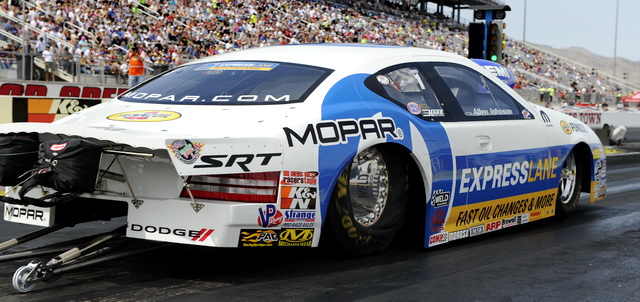 Allen Johnson (above) raced to the Pro Stock victory Apr. 7, at the SummitRacing.com NHRA Nationals and claimed more than $100,000 during the weekend at The Strip at Las Vegas Motor Speedway. Johnson, who won the $50,000 K&N Horsepower Challenge all-star event on Saturday (Apr. 6), pocketed $25,000 for winning today's race and the $25,000 NHRA Sweep Bonus for winning both events. He is the seventh Pro Stock driver to sweep both events in the 29-year history of the K&N Horsepower Challenge.
Tony Schumacher (Top Fuel) and Cruz Pedregon (Funny Car) also were winners at the NHRA Mello Yello Drag Racing Series event.
Johnson cruised to his second consecutive win of the season and second straight at this event with a final round performance of 6.713 seconds at 206.76 mph in his Mopar's Express Lane Fast Oil Changes Dodge Avenger. His final round opponent Erica Enders-Stevens shut her GK Motorsports Chevy Camaro off at mid-track.
In earlier rounds, Johnson defeated JR Carr, Vincent Nobile and Jeg Coughlin. The Tennessee driver moved into the points lead for the first time this season, jumping ahead of the event's No. 1 qualifier, Mike Edwards, by four points.
"It seems like our car really likes altitude tracks, and hats off to my guys for pulling off the sweep today," said defending world champion Johnson of his 18th career victory. "Erica is a great driver and has come into her own and she makes me rise to the occasion. We're good friends, but the friendship kind of goes on hold when the helmet goes on. It's awesome to win both races. It takes a lot of money to run these cars so anytime you can infuse a little extra money into the budget it is a good thing."
Schumacher claimed his second win of the season and 71st of his career in Top Fuel as he drove to his seventh win at this track with a performance of 3.851 at 323.27 in his U.S. Army dragster, finishing just in front of runner-up Antron Brown's Matco Tools dragster, which posted a 3.956 at 299.60.
"I don't know that we had the best car this weekend," Schumacher said. "We were good, but there were faster cars than us. Sometimes you have to go consistent and sometimes you have to get down the racetrack. That's what we did this weekend."
Schumacher, who moved into the series points lead with the victory, says he was thrilled to get a win on his crew chief Mike Green's birthday so he could put the spotlight on his crew for their great efforts during the weekend.
"I didn't drive amazing today," Schumacher said. "I didn't have stellar lights like Antron and Spencer, but you try so hard to not be the weak link. It wasn't like I did anything supernatural or different to win this race. Every now and then the driver does something great to win the race, but the majority of the time it is the hard work and dedication of the crew. Those guys work so hard and I don't think most fans understand just how hard they do work. I am happy for all my guys."
In Funny Car, Pedregon powered past Courtney Force for his first victory of the season and the 31st of his career. Pedregon's Snap-on Tools Toyota Camry finished in 4.173 at 298.40, while Force's Traxxas Ford Mustang lost traction near mid-track and trailed with a 5.244 at 175.59.
There was a tense moment in the final round just after Pedregon's burnout when his car wouldn't go into reverse. His crew members pushed the car back to the starting line for the run.
"I've won a lot of races a lot of different ways, but today the consistency of this car impressed me and the quick turnaround time by my team made a big difference," Pedregon said. "It was pretty challenging for me. Great credit goes to my team for pushing my car back and getting me into position for the run. I wouldn't have wanted to hold Courtney up. She was a great opponent and she had me nervous. She kept us honest. We were pressing and trying to run a 4.10 or 4.12 in that round."
Pedregon said he wasn't sure what the problem was with the car after the final round burnout.
"I would expect the clutch clearances were a little too tight," he said. "We have to work on those things as a team because of the quick turnaround time there are little things we need to clean up in our pit area and we will, but I don't want to take anything away from the team. I am proud of what we did. This is an impressive win for us. It means a lot."
Pedregon outran Gary Densham, Johnny Gray and Alexis DeJoria to advance to the final round. Like Schumacher, Pedregon says his team went to a conservative tune-up in the warm desert southwest weather conditions.
"We had to pull back a little bit," Pedregon said. "We just raced the track and we were smart. You live and learn. Even though I am in love with the big numbers and setting records and low E.T., sometimes you have to take what you can get and race within yourself and that's what we did today."
With the runner-up finish Force moved back into the points lead and she is 14 ahead of Gray. Pedregon moves to third overall, 17 back of the leader.
The NHRA Mello Yello Drag Racing Series continues with the Dollar General NHRA Four-Wide Nationals fueled by Full Throttle, April 19-21 at zMAX Dragway near Charlotte, N.C.
LAS VEGAS — Final round-by-round results from the 14th annual SummitRacing.com NHRA Nationals at The Strip at Las Vegas Motor Speedway, the fourth of 24 events in the NHRA Mello Yello Drag Racing Series:
TOP FUEL
ROUND ONE — Brittany Force, 3.846, 324.67 def. Doug Kalitta, 5.595, 146.29; Terry McMillen, 5.249, 131.41 def. Khalid alBalooshi, 6.412, 160.00; Clay Millican, 3.814, 325.37 def. Steve Faria, 4.706, 167.24; Antron Brown, 3.811, 321.81 def. Brandon Bernstein, 5.205, 134.56; Tony Schumacher, 3.853, 321.88 def. Troy Buff, 6.442, 90.81; David Grubnic, 3.887, 315.12 def. Shawn Langdon, 4.294, 245.72; Spencer Massey, 3.834, 321.88 def. Bob Vandergriff, 3.854, 323.74; Morgan Lucas, 4.410, 204.39 def. Steve Torrence, foul; QUARTERFINALS — Schumacher, 3.851, 322.50 def. Force, 9.210, 65.96; Massey, 4.609, 246.17 def. Millican, 6.475, 103.44; McMillen, 3.925, 318.02 def. Grubnic, 7.057, 91.35; Brown, 4.476, 245.49 def. Lucas, 4.613, 232.07; SEMIFINALS — Brown, 3.878, 321.27 def. McMillen, 3.898, 323.58; Schumacher, 3.965, 295.40 def. Massey, 4.672, 180.50; FINAL — Schumacher, 3.851, 323.27 def. Brown, 3.956, 299.60.
FUNNY CAR
ROUND ONE — Matt Hagan, Dodge Charger, 4.246, 292.27 def. Bob Tasca III, Ford Mustang, 7.632, 82.66; Jack Beckman, Charger, 4.189, 286.98 def. Tony Pedregon, Toyota Camry, 4.246, 267.85; Robert Hight, Mustang, 4.216, 297.94 def. Jeff Arend, Charger, 4.225, 300.80; Courtney Force, Mustang, 4.109, 314.46 def. Tim Wilkerson, Mustang, 6.554, 100.37; Johnny Gray, Charger, 4.163, 298.87 def. Chad Head, Toyota Solara, 8.405, 80.43; Cruz Pedregon, Camry, 4.158, 302.75 def. Gary Densham, Charger, 4.185, 296.63; Del Worsham, Camry, 4.149, 302.82 def. Ron Capps, Charger, 4.203, 301.13; Alexis DeJoria, Camry, 4.181, 296.76 def. John Force, Mustang, 6.114, 113.39; QUARTERFINALS — Hagan, 4.204, 295.14 def. Beckman, 7.250, 98.56; C. Pedregon, 4.163, 307.02 def. Gray, 4.451, 228.42; C. Force, 4.153, 312.06 def. Worsham, 4.198, 301.13; DeJoria, 4.141, 300.93 def. Hight, 4.157, 309.91; SEMIFINALS — C. Force, 4.157, 313.58 def. Hagan, 8.950, 77.05; C. Pedregon, 4.180, 304.94 def. DeJoria, 9.708, 86.76; FINAL — C. Pedregon, 4.173, 298.40 def. C. Force, 5.244, 175.59.
PRO STOCK
ROUND ONE — Jason Line, Chevy Camaro, 6.680, 207.69 def. Greg Anderson, Camaro, 6.755, 203.80; Vincent Nobile, Dodge Avenger, 6.712, 206.48 def. Shane Gray, Camaro, 11.617, 75.77; Rodger Brogdon, Camaro, 6.706, 205.41 def. V. Gaines, Avenger, 6.668, 207.56; Erica Enders-Stevens, Camaro, 6.696, 206.86 def. Greg Stanfield, Camaro, 6.719, 204.98; Rickie Jones, Camaro, 6.712, 206.45 def. Deric Kramer, Avenger, 6.722, 205.57; Mike Edwards, Camaro, 6.672, 207.78 def. Larry Morgan, Ford Mustang, 13.259, 64.47; Allen Johnson, Avenger, 6.671, 207.34 def. JR Carr, Mustang, broke; Jeg Coughlin, Avenger, 6.679, 207.40 def. Matt Hartford, Avenger, 6.782, 204.63; QUARTERFINALS — Enders-Stevens, 13.201, 64.63 def. Jones, foul; Coughlin, 6.694, 206.83 def. Brogdon, 12.603, 38.95; Edwards, 6.675, 207.15 def. Line, 6.692, 207.27; A. Johnson, 6.668, 206.92 def. Nobile, 6.708, 206.70; SEMIFINALS — Enders-Stevens, 6.785, 206.04 def. Edwards, 15.770, 48.55; A. Johnson, 6.716, 207.18 def. Coughlin, 7.295, 174.03; FINAL — A. Johnson, 6.713, 206.76 def. Enders-Stevens, 10.200, 89.41.
LAS VEGAS — Sunday's final sportsman results from the 14th annual SummitRacing.com NHRA Nationals at The Strip at Las Vegas Motor Speedway. The race is the fourth of 24 in the NHRA Mello Yello Drag Racing Series:
Top Alcohol Dragster — Joey Severance, 5.454, 261.52  def. Chris Demke, 5.444, 259.86.
Top Alcohol Funny Car — Tony Bartone, Ford Mustang, 5.667, 256.65  def. Shane Westerfield, Chevy Monte Carlo, 5.698, 252.47.
Competition Eliminator — Adam Bowdish, Chevy Cobalt, 8.518, 133.79  def. Brandon Huhtala, Pontiac GXP, foul.
Super Stock — Dan Fletcher, Camaro, 10.362, 125.87  def. Rick Brown, Camaro, 10.678, 123.52.
Stock Eliminator — Kayla Mozeris, Camaro, 11.875, 106.88  def. Tibor Kadar, Fairlane, 10.343, 122.71.
Super Comp — Justin Morgan, Dragster, 9.064, 165.36  def. Trevor Larson, Dragster, 9.017, 169.72.
Super Gas — Gerald Turczyn Jr., Corvette, 10.007, 161.30  def. Jimmy Lintz, Beretta, 9.964, 145.06.