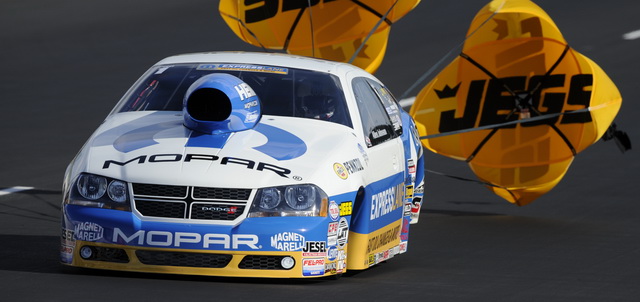 Defending Pro Stock world champion Allen Johnson (above) continued his qualifying success at Bandimere Speedway and raced to his second No. 1 qualifier this season on Saturday at the Mopar Mile-High NHRA Nationals.
Steve Torrence (Top Fuel), Cruz Pedregon (Funny Car) and Adam Arana (Pro Stock Motorcycle) also lead their categories as the No. 1 qualifiers at the 14th of 24 NHRA Mello Yello Drag Racing Series events in 2013. Sunday's eliminations start at 11 a.m.
Johnson claimed the top spot in Pro Stock with a performance of 6.949 seconds at 198.23 mph in his Team Mopar Dodge Avenger, staying dominant on Thunder Mountain. He has been the No. 1 qualifier at Bandimere Speedway the past four years and five times overall and the next step is adding another win to his belt at the legendary facility. On Sunday, Johnson will try for his fifth overall win in Denver and fourth in the past five years.
"I think we have a really good race set up for my car," Johnson said. "It was great to be the No. 1 qualifier for Mopar's 75th anniversary last year and do it again this year for the 25th anniversary of the Mopar Mile-High NHRA Nationals sponsorship is just as exciting. It was very important for us to be No. 1 for these two big occasions.
"We've got the Mountain pretty well conquered, and now if the driver can just do his job on Sunday, I think we'll be in pretty good shape. We want to go out there tomorrow and secure that win."
Colorado native V. Gaines, last year's runner-up to Johnson, claimed the No. 2 spot with a 6.970 at 197.25 run in his Kendall Oil Dodge Avenger while Gray Motorsports Chevy Camaro driver Shane Gray secured the third spot with a 6.971 at 197.13. Points leader Mike Edwards, who had qualified No. 1 in 10 of this year's first 13 races, ended up in the No. 8 position.
In Top Fuel, Torrence and his Capco Contractors dragster secured his first No. 1 qualifier of the season and third of his career with an impressive performance of 3.880 seconds at 319.60 mph, breaking the track speed record during the final qualifying session. Torrence, who will be seeking his second win of the season, will meet No. 16 qualifier Mike Strasburg in the first round of eliminations.
"We've been struggling this season," Torrence said. "The track came around to us tonight. It made it to the end and I wasn't expected to run that quick. I'm really happy. Maybe we're turning that corner and car is going to start doing better. It is pretty cool to have your name on the top of the list when you come to Bandimere.
"To win tomorrow, you need to go from A to B four times, and we've done it only once so far this weekend, so we need to improve on our consistency."
With Torrence's outstanding run, Doug Kalitta and his Mac Tools dragster dropped to second with a 3.889 at 310.13. Rookie Brittany Force continued her hot-streak in her Castrol Edge dragster, holding the third spot with a 3.918 at 309.63 in what is her debut appearance at Bandimere Speedway. Seven-time world champion Tony Schumacher qualified No. 8 in his U.S. Army dragster, making the field on his final qualifying attempt, while defending event winner and world champion Antron Brown qualified No. 10.
In Funny Car, nobody could match Pedregon's record-breaking run of 4.073 seconds at 307.37 mph from Friday, giving the two-time world champion the No. 1 qualifying spot for the third time in the season and 53rd time in his career. The Snap-on Tools Toyota Camry driver will be seeking his third win this season on Sunday. He will face No. 16 qualifier Todd Simpson in the first round.
"I was pleased with the run from Friday and our two runs from Saturday," said Pedregon, who has two wins this season. "We came back with some really good information so we can come out ready to race (Sunday). I feel like the team is back on the page now. I'm very happy to retain our track record at Bandimere. This is a difficult place to race so it's a nice little feather in our cap."
Defending world champion Jack Beckman and his Valvoline/MTS Dodge Charger secured the second spot with a performance of 4.097 at 309.91. Sitting in the third slot is Tim Wilkerson, who powered his Levi Ray & Shoup Ford Mustang to a 4.114 at 302.21.
Rookie Arana secured his first career No. 1 qualifying spot with his time of 7.242 at 184.47 in Pro Stock Motorcycle on his ProtectTheHarvest.com/MAVTV Buell. Arana, running in just his eighth race, has advanced to one final in his career. He will meet No. 16 qualifier Katie Sullivan in her Gary Stoffer-tuned Tough Girl Designs Suzuki in the first round.
"I improved today so that was really nice," said Arana. "My first run (from Friday) would have been good enough to be No. 1. This is confidence booster for the entire team but it adds a little pressure because everyone now expects you to do well. I'm excited for (Sunday)."
His brother Hector Arana Jr. maintained the No. 2 spot on his Lucas Oil Buell, running a 7.279 at 183.49 in the final qualifying session and will face No. 15 qualifier Jimmy Underdahl in the opening round. In the third spot is Colorado native Mike Berry with his time of 7.281 at 181.89 on his MB Precision/LAT Racing Oil Suzuki.
"This class is extremely competitive so I was not going to get my hopes up to be No. 1 at any race," Arana said. "But now I feel like a win is next on the list. I feel like I've come a long way since my first race in Gainesville. I feel like I can not only ride the bike better but can also give better info to my dad and brother so we can make better tuning decisions."
(Photos courtesy NHRA/National Dragster; Click to enlarge)
MORRISON, Colo. — Sunday's first-round pairings for eliminations for the 34th annual Mopar Mile-High NHRA Nationals at Bandimere Speedway, the 14th of 24 events in the NHRA Mello Yello Drag Racing Series.  Pairings based on results in qualifying, which ended Saturday. DNQs listed below pairings.
Top Fuel
1. Steve Torrence, 3.880 seconds, 319.60 mph  vs. 16. Mike Strasburg, 4.174, 283.97; 2.Doug Kalitta, 3.889, 310.13  vs. 15. Morgan Lucas, 4.152, 266.64; 3. Brittany Force, 3.918, 309.63 vs. 14. Scott Palmer, 4.130, 291.57; 4. Khalid alBalooshi, 3.924, 313.95  vs. 13. Brandon Bernstein, 4.108, 251.49; 5. Shawn Langdon, 3.935, 315.12  vs. 12. Antron Brown, 4.043, 306.26; 6. Bob Vandergriff, 3.949, 307.79  vs. 11. Terry McMillen, 4.019, 295.01; 7. David Grubnic, 3.971, 307.65  vs. 10. Tony Schumacher, 4.007, 306.74; 8. Clay Millican, 3.975, 308.57  vs. 9. Spencer Massey, 4.002, 307.51.
Did Not Qualify: 17. Steven Chrisman, 4.342, 229.24.
Funny Car
1. Cruz Pedregon, Toyota Camry, 4.073, 307.37  vs. 16. Todd Simpson, Chevy Camaro, 4.695, 237.42; 2. Jack Beckman, Dodge Charger, 4.097, 309.91  vs. 15. Terry Haddock, Dodge Stratus, 4.448, 276.46; 3. Tim Wilkerson, Ford Mustang, 4.114, 302.21  vs. 14. Jeff Arend, Charger, 4.360, 292.52; 4. Alexis DeJoria, Camry, 4.122, 307.02  vs. 13. Courtney Force, Mustang, 4.316, 307.93; 5. Tony Pedregon, Camry, 4.124, 299.86  vs. 12. Del Worsham, Camry, 4.171, 299.93; 6. John Force, Mustang, 4.127, 308.99  vs. 11. Bob Tasca III, Mustang, 4.171, 304.74; 7. Robert Hight, Mustang, 4.144, 306.95  vs. 10. Johnny Gray, Charger, 4.168, 304.74; 8. Ron Capps, Charger, 4.152, 300.33 vs. 9. Matt Hagan, Charger, 4.158, 309.63.
Did Not Qualify: 17. Jeff Diehl, 4.738, 248.93.
Pro Stock
1. Allen Johnson, Dodge Avenger, 6.949, 198.23  vs. Bye; 2. V. Gaines, Avenger, 6.970, 197.25  vs. 15. Steve Kalkowski, Pontiac GXP, 7.301, 188.07; 3. Shane Gray, Chevy Camaro, 6.971, 197.13  vs. 14. Larry Morgan, Ford Mustang, 7.080, 194.86; 4. Rickie Jones, Camaro, 6.976, 197.36 vs. 13. Matt Hartford, Avenger, 7.058, 196.79; 5. Deric Kramer, Avenger, 6.982, 195.93  vs. 12. Steve Kent, Camaro, 7.037, 195.99; 6. Greg Anderson, Camaro, 6.983, 196.39  vs. 11. Vincent Nobile, Avenger, 7.005, 196.87; 7. Jason Line, Camaro, 6.986, 196.90  vs. 10. Rodger Brogdon, Camaro, 7.000, 196.56; 8. Mike Edwards, Camaro, 6.995, 197.51  vs. 9. Jeg Coughlin, Avenger, 6.996, 196.96.
Pro Stock Motorcycle
1. Adam Arana, Buell, 7.242, 184.47  vs. 16. Katie Sullivan, Suzuki, 7.395, 179.80; 2. Hector Arana Jr, Buell, 7.279, 183.49  vs. 15. Jim Underdahl, Suzuki, 7.374, 181.32; 3. Mike Berry, Buell, 7.281, 181.89  vs. 14. LE Tonglet, Suzuki, 7.360, 181.23; 4. Michael Ray, Buell, 7.289, 180.48  vs. 13. Steve Johnson, Suzuki, 7.327, 180.65; 5. Shawn Gann, Buell, 7.298, 183.19 vs. 12. Angie Smith, Buell, 7.321, 181.86; 6. Matt Smith, Buell, 7.298, 183.39  vs. 11. John Hall, Buell, 7.317, 180.60; 7. Scotty Pollacheck, Buell, 7.311, 181.98  vs. 10. Eddie Krawiec, Harley-Davidson, 7.316, 181.84; 8. Andrew Hines, Harley-Davidson, 7.313, 181.40  vs. 9. Hector Arana, Buell, 7.315, 183.29.
Did Not Qualify: 17. Jerry Savoie, 7.412, 179.71; 18. Freddie Camarena, 7.490, 178.54; 19. James Surber, 7.508, 178.45.