Since they first attended an ADRL event as Jr. Dragster competitors in 2009, racing a high-horsepower doorslammer has been the ultimate dream for Kyle Dvorak and his parents, Joe and Annette. At just 21 years old, the 2010 Midwest Junior Super Series Super Quick champion and 2013 ADRL Battle for the Belts Top Dragster runner-up is realizing that dream as he prepares for his PDRA Top Sportsman debut this season.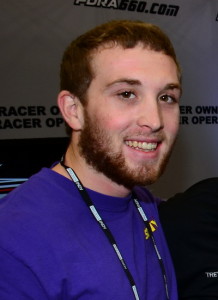 In 2014, Dvorak was the PDRA's inaugural Sportsman Rookie of the Year, but he sold his familiar blue-and-orange, nitrous-assisted Top Dragster at the end of last season to begin focusing on the '63 Corvette recently purchased from PDRA Pro Extreme standout Tommy D'Aprile. Dvorak and D'Aprile spent two weekends testing at Orlando and Valdosta, Georgia, early last fall, allowing Kyle to get some seat time in a clutch-equipped door car. Dvorak also entered the PDRA World Finals in October at Virginia Motorsports Park, electing to run Pro Boost to avoid disrupting the championship battle in Top Sportsman.
"Going from one car to another isn't bad, but going from a dragster to a door car, that was a pretty big move, especially a car this fast with a clutch, a three-speed Lenco and a hand brake," Dvorak said. "I basically went from the most automated it can be, a two-speed Powerglide transmission in a dragster leaving off the top bulb, to dumping the clutch in a blown door car, then grabbing second and third gear. The actual transition was a lot smoother than we all anticipated. I think the biggest adjustment for all of us is just getting our starting line routine down. I feel comfortable in the car, maybe more than I should be."
Dvorak enters the ultra-competitive Top Sportsman class with extensive experience behind the wheel of dragsters, but as he's learned, suspended doorslammers are a different animal. He cites years of advice from family racing friends as being a big help in his learning curve.
"I learned a lot those three weekends, between testing and running at Virginia; a lot of things that Tommy, John Stanley and other experienced drivers have told me for years and years," he said. "Now I know exactly what they're talking about. Like, it's about to take the tire off or it's about to shake. The car will tell you, if you're going to listen."
The learning curve also carried over into the technical side of things for Dvorak, who qualified number one in his last Top Dragster event.
"We were fortunate enough to have a lot of smart people around us, such as Bruce Thrift and others, teaching us the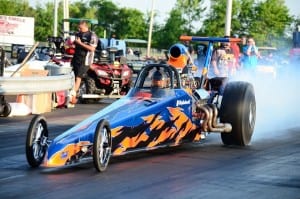 ways of nitrous oxide the last couple years. We could look at a nitrous plug and generally have a good idea of what it wanted. Right now I look at a blown alcohol plug and I have no idea what I'm looking at. It's going to be a big learning curve ahead of us, especially going from nitrous to blown, but also going from a big Sonny's engine that doesn't need much maintenance to a Brad (Anderson) motor that requires you to be on top of everything," Dvorak pointed out.
"What we learned over a few weekends of testing probably put us two seasons ahead of where we would be if we tried this on our own locally. We learned so, so much. For that we're very thankful for all of the people who surround us and want us to succeed."
Dvorak and his parents plan to campaign their Alert Screw Products '63 Corvette in PDRA and NHRA Top Sportsman races for at least the next couple years. They'll then consider running IHRA and NMCA Pro Modified with the goal of someday stepping up to PDRA Pro Boost.