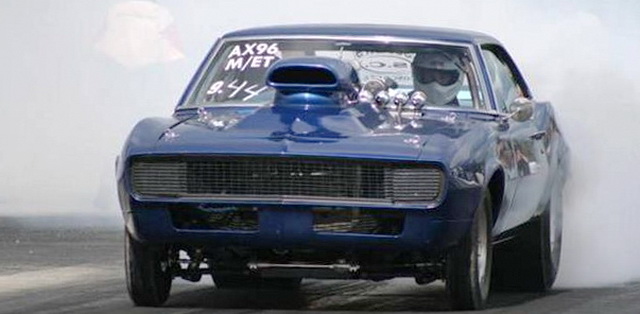 The much-anticipated Summit Racing Equipment SuperSeries presented by AMSOIL and Moser Engineering is back and will get underway at the Summit Racing Equipment World Finals October 12-14 at Memphis International Raceway in Tennessee.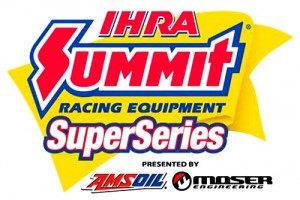 Every weekend leading up to that weekend at tracks all across the United States and Canada drivers are doing battle for a coveted spot in the Summit SuperSeries program at Summit Team Finals events across the country. But for drivers at tracks outside of the coverage area of a Team Finals event, they are left waiting for a chance to be selected in the Summit SuperSeries field via a random drawing for three "wild card" spots done at the IHRA World Headquarters in Norwalk, Ohio.
And from that pool the IHRA has selected three drivers, one each from Top ET and Mod ET and another from the brand new SuperSeries Junior Dragster program, to travel to Memphis to compete in the Summit SuperSeries World Championships. And this year's wild card recipients are Greg Hoffart from Magic City International Raceway in Minot, N.D., Monte Soper (above) from Alaska Raceway Park in Palmer, Alaska and Josh Jones from Rocky Mountain Raceways in Salt Lake City, Utah.
All three drivers have a long drive ahead of them highlighted by Alaska's Monte Soper who noted that from his doorstep to Memphis, Tenn. it is 4,700 miles. But all three drivers know that anyone can walk away from the World Finals a champion with former wild card selections Jonathan Tromp from Aruba winning in 2004 and Matt Hawk and Chris Hall winning back-to-back No Box title in 2011 and 2010, both from the "wild card" spot.
"I am definitely aware that the wild card drivers have won this thing before and that really makes you believe it can be you," Soper said. "I am super excited. This has been a dream of mine since I started racing to race at the World Finals and I can't wait to get down there."
Soper is no stranger to winning, taking three of the last four track championships at Alaska Raceway Park in Mod ET behind the wheel of his 1968 Chevrolet Camaro. Another driver with a lot of experience behind the wheel is Top ET selection Greg Hoffart. Behind the wheel of his 1994 Horton dragster, Hoffart finished third in points at his local track and looks forward to traveling to Memphis – a nearly 1,500 mile drive –  to test himself against some of the best in the business.
"I am very excited about this whole deal. I couldn't hardly believe it when I got the call," Hoffart said. "I have had a pretty decent season. I run a '94 Horton rear engine dragster with a 598 big block and finished third in points. My wife and I both race, she runs a '68 Camaro, and we have a lot of fun doing this drag racing thing and this will be nice for the both of us.
"Some people go on holidays to a beach or a cabin, we drag race. That is what we love to do."
The final wild card selection is Josh Jones from Rocky Mountain Raceways in Utah. Jones will be participating in the brand new Summit SuperSeries Junior Dragster program looking to be crowned the very first Junior Dragster world champion. And it wouldn't be the first time a driver from RMR has been crowned champion as Chris Hall won the No Box title in 2010.
Summit Racing Equipment, the Official Mail Order Company of IHRA, is the sponsor of the revolutionary series for IHRA ET bracket racers. Providing the base for the Summit SuperSeries are the 100 IHRA member tracks from which thousands of drivers in multiple countries compete.
Each Summit SuperSeries track champion will square off at their local Summit Team Finals event in their respective division for the right to travel to Tennessee and compete for the world championships and their share of over $200,000 in cash and prizes. The field of Top ET, Mod ET and Junior Dragster is 16 strong in each class.
All qualified entries will receive $1,000 tow money from Summit Racing Equipment. Payout in Top ET and Mod ET will be $10,000 to the winner, $7,000 to the runner-up, $2,000 for a trip to the semi-finals and $1,000 for the quarter-final round.  In addition, the Top World Champion will take home a turn-key dragster from American Race Cars complete with a specially built Trick Flow power plant, in addition to a custom World Championship Ironman, a trip to Aruba and more. The Mod Champion will also take home their share of prizes including a custom golf cart, enclosed trailer, a specialty Ironman and a trip to Aruba. The inaugural Junior Dragster champion will receive $3,000, a brand new Vic Puglia dragster with an engine courtesy of Steve Waller at Junior Specialties, a special Ironman and more.
In addition, the three champions will also be recognized at the IHRA awards celebration on the grounds at MIR on Saturday, October 13.
The Summit SuperSeries World Championship will take place during the IHRA Summit Racing Equipment World Finals October 12-14 at Memphis International Raceway.
(Photos courtesy IHRA; Click to enlarge)