The X-treme Drag Racing League (X-DRL) announced Mar. 20, that in addition to the regular purse, all qualifiers in the Pro X-treme, Pro Nitrous and X-treme Pro Stock classes will earn an extra $500 at the upcoming X-DRL Spring Nationals, Apr. 6-7, at Osage Casino Tulsa Raceway Park.
Morrow Brothers Ford, which also is the "Official Vehicle Provider Of The X-DRL," has added a special purse bonus for drivers in those three classes. In all, it represents a $24,000 payout bonus at the X-DRL's inaugural event, adding even more anticipation to the X-DRL's debut appearance in Tulsa.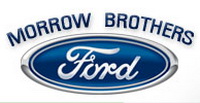 "We are thrilled to be adding this bonus in the exciting Pro X-treme, Pro Nitrous and X-treme Pro Stock classes at the X-DRL's first event. We want to help the X-DRL open its first season with a big bang and hopefully this bonus helps in that regard," Morrow Brothers Ford General Manager John Wellenkamp. "These three classes present some of the most incredible action in drag racing and we are tremendously excited to be working with a first-class organization like the X-DRL."
First-round qualifiers at the Spring Nationals in the PX, PN and XPS classes will now earn $1,000, while winners are set to earn $6,500. The runner-up, semifinalists and first-round winners will all earn an additional $500 bonus as well.
Official X-DRL event payouts can be viewed at http://x-drl.com/series-purse-pay-outs.
Morrow Brothers Ford was previously named the "Official Vehicle Supplier of the X-DRL" and it will provide three Ford trucks to the X-DRL for the 2013 season.
The three trucks include a 2012 F-550 that will pull an X-DRL trailer provided by Flying A Motorsports to each event, a 2009 F-350 that will serve as the X-DRL safety truck for the upcoming campaign, and a new 2012 F-350 DRW 4×4 with a 6.2 gas motor, and comes equipped with a Knapheide bed and underbody toolboxes. All three have received numerous upgrades, including custom paint jobs, chrome accessories, alum-lined hauler beds and much more.
"A bonus like this really shows the support Morrow Brothers Ford has for the X-DRL and its racers, and we're thrilled to have them associated with the X-DRL in 2013," X-DRL Co-Owner Jeff Mitchell said. "This is a tremendous bonus for the X-DRL Spring Nationals and we certainly can't wait to get to Tulsa to kick off this 2013 season."