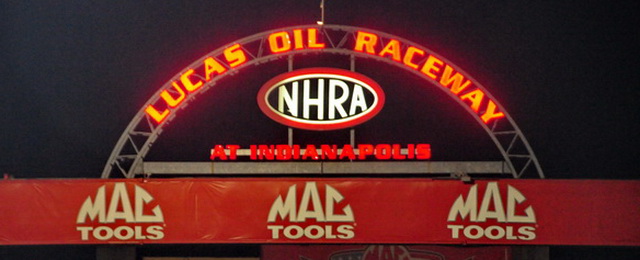 The X-DRL revealed Jan. 11, that it will hold an event on Sept. 20-21 at prestigious Lucas Oil Raceway at Indianapolis, making it the seventh of nine races for the inaugural 2013 X-DRL campaign.
The event at Lucas Oil Raceway at Indianapolis follows the X-DRL's debut race in Dallas, and adds considerable anticipation to the new eighth-mile sanctioning body's season.
"We can't wait for the X-DRL to make its first appearance at Lucas Oil Raceway at Indianapolis, and we are extremely excited to add another premier facility to our standout 2013 schedule," X-DRL Owner Jeff Mitchell said.
"We've already received a tremendous amount of support from racers, fans and sponsors regarding our upcoming season, and we believe that's only going to increase with the announcement of an X-DRL event at historic facility like Lucas Oil Raceway at Indianapolis."
The news of the X-DRL event at Lucas Oil Raceway at Indianapolis completes the 2013 schedule to give the X-DRL nine races in its debut season.
In operation since 1960, Lucas Oil Raceway at Indianapolis is a historic racing venue in the middle of a drag racing hotbed, and has played host to many of the biggest events in drag racing history.
The X-DRL previously announced stops at eight standout facilities, giving the premier eighth-mile sanctioning body events at many of the nation's most marquee tracks.
The 2013 season begins on April 6-7 at Osage Casino Tulsa Raceway Park.
Along with the featured stop at Lucas Oil Raceway at Indianapolis, the X-DRL will also race at historic Bristol Dragway, No Problem Raceway (Belle Rose, La.), Gateway Motorsports Park in St. Louis, Maryland International Raceway in Mechanicsville, Md., Dallas Raceway and Montgomery Motorsports Park.
The 2013 season will also finish in spectacular fashion, as the X-DRL will holds its world finals in the heart of doorslammer country with an event at the state-of-the-art zMAX Dragway in Charlotte on Oct. 25-26.
"We're excited to give fans a schedule like this and one that will feature action-packed racing at some of the premier tracks in the nation," X-DRL's Jeff Mitchell said.
"The enthusiasm from the tracks we're working with has been incredible, and that's given us a great deal of excitement for our inaugural season. We're all about racing and putting on a great show, and these outstanding tracks will undoubtedly present us that opportunity in 2013."