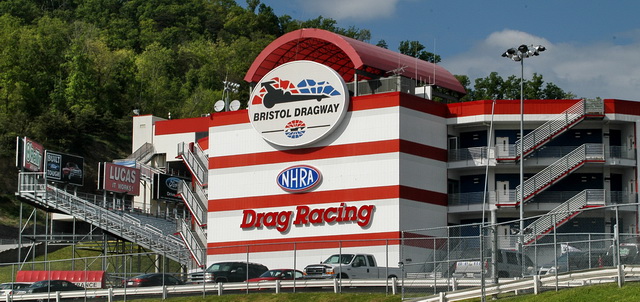 Without question, drivers in the X-treme Drag Racing League (X-DRL) are excited to race at Bristol Dragway for X-DRL Thunder Valley Madness, this weekend (Apr. 26-27) at the historic track.
For some, it's a race close to home in the heart of doorslammer country. But for everyone competing at the X-DRL's second event in its inaugural 2013 season, it's an opportunity to race at one of the finest facilities and most memorable atmospheres in drag racing.
"The track is just unforgettable and the atmosphere is just incredible. It's an awesome place, it really is and I'm ready to get back there. I'm pretty pumped about the weekend and racing again in Bristol," X-treme Pro Stock driver Cary Goforth (above) said.
"Getting that win, it was a special moment at a special track last year. Any win is special, but to get one at Bristol is one that you always remember. You never forget something like that."
Goforth won the  eighth-mile XPS race in the ADRL event last year at Bristol, running 4.091 in the finals to beat Richie Stevens. It was Goforth's first time racing at the track, but even those who have raced at the facility for decades have had the X-DRL's Thunder Valley Madness circled on their calendar.
"Bristol is probably my favorite track. Just the history here makes it a worthwhile experience and I'm really looking forward to it," Pro X-treme driver Quain Stott said. "I watched a lot of racing at Bristol growing up and the first time I raced there was 1978. It's always exciting to go there and I think we'll do well."
The X-DRL will feature cars in the following classes in Bristol: Pro Junior Dragster, Supercar Showdown, Mickey Thompson Top Sportsman, Top Dragster, X-treme Pro Mod, Precision Turbo & Engine Pro Turbo, X-treme Pro Stock, Switzer Dynamics Pro Nitrous and Pro X-treme, the world's quickest and fastest doorslammer class).
Racing will surely be intense in Bristol, with cars going as quick as 3.60 seconds in the 1/8-mile at more than 210 mph.
Racing begins at 10 a.m. on both Friday and Saturday.
Pro X-treme driver Tim Tindle will debut a new '67 Mustang for the race, and he hopes to complete a lifelong goal of winning in Bristol.
"The first pass the car will ever make will be in Bristol, so that's pretty cool," Tindle said. "Bristol is the place to race for me, personally. When I first got into Pro Mod race, the two races I wanted to win were Gainesville and Bristol. I've won a bunch of races, but I've never won at either of those.
"It would be great to win this weekend in Bristol. That would be the icing on the cake."
The new Precision Turbo & Engine Pro Turbo class made a thrilling debut at the X-DRL opener in Tulsa earlier this month, with Eric Dillard becoming the first driver in drag racing history to reach the 3.70s in a turbo car.
Fresh off the win and setting the record with an impressive 3.786 at 210.64 mph, Dillard is aiming high in Bristol.
"There's so much more we can do going forward. I feel like we've got a lot of room to grow and a lot to look forward to in the X-DRL. This class is only going to continue to grow and we can't wait to see what happens in Bristol," said Dillard, who will make only the first two qualifying passes at Bristol before handing the twin-turboed '68 Camaro back to car owner Jose Gonzalez for the final two qualifying rounds and eliminations on Saturday.
Another X-DRL event winner in Tulsa, Dan Stevenson, will also try to continue his momentum and build on his championship aspirations at Bristol.
"All the right tools are there, it's just a matter of putting all the pieces in the right place," Stevenson said. "I'm really looking forward to Bristol. We're just super excited right now."
The race is also a meaningful one for two-time IHRA Pro Stock world champion Doug Kirk, who advanced to the semifinals at the X-DRL debut in Tulsa.
He's had plenty of experience at the track, but this weekend's X-DRL event will serve as the debut event for Kirk's son, Justin, in his new Top Dragster.
"All of our races have been close, so I know our day is coming," Kirk said. "It's just a case of making those last few adjustments to our tune-up and I'm confident we'll see a win or two this year, and maybe more.
"We're excited about the opportunities this year holds."
(Photos by Ian Tocher; Click to enlarge)