The X-treme Drag Racing League (X-DRL) announced Jan. 18, it will be teaming with J-Angel Productions and Motormania TV to provide free live online coverage of every event at www.X-DRL.com to ensure fans will be able to catch every minute of live action during the inaugural 2013 season.
X-DRL events will be showcased in a live, high-quality stream that will capture every qualifying run and elimination matchup, and all of it will be free and accessible on phones, tablets and computers.
"We are way excited about this and to be working with the X-DRL in 2013," J-Angel Productions Owner Mark Walter said. "It's all about getting these racers more exposure. There's an audience for this and they want to see these types of cars.
"We have a great reputation in this business and I know the X-DRL is just as excited as we are to provide this coverage. We're going to give a great level of quality to these broadcasts and I think that has everybody thrilled."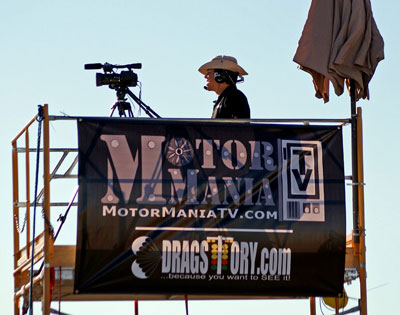 J-Angel Productions talented three-person crew includes Walter's wife, Joanne, and their son, Jack. The live online coverage will feature four cameras, with one on the starting line, two at mid-track and the fourth elevated on scaffolding at the finish line.
Since starting in 2006, J-Angel Productions have also witnessed impressive growth. It broadcasted 17 events in 2012, drawing nearly two million page views and more than 500,000 unique visitors. Its crisp presentation has drawn rave reviews in drag racing circles, and the coverage they will provide the X-DRL in 2013 will give fans remarkable access.
"We're there to help grow the X-DRL and we know we can do that with the exposure it's going to get from these live broadcasts," Walter said. "It's a win-win for everybody.
"The quality is something we've really worked hard on. All of our cameras are high-definition cameras, we've got a good mixer and we use the best software on the planet for webcasting. It's going to be as close as you can get to television."
The live broadcasts will include extensive features, including instant replays, behind-the-scenes coverage and driver interviews to give fans an in-depth look at the X-DRL and the drivers that make each race a must-see event. The online X-DRL broadcasts will also feature on-track sound and commentary from the X-DRL track announcer, live timing on the screen and a viewer-driven chat. Additionally, every race will be archived on a free YouTube channel, allowing race fans to view full races from every X-DRL event at their convenience throughout the 2013 season and beyond.
The on-demand items will add even more visibility to the drivers and teams of the X-DRL, which also recently signed a multi-year television agreement with Velocity.
"We can't emphasize enough how thrilled we are to have the X-DRL partnering with J-Angel Productions for the 2013 season. Their works speaks for itself and giving fans the chance to see every run this season for free and with incredible quality is something that is very important to us," X-DRL co-owner Jeff Mitchell said.
"With everything that these live broadcasts will provide, along with the archives that will feature full coverage of every event, we're extremely excited to give fans unbelievable access to the X-DRL in 2013."