Melanie Salemi would love to have been invited to the main event of the Drag Illustrated World Series of Pro Mod, which takes place on Saturday, Aug. 5 at Bandimere Speedway and offers a $100,000 prize to the winner.
But the good news for the Pro Mod rising star is she can show just how deserving she is a day earlier. The Aeromotive Wild Card Shootout kicks off the highly-anticipated Drag Illustrated World Series of Pro Mod on Friday, Aug. 4, with the winner earning a $10,000 payday and an automatic berth into Saturday's main event. That was all Salemi needed to hear to throw her name into the mix.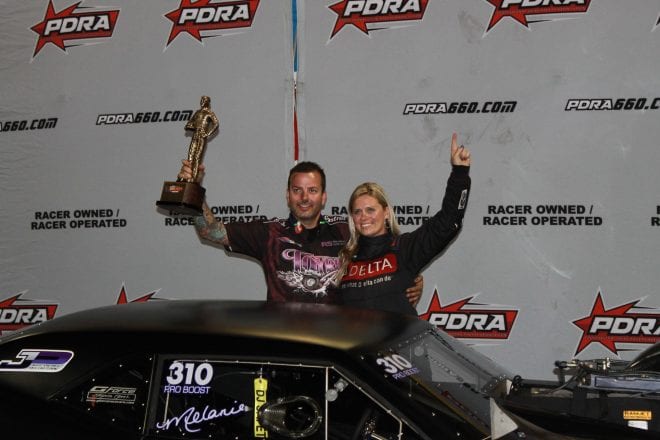 "The purse, at the end of the day, is going to draw a lot of people for the Friday night deal," Salemi said. "I just hope we can come out on top. To be able to be part of the big race and even have that opportunity, it would be awesome. There's a lot of excitement around Pro Mod and I think it's really cool that an event like this is going to happen."
It's an opportunity Melanie and her husband, noted tuner Jon Salemi, couldn't pass up as they continue to make impressive strides in the Pro Mod world. Melanie finished third in the PDRA Pro Boost standings a year ago in her Purple Reign G-Force Race Cars '68 Firebird, and has shown no trepidation for taking on new challenges.
Racing at Bandimere Speedway against the Pro Mod elite certainly counts as that, especially when you factor in racing at an altitude of nearly 6,000 feet, but that's part of what drew the team into competing at Friday's Aeromotive Wild Card Shootout.
"It's a huge challenge for us in general, but I'm always up for different conditions and variables," Jon Salemi said. "That's what makes you good with these cars and that's what makes you a front-running car. If you can't adapt to the conditions, you're not as good as you can be. If you're doing this for a living, you want to be as good as you can be."
With a berth into Saturday's main event on the line, as well as a considerable payday, both Jon and Melanie know the intensity will be fierce. Again, though, that's part of the draw for them, competing at a race where tensions will be high. Factoring in the no limit of entries for Friday's event and Melanie knows she will have to perform at her best to win. But even considering the altitude change and possible pressure of a big-time event, her approach won't change.
"I don't care who I'm racing, I have to do my job and that's what I'm focused on," Salemi said. "I'll be focused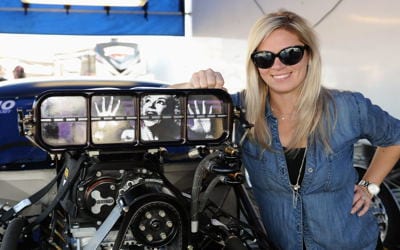 on Friday and not the next day. Jon and Jim (Salemi) focus on the right tune-ups and what needs to be changed, and that makes my job easier. I just have to focus on what I do I the car. It may be a little different, but that doesn't really change anything for me as a driver."
It's that steely and focused approach that will make the New York-based team one to watch at Bandimere Speedway. It's also a mindset Jon knows is critical for success in a class as talented as Pro Mod.
"I've worked with a lot of drivers and she's one of the best I've worked with," Jon Salemi said. "She knows how to win, and she knows how to stay calm and collected. This is 100 percent about being focused, and your execution and focus have to be on point."
Those are two of the strongest traits for Melanie, whose first full Pro Mod season came in 2016. With that success under her belt, 2017 is about making major moves, and that could mean a number of memorable moments at Bandimere Speedway in August.
"There's a lot of excitement for this race. Basically anybody can come out and be a part of it, and that's pretty amazing," Melanie Salemi said. "The guys who have been invited to the big show – that makes perfect sense, they had to know who could and would commit to participating way in advance for promotional purposes. The racers who show up on Friday night are just as good. It's going to be tough, but we're prepared to show up and prove that we belong."