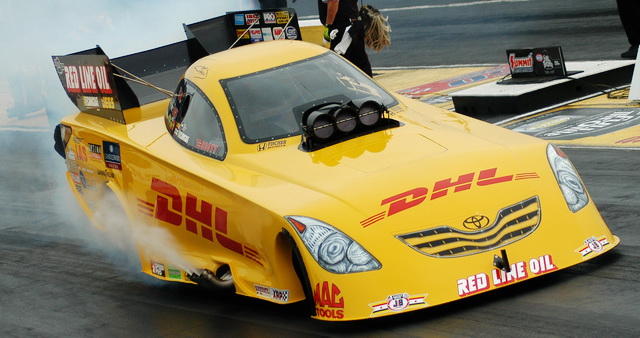 The 2011 Top Fuel world champ Del Worsham is back in the saddle and is excited as ever to be competing in the 2013 NHRA Mello Yello Drag Racing Series.
When Worsham hits his home track in Pomona for the 53rd annual O'Reilly Auto Parts NHRA Winternationals presented by Super Start Batteries, Feb. 14-17, he will do so behind the wheel of the Connie Kalitta-owned DHL Toyota Camry, led by crew chiefs Jon Oberhofer and Nick Boninfante Jr. and formerly driven by Jeff Arend (above).
Worsham, who was stellar in his last season at the controls of a Top Fuel dragster, returns to a very competitive Funny Car category as the NHRA Mello Yello Drag Racing Series season kicks off at historic Auto Club Raceway at Pomona, Feb. 14-17.  Spencer Massey (Top Fuel), John Force (Funny Car), and Greg Anderson (Pro Stock) are the defending winners of the tradition-rich event, which will be televised on ESPN2HD.
During the off-season, Kalitta Motorsports named Worsham driver of the DHL Toyota Camry.
"I definitely have some unfinished business there," said the Villa Park, Calif. native. "I want to try to win a championship in a Funny Car. When this whole thing came about, I was for it. I felt honored that the Kalitta organization asked me to do this. I'm going to really work hard at being the best driver I can be and hopefully bringing something back to the team.
"The first thing we want to do is qualify for a race. Then we want to try to make the Countdown (to the Championship playoffs). I'd sure like to get in the top 10 and position ourselves to race for a Mello Yello championship in Funny Car, which I originally set out to do 20-something years ago."
Following his stellar championship season in 2011 as driver of one of the two dragsters fielded by the Al-Anabi Racing Top Fuel team, Worsham took on a new role in 2012 as the crew chief for the Tequila Patron Toyota Camry driven by rookie Alexis DeJoria.  Now, Worsham and DeJoria will be teammates and competitors in the 2013 Mello Yello season and it's a relationship Worsham embraces.
"She's in her second year now and has hundreds of runs under her belt," said Worsham. "She was definitely evolving pretty fast out there. Any time I see something, I'll let her know, and I hope she does the same thing for me. I've been outside the car for a year, so any help I can get I will take. We are teammates, and we're going to work together to help each other get the success that we're after."
Worsham is no stranger to the ultra-competitive Funny Car class. He was just 20 years old in 1990 when he earned his Funny Car license and became the youngest driver to ever win a Funny Car national event at 21. He earned 25 victories in 38 career finals in a Funny Car. Among his victories was the 2005 NHRA U.S. Nationals in Indianapolis, the world's most prestigious drag race. His best Funny Car points finish of second place came in 2004.
"There will probably be a little bit of knocking the rust off," said the 42-year-old veteran.
"As far as just driving the car down the racetrack, I can probably do that. Getting up there and having a good reaction time and keeping the thing in the groove and doing the job of driving everyone expects out of you will come with practice."