It's day two at the inaugural Drag Illustrated World Doorslammer Nationals presented by CTech Manufacturing, where Pro Stock and Pro Mod racers will do battle for over $300,000 in prize money.

Welcome to the Inaugural Drag Illustrated World Doorslammer Nationals
Pro Mod racers have been testing all week in preparation for the inaugural Drag Illustrated World Doorslammer Nationals presented by CTech Manufacturing. The event, which pays $50,000 to the winner in Pro Mod, begins with the first qualifying session at 6 p.m. tonight (Friday).
Stay tuned to the Pro Mod Pit Report for driver features, updates and results from the Pro Mod portion of the World Doorslammer Nationals.
OFFICIAL EVENT LIVESTREAM (VIA SPEEDVIDEO)
Friday – Pro Mod Q1 Results
In Pro Mod, Tutterow took his brand-new AAP Racing '20 Camaro to the top spot with a 5.684 at 253.04. It was Tutterow's first competition pass back in the U.S. after sweeping the Arabian Drag Racing League Pro Mod championship in Qatar over the winter.
"We won a championship overseas, got a brand-new car, came here, and every run has been very good," Tutterow said. "Here we are No. 1 qualifier in the first run, so we're very happy. Jerry Bickel builds the best car out here."
Tutterow in his roots-blown Camaro leads a pack of 27 cars that put up numbers during Friday's lone qualifying session, though just over 30 cars are on the property. Tutterow is followed by "Tricky" Rickie Smith in his nitrous-assisted Strutmasters.com '20 Camaro with a 5.689 at 254.28 and defending world champion Stevie "Fast" Jackson in his supercharged Bahrain 1 '20 Camaro with a 5.699 at 249.90.
With Saturday's forecast calling for a high of 64 degrees, Tutterow is expecting a challenging day of qualifying. Teams will get three more qualifying sessions before setting the field for Sunday eliminations.
"I think [Saturday] is going to be good," Tutterow said. "I think it's going to be tricky because it's going to be cold. Hopefully my tuning experience can make it work. It's cold, we got a new car, but there's a lot of new cars out here. Anybody can go to the front. Stevie's made some good runs, and so has Jim Whiteley [No. 4]. Hopefully we do good."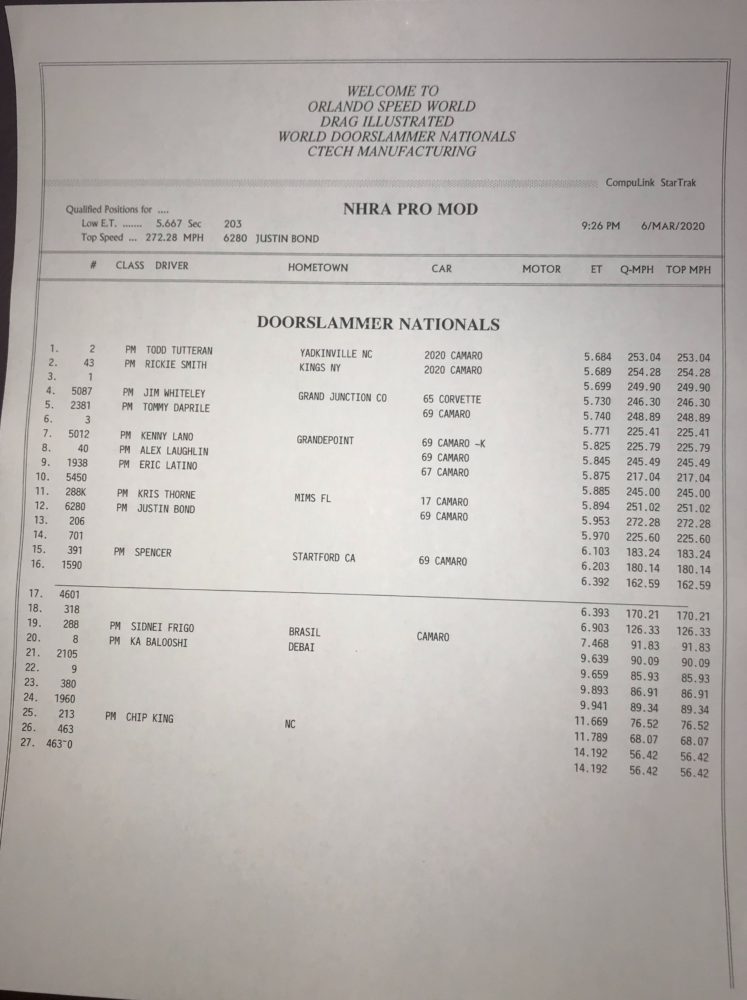 Saturday – Pro Mod Q2 Results
Driver Features
Jim Whiteley Seeing 'Automatic' Success with Jackson-tuned '63 Corvette
While Jim Whiteley partnered up with Stevie "Fast" Jackson and the Killin' Time Racing (KTR) brain trust of Phil Shuler and Billy Stocklin last season, the Pro Mod racer is really starting to see the benefits of teaming up with the NHRA Pro Mod defending world champions. After two sessions, Whiteley is qualified No. 6 out of 33 cars with a 5.73 at 246.30 in his roots-blown J&A Service '63 Corvette.
Whiteley, who has one win in NHRA Pro Mod after joining the series in 2014, attributes the early success to the KTR team's experience with torque converters and automatic transmissions.
"I'm a clutch racer, [Jackson] has been racing automatics forever, and that's where it's at," said Whiteley, a two-time NHRA Top Alcohol Dragster world champion. "To have that in our camp, I think I have the best. It shows. The car goes down the track, and it's pretty quick early. If we figure out the back half, we can be a competitive player."
Whiteley's Corvette showed promise during testing at Orlando last week. Jackson handled the driving duties, as Whiteley was working and his wife, Annie, was racing her Top Alcohol Funny Car at an NHRA divisional race in Belle Rose, Louisiana. Jackson clicked off a best of 5.72 in the 'Vette, so Whiteley's 5.73 in the first qualifying session wasn't a surprise.
Still, the YNot Racing and KTR teams had to make adjustments after the test session to get the car set up for Whiteley.
"We just kind of had to change the thing back around because we couldn't get the weight down to where he was at," Whiteley said. "It's coming around real well and they really have an A-to-B program. The car goes down the racetrack every time. I'm real excited aboout what we're doing with this thing and where we're going."
Whiteley pedaled the car and let out early during Saturday's Q2 session. He expects the field to pick up in the cool conditions. Pro Mod will run two more qualifying sessions on Saturday, scheduled for 3 and 6 p.m.
"I'm not sure where we'll end up," Whiteley said. "Everyone will pick up 3-4 numbers (Saturday). We'll see the top half of the field in the .60s. It ought to be real exciting. We'll see what the ProCharger cars will do when they open 'em up. It's going to be exciting, and I'm looking forward to it."