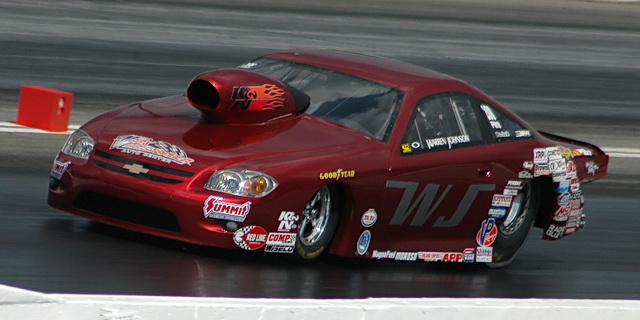 Warren Johnson has enjoyed a career marked by stunning milestones, and the Buford, Ga., resident isn't looking to settle down any time soon. For his accomplishments thus far, the 69-year-old Pro Stock driver and 2007 International Motorsports Hall of Famer was recently inducted into NHRA's Division 2 Hall of Fame alongside Southern Pro Stock Circuit creator Steve Earwood and sportsman ace David Rampy, and on October 26, 2012, the still-active competitor will join 1970 Daytona 500 champion Pete Hamilton, multi-time Dixie Speedway champion and NASCAR driver Bill Ingram, longtime dirt track and asphalt racer Doug Kenimer, and sprint car champion Herman Wise as Class of 2012 inductees into the Georgia Racing Hall of Fame.
For Johnson, it is easy to recall the early days of his involvement in the sport of drag racing when he, wife Arlene, and son Kurt – now a 40-time Pro Stock national event winner in NHRA's Full Throttle Series – began their journey.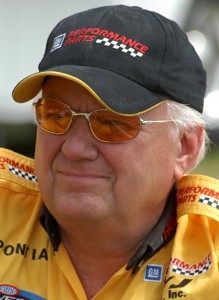 "In the beginning, the cost of the entertainment was relatively inexpensive," said Johnson, who has long played the role of respected and renowned engine developer as well as driver. "It was more accessible to people, and we could go to our local tracks any day of the week. That was at the grassroots level, and it grew from there.
"I approached it as something I felt I could be successful at, but where that success would rank in relation to anyone else in motorsports – well, I never gave it a thought."
Johnson, now the third-winningest driver in NHRA competition behind only Funny Car legend John Force and Top Alcohol Funny Car powerhouse Frank Manzo, has accumulated 97 national event titles – his most recent at the NHRA Midwest Nationals in St. Louis in 2010 – and six Pro Stock world championships, including back-to-back crowns in 1992 and 1993 as well as 1998 and 1999. His most recent world title was earned in 2001, the same year he was chosen as No. 7 on NHRA's list of 50 Greatest Drivers.
The Minnesota native earned his first victory in a racecar in 1963 at Minnesota Dragway, but his Pro Stock career began in earnest in 1972. Through ingenuity and pure dedication to his craft, Johnson set forth on a career of tremendous velocity. He was the first driver in the category to eclipse the 180, 190, and 200 mph marks. In 1998, Johnson scored his 100th No. 1 qualifying position and became the first driver in NHRA history to record top speed of the meet at 21 of 22 events. The following season he bested his own record and recorded top speed at every national event.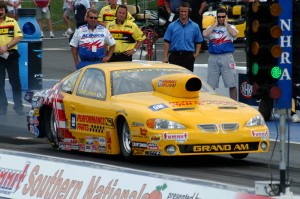 "If you enter any particular occupation because it's what you love to do, you're going to be successful. Successful people enjoy what they're doing; therefore, they do it better than somebody that approaches it strictly as a job," said Johnson. "Really, nobody enters motorsports with the aspirations of being in any Hall of Fame; that's just a wonderful by-product of enjoying what you're doing. It's humbling to be included. I'm just grateful that I have been able to make a decent living doing what I enjoy."
The Johnson family saw the Southeast region as a far more conducive environment to year-round racing and transplanted to Georgia in 1981, where they were able to race five, six, and sometimes seven days a week. The bustling Warren Johnson Enterprises engine shop is nestled in the beautiful Georgia countryside, not far from Atlanta Dragway. Johnson, an engineer at heart and in practice, continues to devote nearly every waking hour to his craft, and he is still driven to compete full time.
"I don't like bragging about anything; it is what it is," said Johnson. "But if I had to name what I'm most proud of over the course of my career, I'd have to say that in the beginning I realized that if I was going to have any longevity in doing something that I enjoy, I needed to make it as safe as possible. Not just for me, but for everybody. Some of the safety aspects that I've done – the Funny Car cage, the 7-point and 9-point seatbelts – I look at those things with a feeling of accomplishment because they had a positive effect on everybody in racing, not just on my program.
"I still wake up every day trying to accomplish something. There is no end in sight. For a person like me, the only time I'll be done with all of this, the only time I'll be able to stop wondering what I'm going to do next, will be when they throw dirt in my face.
"I enjoy the learning curve in life, and I enjoy what I'm doing, and I always try to make it better, not just for myself but also for the sport. If somebody looks at that and says, hey, that's a decent career, well so be it."
(Photos by Ian Tocher; Click to enlarge)