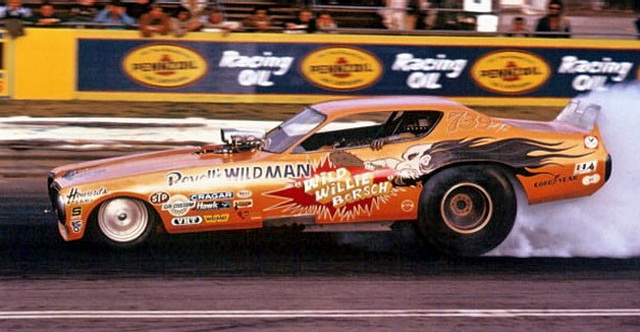 By Ian Tocher, Drag Illustrated

Could this be the ultimate drag racing collectible? It certainly has to be one of the most unusual.
Veteran drag racing fans and historians of the sport will surely recall the unique driving style of "Wild Willie" Borsch in the 1960s, in which he would perform his burnouts and most passes with just his right hand on the tiller while his left arm remained firmly planted trucker-style along the edge of the famous "Winged Express" Altered's cockpit.
But how many are as familiar with the false arm that Borsch continued the tradition with after he made the switch to Funny Cars in the Revell's "Wild Man" '71 Dodge Charger?
In a brilliant marketing move, Borsch managed to bring his trademark look over to the flopper by constructing a fake left arm from a dismembered mannequin, a left sleeve severed from an old fire suit and a discarded left glove. It all added up to a remarkably realistic-looking limb that even made its way to production in the Revell-issued plastic model of the car.
Well, according to the eBay listing, the original, one-of-a-kind arm was discovered recently in a long-forgotten cabinet in '70s Funny Car owner and driver Paul Ouellette's Westland, Michigan, garage. Apparently, Ouellette was an old friend to Borsch and in addition to letting the legend literally live in his garage for a time, he eventually bought and raced the "Wild Man" car before selling it to some street racers in Detroit.
The car was lost to history and Borsch died in 1991, but Ouellette held on to the arm, in addition to a few more pieces of "Wild Willie's" past, and now it's up for sale to the highest bidder.
The seller claims not to know much about Borsch or even about drag racing, but does appear to be a veteran eBayer who predicts this unique piece of dragrobilia will eventually leave the States and go to some foreign collector. If that doesn't happen and you're fortunate enough to get an arm up on the other bidders (sorry, we couldn't resist), drop us a line and a photo to [email protected] and we'll share your good fortune with the world.
(Photos from eBay listing; Click to enlarge)