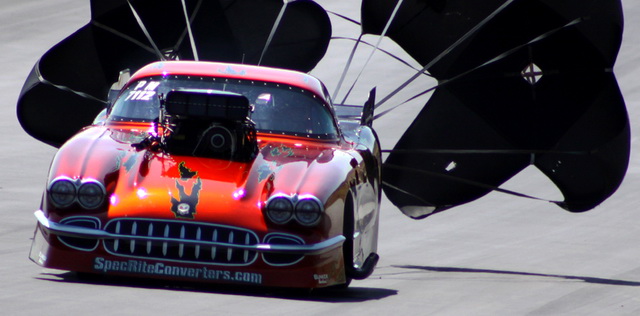 This weekend the West Coast Outlaw Pro Mod Association (WCOPMA) heads to Sacramento Raceway Park for the first time since September 2010. The two-year absence has racers excited about running again at what is known as the "hometown" track to many WCOPMA members.
The points battle is on for the 2012 Championship and this will be a major event in the final standings as Rod Burbage (above) and Mike Maggio will both be in attendance looking to gain as many points as possible with only two events left. Burbage currently leads the standings with a 144-point lead over Maggio, but the Maggio Motorsports team is undefeated so far this season at the WCOPMA events they have attended.
Nine other racers are looking to play spoiler in the Burbage/Maggio scenario, including recent "Nightfire Nationals" event winner Dan Myers, Blake Housley, driving for the Balance Racing team, Sean Renteria, who has already laid down five-second times at Sacramento Raceway this year, Rich Roberts, Scott Bailey, Rob Cacioppo, Bret Williamson, Monty Berney and first time WCOPMA racer Jeremy Hanger.
The action kicks off this Friday (Sep. 14) with an open test n tune scheduled for noon to 4 p.m., followed by one qualifying session beginning at 7:15pm. On Saturday there will be one more qualifying opportunity at 2 p.m., with eliminations for the eight-car field scheduled for 5 p.m., 7:15 p.m. and the final round at 8:45 p.m.
(Photos courtesy WCOPMA; Click to enlarge)