Have a look at the latest new car to roll out of the world-renowned championship winning chassis shop of RJ Race Cars and Quarter-Max. Built for car owner Othell Welch, this brand new 2023 Ford Mustang will be campaigned by NHRA Pro Stock driver Cristian Cuadra this upcoming season.
Cristian, the youngest of the "Cuadra Boys", heads into 2023 with momentum from an eighth place finish last season and continued support from Corral Boots, the Cuadra Family, and the Elite Motorsports team.
RJ Race Cars celebrated the success of their customers in 2022, with Elite Motorsports team driver Erica Enders capturing her 5th NHRA Pro Stock World Championship in dominating fashion with 10 national event wins in 13 final round appearances. Enders also set the quickest pass in Pro Stock history since the class switched to electronic fuel injection in 2016 with a 6.450 in her RJ built Chevy Camaro. Team Elite teammates Aaron Stanfield and Troy Coughlin Jr both with had multiple national event wins during the season and finished 3rd and 4th in the standings. Last season in total, RJ customers took home the Pro Stock Wally an impressive 15 times out of 18 races.
"The Cuadra family is very passionate about racing and we are very excited to see Cristian behind the wheel of an RJ car. Cristian is an impressive driver and we can't wait to watch him capture his first NHRA Pro Stock Wally. Hopefully it will happen this season in the new RJ car," said Rick Jones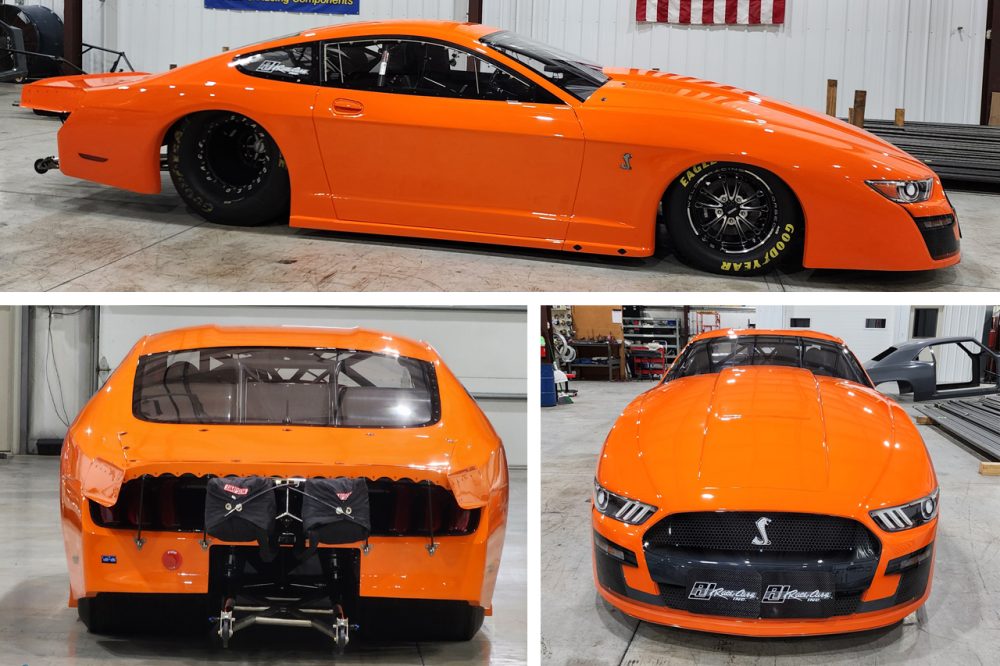 This highly sophisticated Pro Stock car is optioned out from tip to tail with the high-quality craftsmanship work and details that has been a trademark for the Quarter-Max and RJ Race Cars brands for over 35 years. The rear suspension features a RJ custom built 11″ fabricated 4130 rear end housing with Strange 2-piece axles and pro carbon fiber brakes, all Quarter-Max suspension featuring their Extreme 1/8″ Adjustable Billet 4-Link Chassis Brackets, Extreme 2″ Anti-Roll Bar, Extreme 1-1/4″ Pro Series Wishbone, QM titanium 65″ long wheelie bars with QM load cell, Race Star 63 Pro Forged rear wheels, and Penske Inerter rear shocks from Adam Lambert at Precision Racing Suspension.
The front suspension features Quarter-Max Threaded Adjustable Strut Cup Mounts with spherical bearings, Strange billet aluminum steering rack and pinion, PRS long travel pneumatic adjustable struts, Strange Front 4 Pistion Carbon Brakes, Weld V-Series front wheels with Goodyear tires. A fully loaded lightweight carbon fiber interior from Quarter-Max includes 46″ carbon fiber wheel tubs, carbon flat sheet panels, carbon wraparound seat, carbon interior door handles, carbon transmission tunnel, and carbon belly pans. The cockpit features a Quarter-Max 12″ carbon finish aluminum steering wheel, RJ extreme pro pedals with splined clutch pedal shaft, QM adjustable shift light mount, QM switch panel, QM titanium driveshaft tunnel and enclosure loops, Simpson Platinum 7-point seat belts, and ISP safety head pads.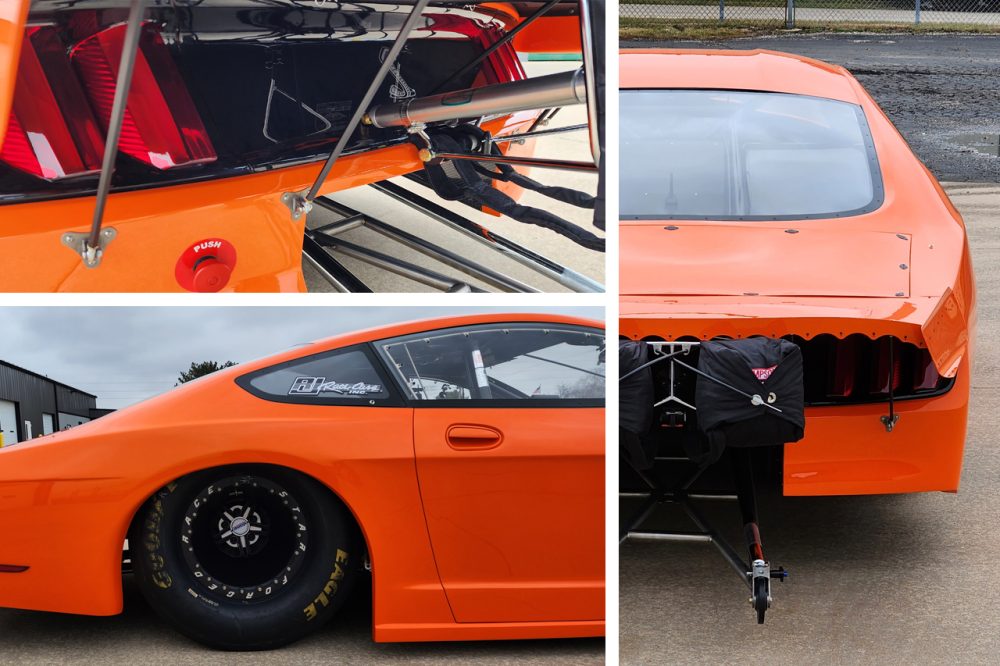 The exterior of the car features an all carbon fiber body from Five-Star Race Car Bodies with paint and graphics by SD Enterprises. Under the hood features a Frank Iaconio Racing Engines built NHRA Pro Stock legal 500 cubic-inch naturally aspirated 10,500 RPM engine that puts out about 1400 horsepower burning Sunoco Race Fuel managed by a Holley EFI ignition. Fresh air from the grill is supplied to the Holley throttle body via the carbon fiber K&N Pro Stock induction package. The fuel system consists of a 1-1/2 gallon Jaz fuel cell with an Aeromotive fuel pump, filter, and regulator. A highly optioned Racepak data system will provide over 50 channels of data from the engine, driveline, and suspension for the team to analyze every run.
Rick and Rickie Jones are the owners of RJ Race Cars and its entity Quarter-Max, which is a manufacturing leader in chassis and racing components, as well as a major retailer for more than 100 of today's top racing brands at their facility in Galesburg, IL. RJ Race Cars has built cars for many of the top names in Pro Stock, Pro Mod, No Prep, Drag Radial, and Sportsman categories.