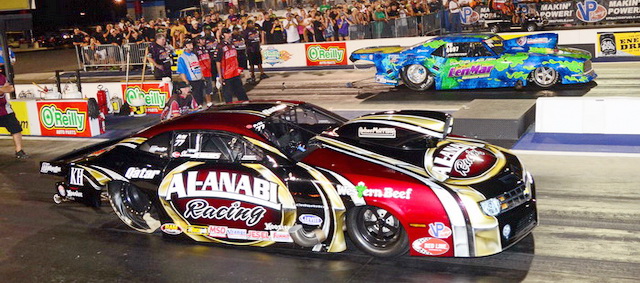 Shannon "Iceman" Jenkins (above, near lane) has been a staple at the American Drag Racing League's (ADRL) prestigious Dragstock race, first appearing at the event in 2005. At the ninth rendition of the race Aug. 4, Jenkins delivered another trademark performance in Pro Nitrous, this time in the ADRL's first appearance at zMAX Dragway.
He won for the first time in 2012 as well, running 3.87 at 194.02 mph to beat Doug Riesterer (far lane) and add another chapter to his unbelievable legacy.
"It's a great feeling to win here and it's great to see the sport healthy," Jenkins said. "Racing at a track like this and being fortunate enough to win it is the greatest feeling you can ever have."
Other winners included Tim Tindle (Pro Extreme), Brad Brand (Mickey Thompson Extreme 10.5), Eric McKinney (Pro Extreme Motorcycle), Cary Goforth (Extreme Pro Stock), Mike Janis (Aeromotive Fuel Systems Pro Modified) and Ronnie Davis (Summit Racing Equipment Top Sportsman).
The memorable finals wrapped up an incredible ADRL debut at zMAX Dragway, as fans flocked to the state-of-the-art facility and racers alike praised the zMAX facility.
Jenkins' run on Saturday was one of the many highlights, as the Al-Anabi Racing driver was in classic form in the heart of doorslammer country. In picking up his 11th Pro Nitrous win in 12 final appearances, both ADRL bests, Jenkins got better as the day progressed. It started with taking the No. 1 spot in qualifying with a 3.934 in his 2012 RJ Race Cars Camaro, continued with a 3.893 in the semifinals and concluded in the finals, which was his sixth impressive run on Saturday.
"We've got a good hot rod now and it's going to be good from here on out," Jenkins said. "We got in that race mode today and I like it that way. We were able to get our rhythm going and we weren't thinking about anything but going rounds."
Tim Tindle's first ADRL win couldn't have happened at a much better location, as his Jeffers Pro Cars Corvette went 3.647 at 208.36 mph to beat Quain Stott. The blower blew off Tindle's car before the finish line, but it couldn't stop a weekend-best pass and a winner's circle celebration.
"What more could you ask for? It's a big race and to get that first win here is amazing. This is the place you would want to do it," Tindle said.
After teammate and No. 1 qualifier Frankie Taylor had car trouble and had to bow out in the first round, the focus turned to Tindle, and he was terrific. He went 3.688 to beat points leader Mick Snyder in the quarterfinals and was even better in the finals against Stott.
"We had some electrical issues, but we got it straightened out and this was the result," Tindle said. "We were focused and we came up here to win."
Cary Goforth and his Jerry Haas Race Cars GXP got better in every round of eliminations, and was at his best in the Extreme Pro Stock finals, winning for the second time in 2012 by going 4.108 at 176.49 mph to beat Richie Stevens Jr. and his 4.16.
"I'm lucky enough to win at the two tracks we've never raced before," said Goforth, referencing his wins at Bristol and zMAX Dragway this year.
It was a huge win for the points leader, as Goforth put some space between him and Stevens, who is second in points. The standout showing in eliminations was also the type of performance Goforth, who won for an XPS-best eighth time, had been waiting the entire season to see.
"We've been trying to get our power back and this is what we've been looking for," Goforth said, who also thanked Sonny's Racing Engines. "But I don't think this (points race) is over. There's going to be a lot of these types of races."
With a final that lived up to its billing, Eric McKinney inched past Casey Stemper in a thriller, running 4.083 at 176.56 mph to beat Stemper for the first time in the finals this year after two previous defeats. It was a battle of the top two riders in the points race, and with his fourth win in 2012, McKinney inched closer to a championship thanks to a victory he quickly deemed special.
"This is better than the first one. I don't know how to explain it. Dragstock was my first ADRL win (in 2009) and (Saturday) was just unbelievable," McKinney said. "When we came through the tunnel before the final and I saw the crowd, it was a little overwhelming. My mom had to tell me to calm down."
McKinney qualified No. 1 with a 4.074, but deemed his effort on the tree not up to his usual standards before he and Stemper both had .007 reaction times in an outstanding final.
"I'm just fortunate enough to ride this bike. I was struggling on the tree all day and I was a little worried about that, but to get that .007 was just great," McKinney said.
Ronnie Davis' late-season turnaround in Summit Racing Equipment Top Sportsman was in full force at Dragstock, as he won for the first time in the class with an impressive 4.085 at 162.98 mph.
Chip Forman had an excellent .009 reaction time, but nobody could match Davis and his weekend-long consistency. It adds another first-time winner to the list in the class that had its E.T. and speed records re-set this weekend, along with a record qualifying field.
"I normally don't dial it in this quick, but it was a lot of fun going that quick," Davis said. "It was a good race car and this was a very meaningful win.
"I've struggled here in the ADRL and it's been disappointing. I really wanted to do good here. I had to get one of these things and I'm not going to stop now."
It might not have been a dominant performance, but Brad Brand's workmanlike effort in Mickey Thompson Extreme 10.5 gave him his second victory in 2012. Driving his RJ Race Cars Mustang, Brand went 4.069 at 195.28 mph to beat Dan Myers in the finals.
Brand went as quick as 3.984 in qualifying, but had to grind out wins against Billy Glidden and Todd Moyer to reach the finals, dialing it back even more to advance to the winner's circle.
"This is a killer facility and this was pretty incredible," Brand said. "We struggled all day and I was having to tune it down every run. It was just a struggle to get down the track. But all of these guys are good racers. If you beat them, you've done a good job."
Mike Janis picked the perfect time to run his best time of the event, going 3.895 at 193.28 mph to beat first-time finalist Dave Roemer in the Aeromotive Fuel Systems Pro Modified final.
It was an especially satisfying win for Janis, who recovered after an early-season crash to win for the second time in his ADRL career.
"It was so consistent this weekend. It was like the car was on a string. We knew we had a good car; it was just a matter of getting some breaks. Getting a win here, it's one of the biggest I've had," Janis said.
"We were all on the same page today and I'm just proud of this."
Bo Butner went 5.782 at 121.31 mph to beat Chris Holbrook in the SuperCar Showdown, winning for the fifth time in the class.
In Pro Junior Dragster, Robert Vogler was the winner of the 32-car Pro Junior Dragster Shootout, running a 7.91 at 81.04 mph to beat Noah Strickland. Vogler, who was also the No. 1 qualifier, won nearly $2,000 in what was the most lucrative Pro Junior Dragster race in ADRL history.
The eighth race on the 10-race 2012 ADRL Tour takes place on Sept. 7-8 with the Memphis Drags III at Memphis International Raceway.
(Photos by Roger Richards and Ian Tocher; Click to enlarge)
CONCORD, N.C. — Final round-by-round results from the ADRL Dragstock IX at zMAX Dragway, the Seventh of 10 events in the American Drag 
Racing League:
PRO EXTREME
ROUND ONE — Quain Stott, Chevy Corvette, 4.513, 165.82 def. Art McMahan, Chevy Bel Air, 5.601, 98.64; Terry Leggett, Ford Mustang, 3.749, 207.30 def. Bubba Stanton, Chevy Camaro, 3.820, 201.28; Mick Snyder, Corvette, 3.729, 206.20 def. Von Smith, Camaro, 5.343, 88.49; Brandon Pesz, Corvette, 5.132, 133.13 def. Dan Millen, Mustang, broke; Clint Thompson, Camaro, 3.862, 199.70 def. Tommy D'Aprile, Corvette, 4.443, 169.81; Tim Tindle, Corvette, 3.722, 206.42 def. John Stanley, Camaro, 3.800, 198.70; Alex Hossler, Camaro, 3.796, 201.73 def. Jason Scruggs, Corvette, broke; Richard Holt, Camaro, 6.362, 79.77 def. Frankie Taylor, Corvette, broke; QUARTERFINALS — Stott, 3.813, 200.71 def. Holt, 3.906, 187.08; Pesz, 3.947, 151.14 def. Thompson, broke; Leggett, 3.752, 207.02 def. Hossler, 3.768, 202.06; Tindle, 3.688, 208.20 def. Snyder, 3.718, 206.01; SEMIFINALS — Stott, 5.001, 104.19 def. Pesz, DQ; Tindle, 3.709, 192.91 def. Leggett, 4.175, 134.48; FINAL — Tindle, 3.647, 208.36 def. Stott, 3.990, 182.58.
PRO NITROUS
ROUND ONE — John Hall, Chevy Camaro, 3.939, 191.95 def. Pat Stoken, Camaro, 3.988, 188.91; Doug Riesterer, Camaro, 4.926, 103.24 def. Robert Mathis, Camaro, broke; Stan Allen, Camaro, 3.985, 191.54 def. Johnny Pilcher, Camaro, 4.051, 188.15; Robert Patrick Jr, Ford Mustang, 3.969, 190.08 def. Steve Vick, Camaro, 4.023, 186.05; Chris Juliano, Mustang, 4.046, 185.61 def. Burton Auxier, Camaro, broke; Bob Rahaim, Camaro, 4.415, 163.89 def. Rickie Jones, Camaro, 4.549, 160.48; Keith Haney, Camaro, 4.787, 120.51 def. Randy Weatherford, Camaro, 5.505, 90.04; Shannon Jenkins, Camaro, 3.934, 193.65 def. Ray Schuler, Camaro, broke; QUARTERFINALS — Riesterer, 3.836, 195.28 def. Haney, 4.088, 186.12; Allen, 3.938, 192.36 def. Rahaim, 3.972, 191.21; Juliano, 4.011, 186.79 def. Patrick Jr, 5.762, 81.10; Jenkins, 3.933, 193.54 def. Hall, foul; SEMIFINALS — Riesterer, 4.212, 176.97 def. Allen, broke; Jenkins, 3.893, 193.74 def. Juliano, 6.289, 76.69; FINAL — Jenkins, 3.870, 194.02 def. Riesterer, 4.231, 148.99.
EXTREME 10.5

ROUND ONE — Dan Myers, Chevy Bel Air, 4.036, 194.38 def. Chuck Ulsch, Chevy Camaro, 4.107, 191.87; Brad Brand, Ford Mustang, 4.442, 171.93 def. Todd Moyer, Chevy Corvette, 5.274, 145.78; Billy Glidden, Mustang, 4.025, 186.00 def. 'Wild' Bill Devine, Mustang, 4.422, 174.50; Dennis Sugrue, Chevy Cavalier, 5.192, 100.98 def. Alan Pittman, Mustang, broke; SEMIFINALS — Myers, 4.001, 194.55 def. Sugrue, 5.115, 100.55; Brand, 4.497, 139.57 def. Glidden, 7.088, 68.52; FINAL — Brand, 4.069, 195.28 def. Myers, 4.727, 119.98.
PRO EXTREME MOTORCYCLE

ROUND ONE — Kim Morrell, Suzuki Hayabusa, 4.182, 170.58 def. Travis Davis, 4.227, 170.06; Charlie Prophit, Hayabusa, 4.195, 169.15 def. Paul Gast, 4.392, 144.33; Dave Norris, 4.162, 170.97 def. Ryan Schnitz, Hayabusa, 4.298, 160.81; Terry Schweigert, 6.268, 71.37 def. Dave Vantine, broke; Scott Gray, Hayabusa, 4.167, 172.10 def. Japel Heard, broke; Ronald Procopio, 4.159, 171.97 def. Billy Vose, 4.177, 169.02; Casey Stemper, Hayabusa, 4.136, 173.78 def. Mac McAdams, 4.684, 117.43; Eric McKinney, 4.125, 176.30 def. Robert Hunnicutt, Hayabusa, broke; QUARTERFINALS — Schweigert, 4.109, 173.49 def. Gray, 4.162, 171.75; Procopio, 4.139, 172.89 def. Norris, 4.163, 171.66; Stemper, 4.091, 174.44 def. C. Prophit, 4.315, 152.66; McKinney, 4.085, 175.89 def. Morrell, 4.192, 169.13; SEMIFINALS –– Stemper, 4.110, 172.19 def. Procopio, 4.142, 173.29; McKinney, 4.147, 174.57 def. Schweigert, 4.976, 108.09; FINAL — McKinney, 4.083, 176.56 def. Stemper, 4.109, 159.70.
EXTREME PRO STOCK

ROUND ONE — Richie Stevens Jr, Ford Mustang, 4.727, 169.66 def. Jeff Dobbins, Mustang, 7.373, 62.58; Brian Gahm, Mustang, 4.177, 175.48 def. John Montecalvo, Chevy Camaro, 4.888, 153.30; John Deflorian Jr., Camaro, 5.001, 138.60 def. Matt Bertsch, Mustang, 5.635, 101.21; Todd Hoerner, Camaro, 4.588, 145.44 def. John Pluchino, Ford Escort, 9.258, 48.30; David Schorr, Escort, 4.162, 174.93 def. Pete Berner, Camaro, 8.491, 53.06; Cary Goforth, Pontiac GXP, 4.144, 175.96 def. Elijah Morton, Mustang, 5.726, 98.06; Trevor Eman, Mustang, 4.540, 147.58 def. Doug Kirk, Mustang, 5.102, 111.46; Richard Penland, Mustang, 4.164, 174.55 def. Kevin Bealko, GXP, 9.477, 31.36; QUARTERFINALS — Gahm, 4.182, 175.41 def. Eman, 4.262, 172.87; Stevens Jr, 4.155, 175.09 def. Penland, DQ; Schorr, 4.159, 174.32 def. Hoerner, 4.187, 175.27; C. Goforth, 4.133, 175.64 def. Deflorian Jr., 5.408, 93.04; SEMIFINALS — Stevens Jr, 4.154, 175.37 def. Schorr, foul; C. Goforth, 4.116, 175.46 def. Gahm, 4.166, 175.00; FINAL — C. Goforth, 4.108, 176.49 def. Stevens Jr, 4.160, 175.78.
TOP SPORTSMAN
ROUND ONE — John Lassiter, Pontiac GTO, 20.761, no speed def. Chuck Mohn, Chevy Camaro, broke; Bob Gulitti, Camaro, 4.244, 162.18 def. Don Klooster, Chevy Corvette, 4.901, 152.68; Earl Folse, Camaro, 6.128, 81.48 def. Lizzy Musi, Camaro, foul; Chip Forman, Camaro, 4.238, 174.26 def. Jeff Brooks, Kaiser Henry J, foul; William Brown III, Pontiac Grand Am, 4.337, 150.23 def. Keith Raftery, Camaro, 4.260, 172.04; Ronnie Davis, Corvette, 4.091, 173.05 def. Joshua Vettel, Camaro, 5.731, 89.83; Travis Harvey, Camaro, 4.115, 179.59 def. Dylan Stott, Ford Mustang, foul; Aaron Glaser, Camaro, 4.514, 132.74 def. Mark Malcuit, Camaro, broke; QUARTERFINALS — Brown III, 4.274, 170.30 def. Gulitti, 4.182,  171.99; Forman, 4.188, 174.32 def. Folse, 4.295, 173.32; Harvey, 4.122, 171.66 def. Glaser, 4.259, 169.51; Davis, 4.077, 181.84 def. Lassiter, 4.347, 170.54; SEMIFINALS — Forman, 4.170, 174.59 def. Harvey, 4.098, 172.59; Davis, 4.070, 182.01 def. Brown III, 4.301, 155.97; FINAL — Davis, 4.085, 162.98 def. Forman, 4.599, 168.77.
PRO MOD
ROUND ONE — Dave Roemer, Chevy Cavalier, 4.131, 178.47 def. Donnie Walsh Jr., Ford Mustang, 4.626, 120.33; Jeff Naiser, Chevy Camaro, 4.065, 187.16 def. Rickie Smith, Camaro, 4.166, 180.86; Mike Janis, Mustang, 4.206, 159.34 def. Jeffrey Cummins Jr, Camaro, 5.395, 104.01; Pete Farber, Dodge Daytona, 4.936, 175.37 def. Adam Flamholc, Camaro, 5.046, 163.41; SEMIFINALS — Roemer, 3.962, 191.65 def. Farber, 4.006, 198.93; Janis, 3.919, 191.84 def. Naiser, 4.045, 187.89; FINAL — Janis, 3.895, 192.38 def. Roemer, 4.469, 152.97.
SUPERCAR SHOWDOWN

ROUND ONE — Bo Butner, Ford Mustang, 5.831, 120.62 def. Drew Skillman, Mustang, 5.908, 119.39; Chris Holbrook, Mustang, 5.842, 120.41 was unopposed; FINAL — Butner, 5.782, 121.31 def. Holbrook, 5.952, 120.29.
PRO JUNIOR DRAGSTER

ROUND ONE — Austin Solesbee, BOS, 7.901, 83.42 def. Courtney Howard, HalfScale, foul; Morgan Benfield, Motivation, 7.949, 82.70 def. Patrick Weatherford, Racetech, foul; Codie Nye, Junior, 8.014, 74.60 def. Jackson Core, Junior, 7.960, 81.18; Tyler Clouse, Boss, 7.950, 82.16 def. Ryan Tolley, HalfScale, 7.990, 80.29; Tayler Weatherford, Racetech, 7.968, 80.31 def. Carrie Wilson, Pinnacle, 7.940, 80.66; Kaley Allen, Halfscale, 7.940, 81.68 def. Zacharias Chipps, Mike Bos, 7.882, 81.04; Brittany Clark, HalfScale, 7.912, 82.64 def. Brandon Bell, Mike Bos, broke; Tia Tutterow, HalfScale, 7.000, 79.21 def. Zac Barnett, Mike Bos, 7.992, 83.05; Mitchell Seymore, HalfScale, 7.912, 79.33 def. Bethany Crick, HalfScale, 7.967, 80.06; Noah Strickland, HalfScale, 7.927, 80.21 def. Marc Hammock, Junior, 7.918, 80.05; Janna Vogler, HalfScale, 7.941, 79.34 def. Charlie Smith, BOS, 7.940, 83.80; Ava Lawler, HalfScale, 7.949, 72.42 def. Ryan Smith, HalfScale, 7.879, 83.98; Alexander Oppen, Junior, 7.938, 81.35 def. Madison Lee, HalfScale, 7.865, 84.94; Tyler Allen, Halfscale, 7.897, 81.66 def. Kyle Dvorak, Spitzer, 7.887, 81.69; Morgan Tedder, HalfScale, 7.924, 81.13 def. Camrie Caroso, HalfScale, 7.894, 83.57; Robert Vogler, Halfscale, 7.884, 82.52 was unopposed; ROUND TWO — T. Allen, 7.980, 80.84 def. Nye, 7.936, 81.47; J. Vogler, 7.894, 80.69 def. K. Allen, 7.887, 82.72; Strickland, 7.900, 78.68 def. Clark, 7.925, 83.72; Lawler, 8.047, 67.73 def. T. Weatherford, 7.894, 79.74; R. Vogler, 7.932, 80.58 def. Solesbee, 7.885, 84.09; Oppen, 7.915, 82.81 def. Clouse, 7.887, 81.78; Seymore, 7.963, 76.20 def. Tutterow, 7.900, 81.46; Benfield, 7.865, 83.72 def. Tedder, 8.332, 78.81; QUARTERFINALS — J. Vogler, 7.951, 79.78 def. T. Allen, 7.963, 80.48; Oppen, 7.959, 78.77 def. Lawler, 7.920, 80.91; Strickland, 7.814, 83.44 def. Benfield, foul; R. Vogler, 7.899, 80.18 def.  Seymore, 7.850, 82.52; SEMIFINALS — Strickland, 7.917, 78.20 def. J. Vogler, 7.966, 80.24; R. Vogler, 7.958, 80.25 def. Oppen, 7.919, 82.98; FINAL — R. Vogler, 7.910, 81.04 def. Strickland, 7.889, 82.88.