Sure, it may be only one race into the season, but David Vantine and his screaming yellow Vantine Nitrosports bike are undefeated so far this year. And even better, you can buy 2018's winningest, blown, North American, Top Fuel motorcycle—it's for sale!
Vantine will be the first to admit that his Manufacturers' Cup Spring Cup win at South Georgia Motorsports Park near Valdosta wasn't the prettiest for his 5.77 second, 246.44 mile per hour, nitro-burning beast.
In fact, Vantine created some drama in Sunday morning's qualifying session when the 900 pound bike pitched him right off of it. "The bike flipped the sprag," reported Vantine.
The bike zipped the tire up on the run and Vantine quickly grabbed the rear brake. "Which is what you're supposed to do," continued Dave. "But the big increase and sudden decrease in RPM can flip the sprag.
"Apparently it's fine to do that in low gear, but as soon as I hit the shift button to go into high gear, the rear wheel immediately locked. I skidded it out as long as I could, but the slower it got, the harder it was for me to hang on to it. Down under 10 miles an hour, with the tire as wide as it can be, and the track very sticky—it was just coming to a stop, and the bike kinda took a right. I just couldn't hang on to it and basically fell off the motorcycle.
"It was like the horse coming to a stop and getting thrown over the front—pretty embarrassing. The bike never tipped over, it just leaned to the side.
"But the worst part was Mary (crew member Mary Dangrow) face-planting and busting her lip as she ran down the track to check on me. So she was hurt and I wasn't.
"We got the bike back to the pit and figured what had happened. Larry (fellow Top Fuel rider Larry "Spiderman" McBride) came over with an aluminum post and a hammer and beat the thing outta there so he could put a new sprag in it, and all was right with the world."
After vanquishing Mitch Brown in round one of eliminations, Vantine faced McBride in the final.
The track was so sticky for that final that both teams needed more than one crewman to push the bikes back after the burnouts—the first time ever for these two teams.
"Larry told me later he really struggled getting the bike back and in the beams because he was pretty much stuck to the track. It did take extra effort to stage."
But stage they did and both bikes took the tree. Vantine launched well with a 1.02 60 foot but shut it off about 700 feet. "The bike was going right. It had been going right most of the weekend. We made some wheelie bar adjustments, but I believe we needed to get out the scales and balance it. I believe we needed to add weight to the left side of the bike or take weight off the right side.
"So I let out and I fully expected Larry to go flying by. I thought 'Here it comes,' but it never came." And Vantine lit the winlight.
"So that was the final. It wasn't pretty. I didn't have a stellar run, but it was a win and a great way to start the season. We're real happy to start out with the points lead."
And with a brand-new bike on the way, Vantine's winning beauty could be yours. "The bike is for sale race-ready and comes with some help.
"Our greatest wish is that someone would pick it up in Valdosta in November. However, if someone is interested sooner, we could do that. The team would aid in the transition with riding, maintenance, and tuning—here or overseas. It's all negotiable."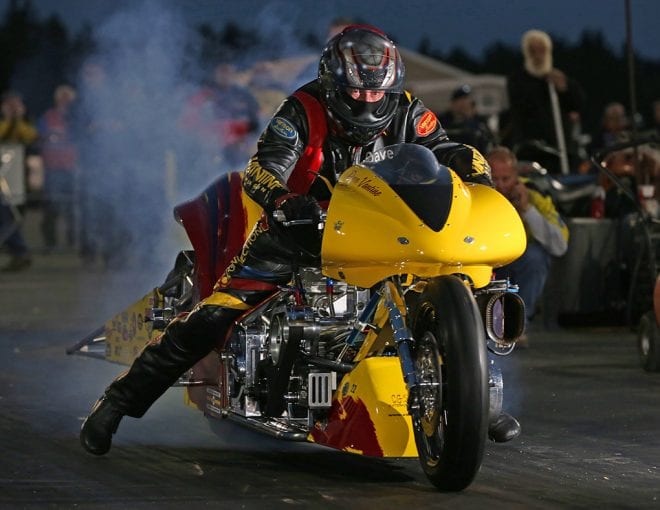 Here are some details about the bike for sale:
With bests of 5.778 and 246.44 MPH, it's the third quickest and fastest motorcycle in the world—and getting better at both ends!
Two 15 GPM Waterman fuel pumps deliver the nitro to an Auto Rotor 1.5 L Blower/Supercharger. That charge flows through a Cycle Specialist/McBride 1500cc engine.
All that power is transferred through an MTC-10 stage clutch with 6-stage clutch control to a B&J 2-speed transmission and finally to a Hawaya Racing billet rear wheel.
An Electrmotion 24-channel control box and Power Pack, and RacePak V300 computer, keep things under control through a variety of sensors (complete list available.)
Everything rides in a Puppet/Gary Clark chassis built in 2009, steered by a BST carbon fiber front wheel, and held in place by brand new wheelie bars built by Cycle Specialist. The starter and a Projack stand are included.
All for a reduced price of $159,000.
To see the bike in action go to https://youtu.be/2RDo1e726n0
For more information contact:
Joe Taranto: 315-824-3200 x758 or [email protected]
David Vantine: 315-824-3200 x722 or [email protected]
"We're really looking forward to getting our hands on the new bike. We're taking delivery—probably mid-summer—of a rolling chassis from the McBrides. Then Greg Pollard will do some detail work on the bike at his Nitro Fab shop in Canada."
The new bike will be red and yellow, similar to the current bike. But a theme might develop to recognize Vantine's Armenian heritage, and the most feared Armenian of all time—Vlad the Impaler!
"That remains to be seen," Vantine said about the Vlad livery. Either way, the new bike will have difficult time living up to both the performance and great looks of the one that's for sale.
That bike will see action next weekend—June 1-3—at the Manufacturers' Cup DME Nationals at North Carolina's legendary Rockingham Dragway. Go see it for yourself, and pack along some smart money to take it home with you.
"Special thanks to Larry and Steve McBride of Cycle Specialist," finished Vantine. "Also Brad Penn Oil https://www.penngrade.com , and the team— Greg and Neil Pollard, Joe Taranto, Jim Althaus, Peter Vantine, Mary Dangrow and Genie Muldoon. Huge thanks to the awesome employees of Vantine Imaging (http://www.vantineimaging.com/home.html) and best of luck to crewman Steve Crouse, who's serving in the military overseas."
Story and photos by Tim Hailey/EatMyInk.com