Your favorite drivers from the NHRA will be working up a sweat to help make wishes come true for deserving children. The Vandergriff Foundation has teamed up with Flywheel Sports to raise money for the Make-A-Wish Foundation. On Thursday, May 14th at noon, Bob Vandergriff Jr and his wife Marisa will lead this fun and challenging ride at the Flywheel Sports location in Alpharetta, GA. NHRA race fans will be able to donate money in support of their favorite driver.
Participating with the Vandergriffs will be: BVR teammates Dave Connolly & Larry Dixon, Tommy Johnson Jr, Matt Hagan, Shawn Langdon, Steve Johnson, Steve Torrence, Leah Pritchett, Morgan Lucas, Richie Crampton and Shane Gray.
"The Make-A-Wish Foundation is a wonderful organization and we really wanted to help them out," said event organizer Bob Vandergriff Jr. "Granting wishes for these wonderful children really hits home for my wife and I as parents. We appreciate Make-A-Wish's involvement in our sport with Terry Chandler and Don Schumacher Racing."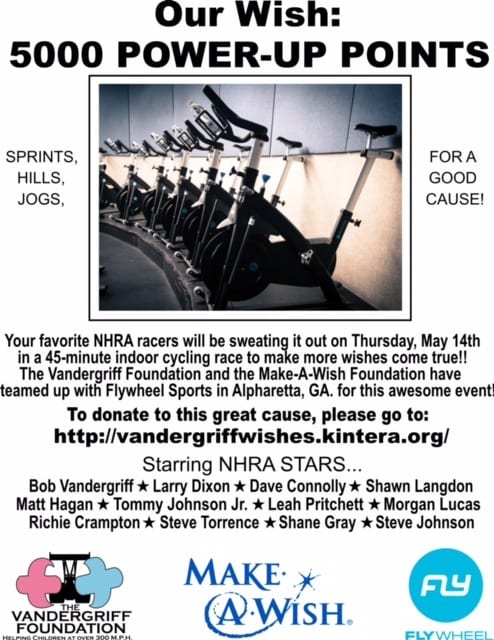 Flywheel is an intense, indoor cycling workout that measures a rider's resistance, speed and power output. Drivers will be able to see all of their statistics up on large screens and compete against each other during this 45 minute ride.
To donate in support of your favorite NHRA driver, go to www.vandergriffwishes.kintera.org