When it's your day, it's your day, and Tyler Hard's day came on Sunday when he won the 2021 Northeast Outlaw Pro Mod Association (NEOPMA) season finale at Maryland International Raceway's Superchargers Showdown, Oct. 1-3. Hard won on the starting line when Fredy Scriba Jr. went red by .006 seconds.
"It was good to see Tyler Hard, tuner Patrick Barnhill, crew chief/teammate Kevin McCurdy and the whole Hard Racing team back in the winner's circle," said John Mazzorana, founder and president, NEOPMA. "They've struggled all season long, but they seem to be back together and they're doing great. We really want to thank Brian Hard and the entire Hard family for being not only major racers, but also major sponsors of the club."
In qualifying, Hard drove his ProCharger-boosted '68 Camaro to a 3.691-second pass at 207.34 mph to end up No. 4 on the qualifying order. Mike Decker Jr., the newly crowned 2021 NEOPMA champion, was the No. 1 qualifier with a 3.647 at 209.59.
"We started off with 21 cars, and due to breakage, 19 cars ended racing," Mazzorana said. "In qualifying, 15 out of the 16 were in the 3-second range. Mike Decker Jr. went a 3.64, but everyone was right there with him."
Hard lined up with NEOPMA newcomer David DeMarco in the opening round of eliminations. Hard won with a 3.771 at 205.04 over DeMarco's 3.822 at 200.62. He stepped up to a 3.748 at 203.83 on a bye run in the second round, as opponent Steve King wasn't able to make the call. The Pennsylvania native lifted to a 4.612 at 114.60 in the semifinals when Mike Decker Jr. went red by .011 on his 3.702 at 208.17 pass.
Meanwhile, Scriba qualified No. 10 with a 3.743 at 201.07 in his nitrous-fed, Musi-powered "Sorcerer" '69 Camaro. He used a consistent 3.746 at 202.48 to defeat Andy Jensen and his 3.925 in the first round of eliminations. That was followed up by a 3.753 at 202.58 on a bye run since opponent Todd Moyer shut off after the burnout. In his semifinal match with Chuck Ulsch, Scriba won when Ulsch left the starting line .010 too soon on a 3.718-second pass, allowing Scriba to move on the final round with his 4.483 at 120.43.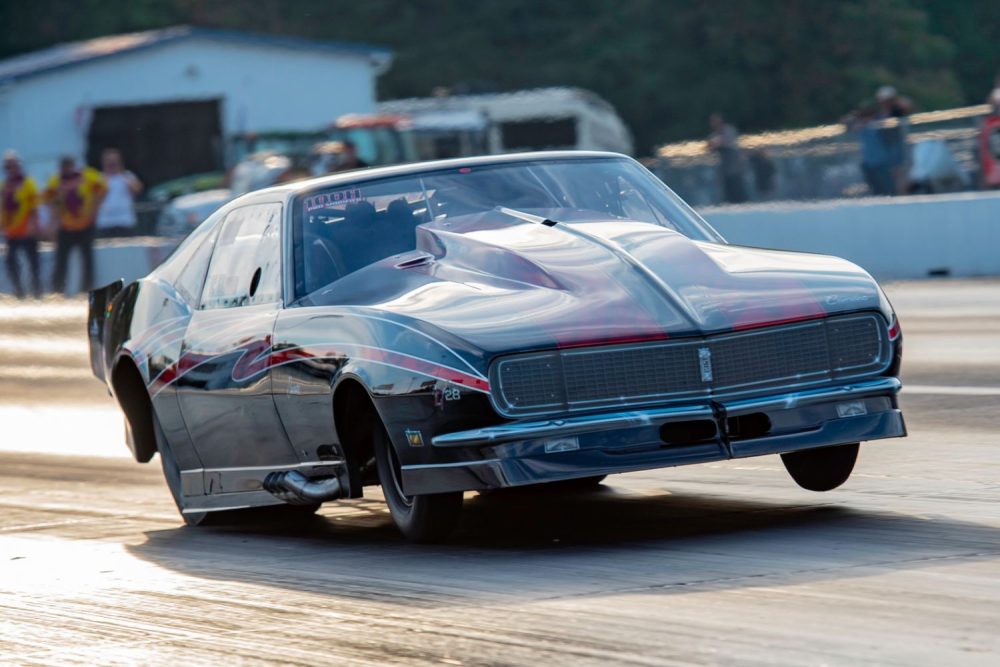 In the final round, Scriba suffered the same fate that sent him to the money round, as he went red by .006. Hard clicked off a 3.771 at 202.76 to take the win, while Scriba recorded a 3.758 at 201.37.
"Race day was exciting, though we did end up with some red lights," Mazzorana said. "It would've been a real battle between Fredy, who's extremely fast, and Tyler. It was going to be door to door all the way down."
Despite the semifinal loss, Decker clinched the 2021 NEOPMA season championship. Driving his screw-blown Decker's Salvage '17 Camaro, Decker won two races in four final-round appearances. It was the multi-time Outlaw 10.5 champion's first season competing in Pro Modified.
"Mike's performance was extraordinary this season," Mazzorana said. "It was a great championship fight, and it would've been even closer if [championship runner-up] Fredy Scriba hadn't missed two races. As a matter of fact, the top four guys were all within striking distance of the championship, which makes it exciting. Mike and his team did a fantastic job. The Decker family is extremely happy, and we're happy for them as well."
While the Superchargers Showdown was the end of the season for NEOPMA, Mazzorana is already looking ahead at next season. Between the support of new and existing members, as well as interest from host tracks, Mazzorana has high hopes for 2022.
"We have to compliment Royce [Miller] and his team, as the track itself was great," Mazzorana said. "Thanks to him and all the tracks that hosted us this year: Maple Grove Raceway, Maryland International Raceway, Empire Dragway, Cecil County Dragway. Things are looking good for next season. We've already received invitations from tracks to fill up a full schedule. We've also had members already paying their dues for next year in advance. Interest is very high in the club, and we're all excited to see what 2022 brings.
"Additionally, we'd like to thank our club member sponsors like Fred Scriba, Gene Pilot, Dave Hance, Kevin Koch, and Kurt Steding," Mazzorana said. "We couldn't do this without their support and the support we receive from manufacturer sponsors like American Racing Headers, ATI Performance Products, Jerry Bickel Race Cars, Star Transporters, VP Racing Fuels, and USA Auto Products."
Stay tuned to NEOutlawProMods.com for offseason updates, including the 2022 NEOPMA schedule announcement.