After making a few changes and trying a handful new things over the winter, Tim Slavens and tuner Mark "TYDO" Werdenhausen hoped to be within striking distance of running in the 3.60s by Donald Long's Lights Out event next month.
After Friday's test pass that nearly melted social media, Slavens blew way past striking distance.
Perhaps signifying what we can expect from the Radial vs. the World class in 2019, Slavens fired the opening salvo with a massive 3.643 at 214.79 mph during U.S. Street Nationals testing at Bradenton Motorsports Park in his '69 Camaro. It was a shocking blast from the Marshfield, Missouri native and sent a message that 3.50s may be well within reach for the class this year.
"Excited doesn't really cover it," said Slavens, who credited the support of team owners Matt and Anita Zimmerman, and Mark Michael. "We've always kind of been identified as underdogs – that's been our nickname out here – and after that, we're having people tell us they don't think we can run with that name anymore."
Slavens certainly threw his name into the crowded, competitive RvW hat with one incredible pass on Friday, but "TYDO" and Slavens aren't about to make any bold proclamations yet. "TYDO" joked he'll let the "keyboard racers do our talking for us," but the run caught everyone's attention, especially as they went into the weekend hoping to simply establish a baseline for the year.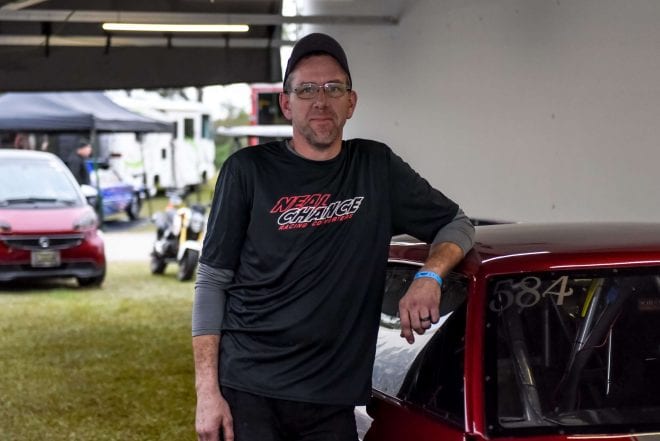 They added bigger injectors and a new Neal Chance Racing torque converter over the winter, but the potential of the car went up ten-fold in less than four seconds on Friday.
"It gave me goosebumps when that number came up," Werdenhausen said, who is lovingly known in the small tire ranks as "TYDO" – an acronym for "Take Your Diaper Off", a phrase he routinely used as a friendly callout to competitors and customers.
"Only a handful of people have been in the 60s," he continued. "And to be in that group of guys, it's pretty special. We maxed out on the injectors last year, so we put some bigger ones in. As the year goes along, we'll have the ability to turn it up some more. With the new program from Marty (Chance), I think there's more to be gained."
Werdenhausen said there's still another 10 pounds of boost left, which bodes well for what the team can put together in 2019. They've got a busy schedule on deck, including all three of Long's major RvW races, but this weekend's encouraging start could make this their biggest year yet.
Slavens was consistently in the mid-3.70s during testing on Tuesday and Wednesday, establishing a baseline Werdenhausen feels comfortable the team can reach all season. Seeing the number of consistent runs, they turned it up on Friday with the hope of cracking into the 3.60s for the first time.
Slavens blasted through that barrier with a .976 60-foot time, and powering to a 2.486 by the 330-foot mark before the 3.643 showed up on the scoreboard.
Social media quickly caught word of Slavens' mind-blowing pass, unofficially kicking off another season of the wild and unpredictable in the world of drag radial.

"The pass before that we had a wheelie at about 100 feet, but I knew if could hang onto this one it was going to be pretty fast," Slavens said. "It's pretty surreal to jump that far into the 3.60s. We wanted to put ourselves in a position to run high .60s when we go to Georgia, but we didn't anticipate it would happen this week. The car did perfect this weekend."
Slavens went 3.705 in the first round of eliminations, but lost against class heavy-hitter Mark Micke on a holeshot. Still, they made significant progress and head into February much further ahead than they expected. Now, the goal is to make sure the run of 3.643 isn't the biggest highlight of their year.
"It would be nice to continue go a little faster and prove we're not a one-hit wonder," Werdenhausen said. "This raises everyone's expectations."
Slavens and Werdenhausen were also sure to thank a list of sponsors that include: Menscer Motorsports, Hyperaktive, Design Performance, M&M Transmissions, 417 Auto Body, Emtron Engine Management TYDO Race Cars.