Two friends with close ties to the Professional Drag Racers Association were seriously injured Saturday in a crash during Top Sportsman qualifying for the third annual PDRA Spring Nationals at Rockingham Dragway.
Race car driver Ronnie Davis of Suwanee, Ga., 58, was treated at the track and transported to Moore County Regional Hospital in Pinehurst after losing control of his Chevrolet Corvette beyond the finish line after an unsuccessful final qualifying attempt.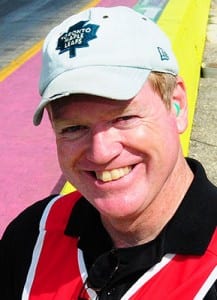 Ian Tocher, 55, of Roswell, Ga., a photographer and journalist who had written numerous stories about Davis and others for web and print publications including Drag Illustrated, was hit by debris and transported by care flight to UNC Hospital in Chapel Hill.
Davis is the reigning PDRA World Champion in the Top Sportsman class as well as the owner of Davis Golf Carts, the official pit vehicle provider to the PDRA.  Known as "The King," he is one of the most accomplished sportsman racers in the Southeast.  In addition to his 2015 PDRA title, he is also a five-time IHRA Top Sportsman World Champion and a two-time NHRA division champion.