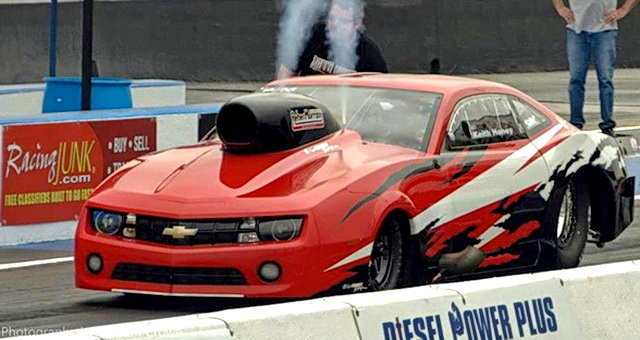 Track co-owner Keith Haney said the car count for the inaugural X-DRL event this weekend at Osage Casino Tulsa Raceway Park is already looking strong. The X-DRL Spring Nationals will run on Saturday and Sunday, Apr. 6-7.
"We've got cars from all over North America that are converging on the track for this race. Many of them tested last week and left their rigs at the track," Haney said. "The X-DRL crew got here this week to start their work, and the excitement has been building ever since.
"We had 40 cars a day making passes here last weekend," said Haney, who plans to race the Spring Nationals himself. "At my own test, my Lucas Oil Chevy Camaro (above) ran a 3.95 second pass at 186 mph to the eighth-mile. It was incredible and got us all very excited. I'd jump in the car and race right now if I could."
To help fan the flames, Haney said the track is going to give away T-shirts through a promotion on Facebook. Fans can enter the contest by going to facebook.com/TulsaRacewayPark or the X-DRL's fan page on Facebook and like and share the special photo posted there to enter to win a shirt.
"We did something similar on a ticket giveaway last week," Haney said. "It got incredible response, over 2,000 shares. With every Facebook user having 600 friends, more than a million people could see our post about this weekend's race. We're expecting the same excited response for the shirts."
Haney said if the excitement on the track wasn't enough with nine classes of cars racing, he said the track's midway will be packed with a whole variety of sights and sounds.
"The centerpiece of the midway is going to be Austin Dillon's AdvoCare Chevy Camaro NASCAR Nationwide Series car and hauler," Haney said. "We're also going to have Monster Energy out there, as well as a number of other sponsors in on the excitement."
The gates at Tulsa Raceway Park open at 8 a.m. CDT on both Saturday and Sunday with qualifying starting at 10 a.m. both days. Eliminations start at 2 p.m. on Sunday.
(Photo by William Crowe)