Osage Casino Tulsa Raceway Park hosted one of the most successful races in its history when the track held the Osage Casino Throw Down in T-Town last weekend.
A large contingent of race cars across several classes populated the track, and a huge crowd was in attendance.
"This ended up being our biggest Throw Down race in the history of the race track in car count," said Keith Haney, who co-owns the track with Todd Martin. "We had 178 race cars, not counting the 13 cars that broke. It was a huge, success."
Drag Illustrated magazine came to cover the event, which featured 18 Pro Extreme cars and 19 Pro Boost/Pro Nitrous cars.
"It was an honor for (Drag Illustrated) to come see what a Throw Down really is," Martin said. "The early count is a little over 30,000 fans for the weekend. That's an NHRA-event type race. And we're talking Pro Mods and (Drag) Radial (cars) and Junior (Dragsters) and other kinds of cars. We're talking about a race that's twice a year."
What has made the Throw Down such a success? Haney and Martin are racers themselves, and they cater their track and their race to the competitors.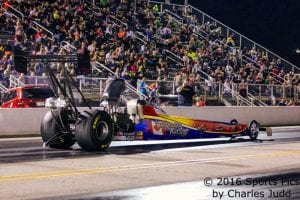 "Some of the professional organizations need to take notice," Haney said. "Everybody needs to take notice that it's not all about the money. It's about how you treat your racers, it's about having spectators in the stands, it's about the opportunity to get sponsorship."
As an example of the popularity of the event, Haney cites sponsor NAPA's presence at the track. NAPA had a large display and gave away numerous souvenirs to fans.
"They were totally shocked with the Throw Down," Haney said. "The way we do it is just different. It's racer-friendly."
A racer who crashed during the event was pleased with Tulsa's safety equipment and personnel, as well as the response from Haney and Martin.
"He said that was really happy with the safety equipment that we have at the race track," Martin said. "He was happy with the shutdown area and the owners coming out and checking on him. You don't get that at most race tracks."
Another indication of the race's popularity is shown by a surprise delivery of pizzas from an NHRA team.
"We cannot thank Leah Pritchett and Don Schumacher Racing enough," Haney said. "They sent 50 Papa Johns pizzas to Tulsa for the staff and everybody here this weekend. That's how much notice this race has gotten."
Tulsa Raceway Park is far from done in 2016. A No Prep race is slated for the weekend after Thanksgiving. Plus, upgrades to the race surface make it perfect for testing.
"Tulsa has been known as Pro Stock testing grounds," Haney said. "If you're going to test Pro Stock, you go to Tulsa. We're letting teams now – nitro, Pro Mod, whatever – we now have a longer shutdown than 90 percent of the tracks I this country. It's almost a mile long, and it goes uphill.
"And we just laser-leveled brand-new asphalt from the eighth-mile to 200 feet past the quarter-mile. We had some bouncing out there, but we fixed that. It's all brand new. Pro Stock teams will be even happier, and other teams will love it too."