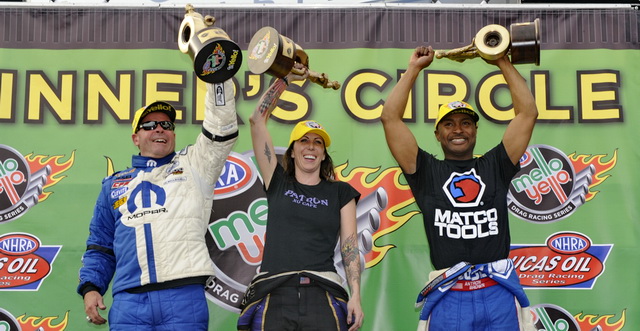 Alexis DeJoria raced to her first career Funny Car victory Sunday at the CARQUEST Auto Parts NHRA Nationals at Wild Horse Pass Motorsports Park.
Antron Brown (Top Fuel) and Allen Johnson (Pro Stock) also were winners of the NHRA Mello Yello Drag Racing Series event at the multi-purpose motorsports facility near Phoenix.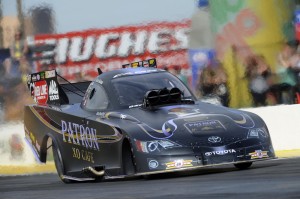 DeJoria powered her Patron XO Cafe Toyota Camry to a winning performance of 4.043 seconds at 309.63 mph to defeat Robert Hight, whose Auto Club Ford Mustang lost traction. DeJoria raced past Jeff Arend, Del Worsham and red-hot event top qualifier John Force to advance to the final.
DeJoria, in her third season at the controls of an 8,000-horsepower Funny Car for Kalitta Motorsports, becomes the fourth female to win an NHRA Funny Car race and the 14th female in history to win a Mello Yello Series race.
"When we won the finals, I couldn't believe it," said DeJoria, daughter of famed entrepreneur John Paul DeJoria and wife of noted television personality Jesse James.  "Actually, I can because I know we can do it, but it's such a shock at the same time. It's surreal. It's really amazing. I don't think I'm going to be able to sleep."
DeJoria's win gave the Phoenix crowd a chance to see the well-known Kalitta Motorsports mosh pit celebration. DeJoria pointed out that the support of the whole organization made the win much more rewarding.
"I can't wait to see the video of the Kalitta guys on the starting line," DeJoria said. "I don't care what anybody says; that's badass. We all root for each other, and it's really a team effort over there."
Leaving Phoenix, Force led Hight by 66 points with DeJoria third overall, 69 points back.
In Top Fuel, Brown defeated Brittany Force with a run of 3.755 at 324.20 in his Matco Tools dragster to her 3.793 at 322.04 in her Castrol Edge dragster. A Don Schumacher Racing/John Force Racing final in Funny Car is normal, but this was the first Top Fuel final between the two NHRA super-teams.
It was the 2012 Mello Yello Top Fuel world champ's third career victory at Phoenix and his 26th career Top Fuel win. He defeated Australian Richie Crampton, defending world champ Shawn Langdon and No. 1 qualifier Doug Kalitta before edging Force in the final.
"We love coming to Phoenix," Brown said. "They revamped it and did a phenomenal job. We've had bad mishaps and tragedy here and some wins here. This place really holds a special place in my heart for what we've been through and what we've accomplished here."
Force, last season's top rookie, was appearing in her first Top Fuel final and her team performed consistently throughout the weekend, with most passes in the low 3.8-second range and her final pass in the 3.7s. Brown was quick to point out Force's consistency and knew it would take a perfect run to claim the Wally.
"She's at a young stage in her career, and you can tell that she's getting better and better," Brown said. "She was consistent all day to get those round-wins. None of these teams come out here to play games.  It's not recess no more. School is in, and you better have your thinking caps on and be ready to do the work.
"I look at her as a tough, top competitor. They stepped up in the final. You look at her car and see Castrol on the side, and that's John Force Racing. We go after them like we go after everyone else."
With his semifinal appearance, Kalitta took over the Top Fuel series lead, 26 ahead of Pomona winner alBalooshi.
Johnson, also a 2012 series champ, scored his 21st career Pro Stock win and second at Phoenix by defeating V Gaines with his final round effort of 6.543 at 212.23 in his Team Mopar Dodge Avenger.
"We fought the car all weekend," said Johnson, who qualified sixth and beat Jimmy Alund, Jason Line and Dave Connolly en route to the win. "I'm only here because we have a great crew. I can't say enough about my guys. They worked and got it right, and this is a great way to send this Mopar Express Lube Dodge Avenger out on a winning note."
Johnson was happy to rebound from a disappointing weekend at Pomona two weeks ago, where he lost in the first round of eliminations.
"Pomona was probably the worst performance by me in 18 years in Pro Stock," Johnson said.  "It made me want to get it right this time. I still didn't do my best here. I was responsible for one round-win, and my crew was responsible for the other three."
Gaines moved into the series points lead in the factory hot rod category for the first time in his 21-year career with his back-to-back final round appearances.
The Mello Yello Drag Racing Series continues in Gainesville, Fla. with the Amalie Motor Oil Gatornationals, March 13-16. The event will feature the season debut of the Pro Stock Motorcycle class.
(Photos courtesy NHRA/National Dragster; Click to enlarge)
CHANDLER, Ariz. — Final round-by-round results from the 30th annual CARQUEST Auto Parts NHRA Nationals at Wild Horse Pass Motorsports Park, the second of 24 events in the NHRA Mello Yello Drag Racing Series:
TOP FUEL
ROUND ONE — Khalid alBalooshi, 3.778, 325.14 def. Leah Pritchett, 4.416, 234.00; Brittany Force, 3.821, 316.97 def. David Grubnic, 3.826, 320.13; Tony Schumacher, 3.779, 326.56 def. Terry McMillen, 10.390, 81.69; Doug Kalitta, 3.781, 324.67 def. Scott Palmer, 6.351, 106.79; Steve Torrence, 3.775, 325.22 def. Troy Buff, 17.163, 28.71; Shawn Langdon, 3.745, 320.36 def. Clay Millican, 6.132, 100.48; Antron Brown, 3.825, 314.83 def. Richie Crampton, 5.067, 149.48; Spencer Massey, 3.826, 319.90 def. Bob Vandergriff, 6.546, 90.13; QUARTERFINALS — Force, 3.805, 322.58 def. Schumacher, 5.017, 179.06; Kalitta, 4.458, 250.04 def. alBalooshi, 4.563, 216.31; Torrence, 3.793, 319.98 def. Massey, 4.223, 230.17; Brown, 3.771, 322.34 def. Langdon, 3.851, 291.95; SEMIFINALS — Force, 3.814, 319.75 def. Torrence, 4.187, 247.02; Brown, 3.782, 321.81 def. Kalitta, 3.794, 322.96; FINAL — Brown, 3.755, 324.20 def. Force, 3.793, 322.04.
FUNNY CAR
ROUND ONE — Jack Beckman, Dodge Charger, 4.057, 312.71 def. Matt Hagan, Charger, 4.135, 306.53; Del Worsham, Toyota Camry, 4.121, 303.03 def. Courtney Force, Ford Mustang, 4.499, 291.95; Tommy Johnson Jr., Charger, 4.095, 313.37 def. Tony Pedregon, Camry, 6.848, 92.26; John Force, Mustang, 7.501, 94.53 def. Jeff Diehl, Toyota Solara, broke; Robert Hight, Mustang, 4.484, 262.69 def. Cruz Pedregon, Camry, 4.903, 241.15; Alexis DeJoria, Camry, 4.065, 309.27 def. Jeff Arend, Charger, 4.105, 305.49; Tim Wilkerson, Mustang, 4.263, 266.95 def. Chad Head, Camry, 4.401, 211.46; Bob Tasca III, Mustang, 4.090, 312.42 def. Ron Capps, Charger, 4.411, 260.66; QUARTERFINALS — Johnson Jr., 4.098, 308.64 def. Wilkerson, 4.186, 300.26; Hight, 4.059, 314.97 def. Beckman, 4.127, 306.81; J. Force, 4.106, 312.78 def. Tasca III, 4.120, 306.88; DeJoria, 4.123, 298.21 def. Worsham, 4.900, 183.12; SEMIFINALS — DeJoria, 4.052, 311.41 def. J. Force, 5.899, 127.64; Hight, 4.047, 316.08 def. Johnson Jr., 4.083, 311.49; FINAL — DeJoria, 4.043, 309.63 def. Hight, 5.491, 142.19.
PRO STOCK
ROUND ONE — V. Gaines, Dodge Avenger, 6.573, 210.28 def. Rodger Brogdon, Chevy Camaro, 6.589, 210.54; Dave Connolly, Camaro, 6.551, 211.30 def. Jeg Coughlin, Avenger, 6.993, 163.91; Allen Johnson, Avenger, 6.558, 211.76 def. Jimmy Alund, Camaro, 6.587, 210.97; Shane Gray, Camaro, 6.576,211.43 def. Greg Stanfield, Camaro, 6.612, 209.26; Jason Line, Camaro, 6.569, 211.56 def. Steve Kent, Camaro, 6.634, 209.98; Shane Tucker, Chevy Cobalt, 6.627, 209.39 def. Chris McGaha, Camaro, 6.571, 211.53; Erica Enders-Stevens, Camaro, 6.531, 212.09 def. Matt Hartford, Avenger, 6.645, 209.49; Vincent Nobile, Camaro, 6.563, 210.44 def. Larry Morgan, Ford Mustang, 6.629, 209.01; QUARTERFINALS — Gaines, 6.584, 210.83 def. Tucker, 7.337, 145.67; Nobile, 6.577, 210.57 def. Gray, 6.572, 210.64; Johnson, 6.543, 212.16 def. Line, 6.556, 210.93; Connolly, 6.561, 211.10 def. Enders-Stevens, 6.617, 210.54; SEMIFINALS — Gaines, 6.581, 211.00 def. Nobile, 7.282, 205.51; Johnson, 6.550, 211.99 def. Connolly, 6.629, 210.41; FINAL — Johnson, 6.543, 212.23 def. Gaines, 8.042, 115.10.
CHANDLER, Ariz. — Sunday's sportsman final-round results from the 30th annual CARQUEST Auto Parts NHRA Nationals at Wild Horse Pass Motorsports Park. The race is the second of 24 in the NHRA Mello Yello Drag Racing Series:
Top Dragster — Val Torres Jr., Dragster, 6.694, 198.55  def. Phil Unruh, Dragster, 6.548, 210.77.
Top Sportsman — Ed Olpin, Chevy Camaro, 7.366, 187.13  def. Paul Mitsos, Dodge Stratus, 7.355, 185.08.
Super Stock — Dan Fletcher, Chevy Camaro, 10.296, 124.41  def. Scott Pearson, AMX, foul.
Stock Eliminator — Mark Faul, Chevy El Camino, 11.691, 102.95  def. Robert Pond, Ford Fairlane, 10.133, 124.87.
Super Comp — Shane Thompson, Dragster, 8.916, 169.13  def. Chad Langdon, Dragster, 8.887, 172.83.
Super Gas — Aaron Kinard, Chevy Corvette, 9.903, 160.75  def. Craig Anderson, Corvette, 9.891, 156.75.
Super Street — Gary Reust, Chevy Bel Air, 10.943, 125.55  def. Dave Gotts, Chevy Camaro, foul.