Steve Torrence piloted his Capco Contractors dragster to the Top Fuel victory Monday at the Chevrolet Performance U.S. Nationals, the world's biggest drag race, at Lucas Oil Raceway at Indianapolis.
J.R. Todd (Funny Car), Drew Skillman (Pro Stock) and Eddie Krawiec (Pro Stock Motorcycle) were also victorious at the 18th event of 24 on the 2017 NHRA Mello Yello Series Drag Racing Series schedule.
Torrence raced to a 3.757-second pass at 322.96 mph to defeat Kebin Kinsley who lost traction in his Road Rage Fuel Booster dragster at the start of the final. It is Torrence's first win at the Chevy Performance U.S. Nationals, seventh of the season and 15th of his career.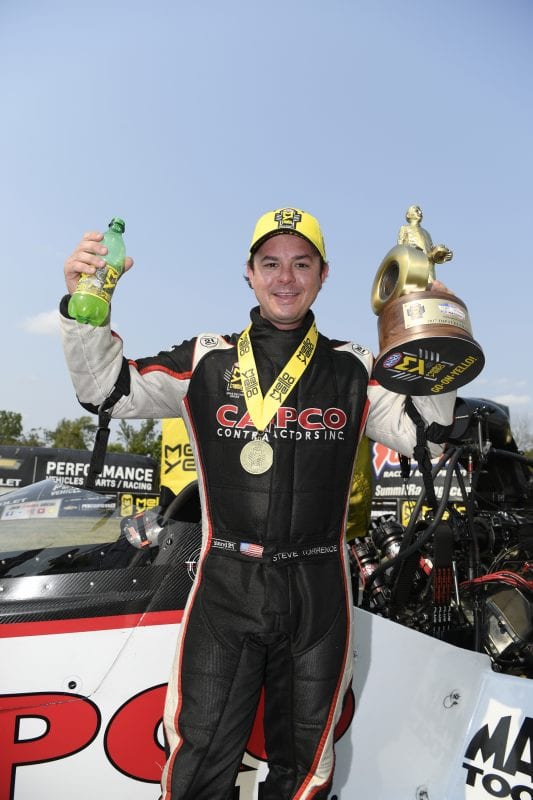 "This is surreal," Torrence said. "I don't even know if I'm realizing what's going on right now. You come to Indy and you race for a week. This is our biggest race. This is what we race our careers for, is to try and win Indy and it's a marathon. I'm wore out. Unless you're a racer and in this situation, I don't think I can explain the feelings that you get. This is us winning the biggest race of our sport. I said this the other day, you can win a bunch of championships but if you don't win Indy then you haven't really done much. So, we've won Indy."
Torrence also won the Top Fuel Traxxas Nitro Shootout, the lucrative race-within-a-race with a $100,000 cash prize. He defeated rookie Ashley Sanford, reigning and three-time world champion Antron Brown and Leah Pritchett en route to the finals. With his semifinal win over Pritchett, Torrence clinched the No. 1 seed heading into the Countdown to the Championship, NHRA's six race playoff.
Kinsley's final round appearance was the first of his career. He defeated No. 1 qualifier Clay Millican, Shawn Langdon and the winningest Top Fuel driver in NHRA history, Tony Schumacher, before falling to Torrence.
Todd, an Indianapolis native, powered past Funny Car reigning world champion Ron Capps with a 3.949 pass at 325.53 in his DHL Toyota Camry to better Capps' 3.923 at 325.61 in his NAPA Dodge Charger. It is Todd's first career win at the Chevrolet Performance U.S. Nationals, his second of the season and of his Funny Car Career.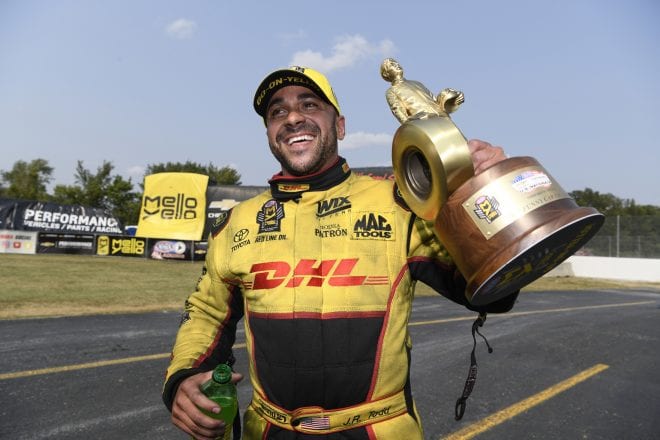 "This was where it all started for me in Jr. Dragsters," Todd said. "I remember watching Capps as a kid and now I raced him in the final round of Indy. It's too surreal. Like Torrence said, you win Indy and you know you've beaten the best in the sport. Ron Capps and those guys out there are the best in the sport."
Todd picked up wins against Brian Stewart, veteran Cruz Pedregon and, Tim Wilkerson who crossed the center line in the semifinals before taking home the Wally. He's secured the No. 9 spot heading into the Countdown to the Championship. Capps took out 2015 winner Alexis DeJoria, Jim Campbell and teammate Jack Beckman before losing.
In Pro Stock, Drew Skillman ran a 6.676 pass at 206.61 in his Ray Skillman Chevrolet Camaro to defeat Greg Anderson's 6.660 at 208.01 in his Summit Racing Equipment Chevrolet Camaro on a holeshot for his first Chevrolet Performance U.S. Nationals victory, fourth win of the season and seventh of his career. His four victories have come in the last six races.
"I cannot speak highly enough of my team," Skillman said. "They've been killing it. Consistency is super hard in this sport and we have a car that keeps repeating. This has been a long time coming. We've worked really hard to finally get something like this to happen. There's a very small list of things I'd really like to do in life. And this is one of them. I want for nothing and this was something that I really wanted to do. And that's finally done and we're not done chasing yet."
On the way to his victory, Skillman defeated Pro Stock veteran Jeg Coughlin Jr., Chris McGaha and rookie and No. 1 qualifier Tanner Gray. Anderson, a four-time world champion and six-time Chevrolet Performance U.S. National winner, raced Kenny Delco, teammate and reigning champ Jason Line and Alex Laughlin before reaching the finals.
Krawiec rode to the Pro Stock Motorcycle win with his 6.858 pass at 196.90 on his Screamin' Eagle / Vance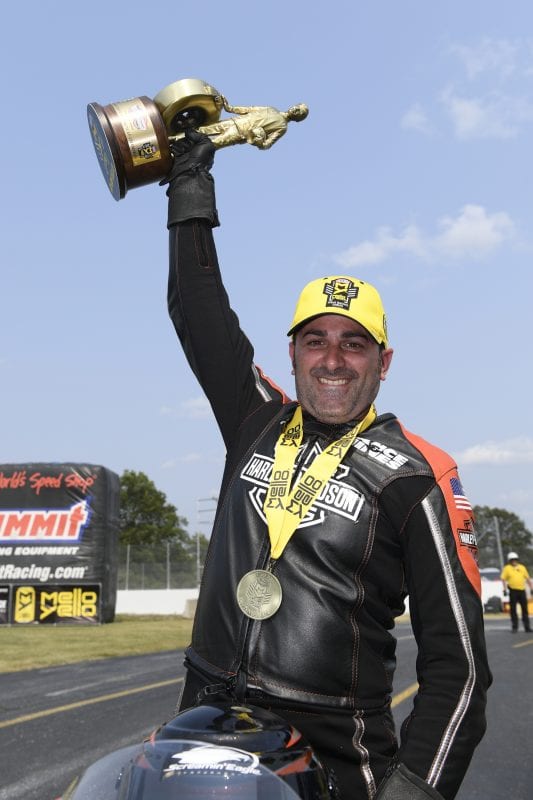 & Hines Harley-Davidson to defeat Hector Arana Jr. and his Lucas Oil Buell's 6.886 pass at 195.48. This was Krawiec's second Chevrolet Performance U.S. Nationals victory, his third win of the season and 39th of his career.
"We had a great motorcycle all weekend long," said Krawiec, who was the No. 1 qualifier. "We just needed to keep finessing it and get it better and better and better. I couldn't be prouder of my crew that I got right now; everybody that puts forth the effort in our program. It's been nonstop the last two weeks at our shop and for it all to come together and to celebrate here having half of our shop here, it's just something special."
Krawiec took down Jim Underdahl, points leader LE Tonglet and Matt Smith before seeing Arana who beat 2016 rookie of the year Cory Reed, Scotty Pollacheck and reigning world champ Jerry Savoie, in the finals.
The 2017 NHRA Mello Yello Drag Racing Series season continues Sept. 15-17 at zMAX Dragway with the 10th annual NHRA Carolina Nationals and the kickoff to the Countdown to the Championship.