Veteran Top Sportsman drag racer Ronnie Davis opens an ambitious 2015 schedule this weekend with a trip to Florida's Orlando Speed World Dragway for the National Hot Rod Association (NHRA) Division 2 season opener. It's also the first of at least 23 races the Suwanee, Georgia-based golf cart dealer plans to enter this year as he attempts to become the inaugural NHRA Top Sportsman national champion while also seeking a title with the all-eighth-mile Professional Drag Racers Association (PDRA).
The California-based NHRA is the world's largest motorsports sanctioning body and early this year announced it would offer a national title for the first time to Top Sportsman competitors. It came as particularly good news to Davis, who along with retired Div. 2 director Bill Holt, was instrumental in bringing the world's quickest and fastest door-car bracket racing class to NHRA 13 years ago.
"It's gratifying to see it come full circle to this," says Davis, whose business also has served as the divisional title sponsor since day one for the class. "We've always had our division championships and I've been fortunate enough to win two of those, but I'm going to put all my effort into winning this first national championship. I'm eating healthy and lost some weight and got my eyes fixed by the doctor in the off season. I'll also have a new car coming out by early this summer from Jeffers Race Cars over in Missouri."
According to the NHRA points structure, to earn the national championship Top Sportsman drivers will count the best three results of their first five national events entered, and the best five of their first eight divisional events. Just one week after the Orlando race, Davis will attend another Div. 2 race Feb. 20-21, also in Florida at Gainesville Raceway, and after a weekend off to regroup he'll compete in a third Div. 2 event Mar. 6-8, again at Gainesville. His first NHRA national event will be Mar. 12-15, once more at the historic Gainesville facility, before he heads west for his first PDRA outing of the year Mar. 19-21, near Dallas, Texas.
"It's a grueling schedule to start the season with—five races in six weeks—and I'm not sure yet, but I may leave the rig in Florida for those races since that would be an awful lot of driving up and down I-75," Davis says.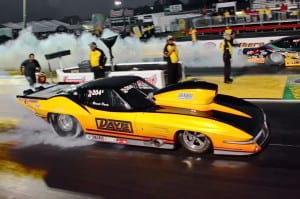 Davis will make additional NHRA national-event appearances at Houston in April, his home track Atlanta Dragway in May, Bristol Dragway in Tennessee the next month, and Norwalk, Ohio, in July. Additionally, he plans to hit all 10 events with the PDRA, though only the best eight race results will count toward winning the 2015 Top Sportsman championship.
"My number-one job, of course, will remain running my business, Davis Golf Carts, but my focus in racing will be firmly on winning the NHRA national championship and I'll do whatever I can beyond that with the PDRA," says Davis, who will start the year in his familiar Tommy Mauney-built '63 Corvette fitted with a nitrous oxide-injected, 822-cubic-inch powerplant from Jon Kaase Racing Engines. "There's only going to be one first national champion and I'm willing to do whatever it takes to get the job done.
"I'm very excited about getting this season started," he adds. "I'm feeling good, the car is running really strong and we're going to a lot of good tracks. This should be a very fun and interesting year for everyone involved in Top Sportsman."
(Photos by Ian Tocher; Click to enlarge)