Scott Palmer loves driving his Magic Dry Organic Absorbent Top Fuel Dragster more than anything but admits that even if he didn't have a ride, it would be a mistake to miss this weekend's 35th annual Magic Dry Organic Absorbent NHRA Arizona Nationals.
"With the cooler conditions setting up the way they are going to be this weekend, everybody is going to be super-fast," Palmer said. "If we are lucky it's going to be a high of maybe 60 degrees so it's going to make for a very stout and tight racetrack. There will be a lot of career-bests set this weekend, for sure.
"It'll be one of those deals where the track is going to take anything you throw at it. Racing will be crazy because if what you throw at it sticks, anybody can beat anyone else. It's tough enough as it is, but these cooler conditions are going to make it even tougher. I'll tell you, if I wasn't racing myself I'd be buying a ticket for this one."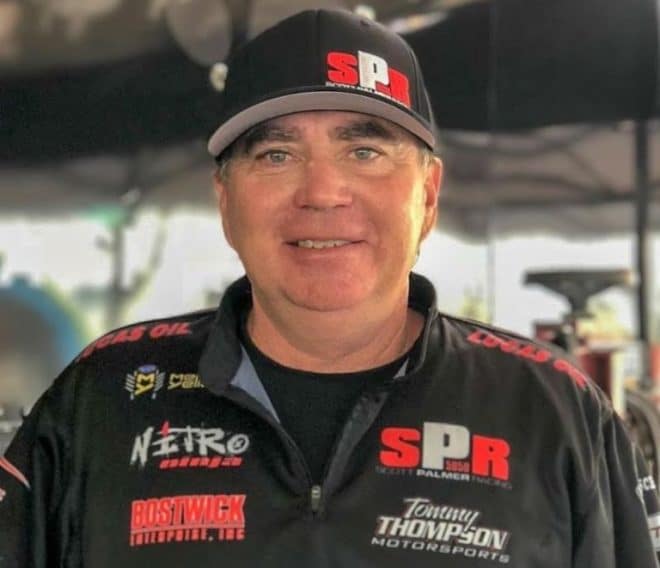 This is the first race sponsored by Magic Dry Organic Absorbent, another product of Tommy Thompson, who has supported Palmer for the last three years, most recently with CatSpot Organic Cat Litter. Already a crowd favorite with his old-school throttle whack during warmups, Palmer will enjoy even more support from a large base of employees from Midwest Organics, the parent company of Magic Dry and CatSpot.
"There is enough pressure as it is but when Magic Dry is the title sponsor, you want to step up even more and do good for all the people that stand behind you," Palmer said. "It won't be easy. The quality of cars out here is pretty stout right now. We're seeing one of the toughest fields in history. Everybody out here is fast. You can't overlook anyone.
"We got some good information in Pomona (Calif., at the season opener) and we ran three career-best elapsed times there. It was a great outing for us. But, proving how tough the competition is this year, we ran those career bests just to qualify and then we needed even more to win on Sunday. We had to go up and try to run faster than we've ever run in Round 1 to get the win. It's insane."
Naturally, when you post personal-best numbers, not much needs to be changed with the car or the tune-up, making planning for this weekend fairly easy.
"We'll go out there, just like we did in Pomona, and try our best to make a good run in Q1. If we do, we'll be able to go for it every round after that. Everybody that runs nitro is going to do the same thing. When it's cool like this, if you don't go for it every round, you're crazy. The worst that can happen is you shake the tires and don't make it down so you might as well be swinging for the fences.
"We have a car capable of running big numbers. We will just see what it takes to win this race this weekend. We have two crew people who have never been on a race team and two from other teams and everybody just worked together so well. The car is great, the crew is great, and we've got a lot of excitement around our team. I'm happy."