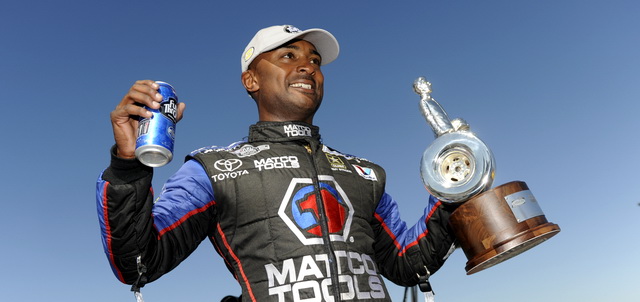 Reigning NHRA Top Fuel world champion Antron Brown will be honored along an illustrious group of other world renowned athletes on Monday evening (Sep. 30), in New York City at the 28th annual Great Sports Legends Dinner to benefit The Buoniconti Fund to Cure Paralysis.
Joining Brown at the Waldorf-Astoria will be Hall-of-Famers Terry Bradshaw from the NFL, James Worthy from the NBA, and former New York Yankee Dave Winfield, along with Olympic gold medalist Shawn Johnson, golfer Nick Faldo, jockey Gary Stevens and former WNBA great Teresa Edwards.
Hall of Fame quarterback Jim Kelly will receive the 2013 Inspiration Award, and two-time NBA champion Kenny Smith will be presented the 2013 Buoniconti Fund Award. Brian Williams, anchor and managing editor of NBC Nightly News, will serve as master of ceremonies.
"I've truly been blessed this year and being recognized by the Buoniconti family is more than anything I could have imagined," said Brown, 37, who grew up in New Jersey and lives in Pittsboro, Ind.
Brown has won 39 NHRA national titles, including 16 on 190-mph Pro Stock Motorcycles and 23 in 330-mph Top Fuel dragsters. Before committing his career to professional drag racing in 1998, he was a star sprinter at Mercer (N.J.) Community College where he earned his Associate of Arts degree in business administration. He turned down an athletic scholarship to Long Island University and an invitation to the 1998 U.S. Olympic Trials for the 100-meter dash to pursue his drag racing dream.
Brown has won two titles this season and holds the NHRA record for elapsed time with a run of 3.701 seconds over 1,000 feet that he set last October at Reading, Pa.
For becoming the first African-American to win a major U.S. auto racing championship and his commitment to the community, the father of three was selected for MSNBC's Grio.com 100 list of leaders in the African-American community that led to a segment on the Feb. 8, 2013, edition of the NBC Today show.
(Photos courtesy NHRA/National Dragster; Click to enlarge)
ABOUT THE GREAT SPORTS LEGENDS DINNER
The annual event, hosted by Nick and Marc Buoniconti, benefits The Buoniconti Fund to Cure Paralysis and raises funds to support the ground-breaking spinal cord injury research done by researchers at the University of Miami Miller School of Medicine's Miami Project to Cure Paralysis. Since its inception in 1985, the Great Sports Legends Dinner has honored more than 283 sports legends and honorees and has raised nearly $93 million for The Miami Project's spinal cord injury research programs.