J.R. Todd earned his first Top Fuel win of the season and first since 2008, by racing to victory Sunday at the Mopar Mile-High Nationals at Bandimere Speedway. Robert Hight (Funny Car), Allen Johnson (Pro Stock) and Andrew Hines (Pro Stock Motorcycle) were winners in their respective categories at the NHRA Mello Yello Drag Racing Series event outside of Denver.
Todd, driver of the Optima Batteries dragster, trailed Brittany Force at the start of the run but was able to defeat the driver of the Castrol Edge dragster with a run of 3.878 seconds at 317.87 mph to the losing pass of Force at 3.968 at 297.35. This is the second win at Bandimere Speedway for Todd who claimed his first career NHRA Mello Yello Drag Racing Series win at the facility in 2006.
Todd defeated Terry McMillan, Steve Torrence, and Larry Dixon en route to the final round.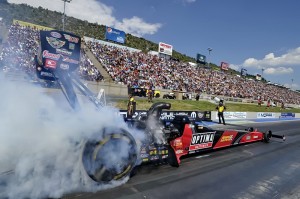 "These things are hard to come by whether you are full time or part time," said Todd, who returned to racing full time this season at the event in Gainesville. "I knew at the time I got the opportunity to drive for the Kalitta group it was probably the best opportunity I was ever going to have to win one of these things."
With the victory, Todd moves from 10th in points to the eighth with only four races left until the Countdown to the Championship, which begins in Charlotte in September.
"I'm pretty solid now but I want a cushion," he continued. "I want to make the Countdown because after that, anything can happen. We were fortunate enough to put a little distance on the guys behind us and gain on the ones in front of us."
In Funny Car, Hight's Auto Club Ford Mustang able to defeat team owner John Force for his fifth win of the season and 34th of his career. In the championship round, Hight won with a 4.166 at 306.05 to the losing effort of 5.953 at 121.42. Hight raced to six consecutive final round appearances early in the season but hadn't raced to the finals in the past six events.
"We were doing well and then we had some bad luck but even when we were winning we were getting some luck," said Hight, the 2012 Funny Car world champ. "In 2012 I won four races to start the season then it took another year to get another win. Stuff like that was crossing my mind because it isn't easy to win out here."
Hight and his team also have reason to celebrate, as they became the first of the Funny Car competitors to secure a position in the Top 10 for the Countdown to the Championship.
"I'm looking forward to the Countdown; we're solidified in there now," he said. "This car and this whole team is perfection. That's what we're all about and we want to show it.
"We came out with a brand new car this weekend. Usually new cars drive me crazy because everything in them is different. But, my guys are so good, if they hadn't told me, I wouldn't have known it was a new car."
In Pro Stock, Johnson continued his mastery on the mountain as he defeated his teammate Jeg Coughlin for his fourth win of the season and sixth at Bandimere Speedway. Johnson, driver of the Magneti-Marelli Dodge Dart, won the event when Coughlin red lit at the start of the race. Johnson went on to record a pass of 6.930 at 198.61 in his eighth consecutive final round appearance at the facility.
"This team just continues to find a way to do it," said Johnson. "We want to win here for Mopar. My guys step up, I step up when I need to. It is just a confidence thing, it's a want to thing, it is deep in our gut and we just keep doing it."
His four wins ties Erica Enders-Stevens for the most wins in the category thus far this season.
Hines rode his Screamin' Eagle/Vance &Hines Harley-Davidson to his fourth race win of the season in Pro Stock Motorcycle when he defeated Michael Ray in the finals. Hines recorded a pass of 7.426 at 184.35 to the trailing run of 9.033 at 103.64.
"Up here, every little move is compounded because you don't have enough power to overcome mistakes like short shifts or body movements," Hines said. "This place also throws your mental timing off. You have to be focused, and thankfully, I had a V-Rod that went straight down the track.
"I lived here [in Colorado] for 10 years, and this place is very special to me. I made my first laps here, and I love this facility. I love the fans and the scenery. We might have had an advantage when we lived here, but lately, the Aranas have dominated. They've been No. 1 in qualifying for the last three years."
The NHRA Mello Yello Drag Racing Series returns to action at the NHRA Sonoma Nationals at Sonoma Raceway, July 25-27.
(Photos courtesy NHRA/National Dragster; JFR/Lewis; Click to enlarge)
MORRISON, Colo. — Final round-by-round results from the 35th annual Mopar Mile-High NHRA Nationals at Bandimere Speedway, the 14th of 24 events in the NHRA Mello Yello Drag Racing Series:
TOP FUEL
ROUND ONE — Antron Brown, 3.903, 311.56 def. Doug Kalitta, 3.899, 313.51; Steve Torrence, 3.902, 319.75 def. Steven Chrisman, 4.599, 184.22; Larry Dixon, 3.966, 268.49 def. Clay Millican, 4.747, 170.45; Jenna Haddock, 4.276, 232.71 def. Tony Schumacher, 4.792, 182.16; Bob Vandergriff, 3.940, 310.84 def. Spencer Massey, 4.026, 286.19; Richie Crampton, 3.949, 310.63 def. Shawn Langdon, 4.174, 300.13; J.R. Todd, 3.969, 297.61 def. Terry McMillen, 4.569, 190.22; Brittany Force, 4.304, 212.93 def. Khalid alBalooshi, 5.258, 135.88; QUARTERFINALS — Force, 3.990, 303.84 def. Haddock, 4.166, 270.75; Vandergriff, 3.942, 308.92 def. Crampton, 4.252, 217.25; Todd, 3.938, 308.00 def. Torrence, 3.946, 302.21; Dixon, 4.107, 272.39 def. Brown, 4.331, 220.19; SEMIFINALS — Force, 3.923, 313.66 def. Vandergriff, 8.369, 68.90; Todd, 3.912, 300.26 def. Dixon, 3.936, 304.80; FINAL — Todd, 3.878, 317.87 def. Force, 3.968, 297.35.
FUNNY CAR
ROUND ONE — John Force, Ford Mustang, 4.157, 306.40 def. Jeff Diehl, Toyota Solara, foul; Robert Hight, Mustang, 4.171, 308.50 def. Todd Simpson, Chevy Camaro, 4.452, 242.32; Tim Wilkerson, Mustang, 4.245, 286.25 def. Tony Pedregon, Toyota Camry, 4.469, 229.27; Cruz Pedregon, Camry, 4.161, 295.79 def. Terry Haddock, Chevy Impala, 8.906, 84.76; Ron Capps, Dodge Charger, 4.224, 301.07 def. Bob Tasca III, Mustang, 4.782, 194.94; Courtney Force, Mustang, 4.335, 250.18 def. Del Worsham, Camry, 4.810, 222.84; Jack Beckman, Charger, 4.238, 298.47 def. Tommy Johnson Jr., Charger, 4.348, 258.67; Matt Hagan, Charger, 4.200, 281.60 def. Alexis DeJoria, Camry, 4.930, 172.61; QUARTERFINALS — J. Force, 4.202, 305.36 def. Hagan, 4.832, 190.46; Capps, 4.239, 299.13 def. C. Pedregon, 4.259, 290.63; Hight, 4.226, 285.59 def. C. Force, 4.287, 290.94; Wilkerson, 4.248, 287.05 def. Beckman, 4.262, 270.48; SEMIFINALS — J. Force, No Time, 308.43 def. Capps, 4.185, 303.91; Hight, 4.115, 309.70 def. Wilkerson, 4.146, 305.98; FINAL — Hight, 4.166, 306.05 def. J. Force, 5.953, 121.42.
PRO STOCK
ROUND ONE — Vincent Nobile, Chevy Camaro, 6.971, 198.09 def. Jonathan Gray, Camaro, foul; Chris McGaha, Camaro, 6.976, 197.54 def. Shane Gray, Camaro, 6.992, 197.65; Dave Connolly, Camaro, 6.968, 197.31 def. V. Gaines, Dodge Dart, foul; Greg Anderson, Camaro, 6.976, 197.94 def. Matt Hartford, Dodge Avenger, 6.971, 198.12; Jeg Coughlin, Dart, 6.940, 198.44 def. Deric Kramer, Avenger, 7.008, 196.82; Allen Johnson, Dart, 6.933, 199.23 def. Tommy Lee, Ford Mustang, 7.091, 194.04; Jason Line, Camaro, 6.931, 198.61 def. Steve Kalkowski, Pontiac GXP, 7.218, 188.73; Erica Enders-Stevens, Camaro, 6.933, 198.47 def. Larry Morgan, Mustang, 8.839, 109.72; QUARTERFINALS — Coughlin, 6.944, 198.44 def. Anderson, 6.971, 197.65; Connolly, 6.992, 196.70 def. Enders-Stevens, 6.962, 198.06; Johnson, 6.959, 198.50 def. McGaha, 6.974, 197.22; Line, 6.932, 198.32 def. Nobile, 6.979, 197.48; SEMIFINALS — Johnson, 6.952, 198.64 def. Connolly, 7.015, 195.28; Coughlin, 6.931, 198.76 def. Line, 6.924, 198.64; FINAL — Johnson, 6.930, 198.61 def. Coughlin, foul.
PRO STOCK MOTORCYCLE
ROUND ONE — Hector Arana, Buell, 7.255, 184.60 def. Matt Smith, Buell, 7.259, 183.15; Jim Underdahl, Suzuki, 7.277, 183.17 def. Chaz Kennedy, Buell, 7.539, 177.91; Steve Johnson, Suzuki, broke def. Adam Arana, Buell, foul; Michael Ray, Buell, 7.299, 180.91 def. Mike Berry, Buell, foul; Eddie Krawiec, Harley-Davidson, 7.218, 186.05 def. John Hall, Buell, 7.299, 183.19; Hector Arana Jr, Buell, 7.201, 186.64 def. Charles Sullivan, Suzuki, 7.453, 177.95; Andrew Hines, Harley-Davidson, 7.224, 185.08 def. Angie Smith, Buell, foul; Scotty Pollacheck, Buell, 7.323, 183.22 def. Shawn Gann, Buell, foul; QUARTERFINALS — Ray, 7.284, 183.44 def. Pollacheck, 7.585, 178.28; Hines, 7.246, 184.60 def. Underdahl, foul; Johnson, 7.258, 182.58 def. Krawiec, 7.240, 184.85; H. Arana, 7.266, 185.74 def. Arana Jr, 7.245, 185.84; SEMIFINALS — Ray, 7.290, 182.75 def. H. Arana, foul; Hines, 7.231, 184.98 def. Johnson, 7.282, 182.01; FINAL — Hines, 7.246, 184.35 def. Ray, 9.033, 103.64.
MORRISON, Colo. — Sunday's final-round sportsman results from the 35th annual Mopar Mile-High NHRA Nationals at Bandimere Speedway. The race is the 14th of 24 in the NHRA Mello Yello Drag Racing Series:
Super Stock — Jackie Alley, Chevy Camaro, 10.175, 132.40  def. Tyler Wudarczyk, Camaro, 11.186, 112.90.
Stock Eliminator — Brenda Grubbs, Chevy Camaro, 11.113, 119.57  def. Scott Burton, Pontiac Firebird, foul.
Super Comp — Jeremy Demers, Dragster, 9.524, 160.29  def. Mitch Mustard, Dragster, 9.515, 166.60.
Super Gas — James Kunkel, Chevy Camaro, 10.487, 145.17  def. Bradley Johnson, Camaro, 10.482, 153.11.
Super Street — Brian Percival, Dodge Dart, 11.504, 129.14  def. Chris Bombard, Ford Mustang, 11.495, 138.17.
Top Dragster — Branden Rhodes, Dragster, 6.747, 204.60  def. George Slatten, Dragster, 7.055, 193.05.
Top Sportsman — Ryan Julius, Pontiac GTO, 7.885, 173.96  def. Dave Slatten, Pontiac Grand Am, 7.229, 191.95.