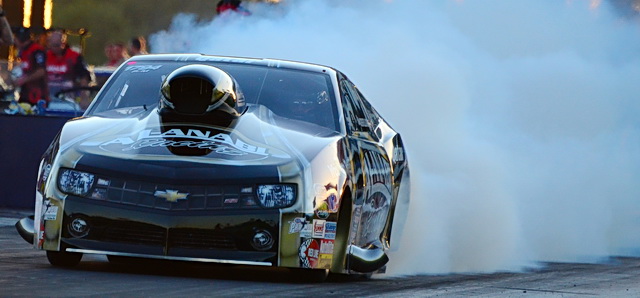 After nine events crisscrossing the country in nine states, the NHRA Pro Mod Drag Racing Series presented by ProCare Rx season championship will come down to just four rounds of eliminations at the Big O Tires NHRA Nationals at The Strip at Las Vegas Motor Speedway, Oct. 25-28. Topping the points standings are series leader Mike Castellana (above), second-place Rickie Smith and surging Troy Coughlin, each looking for his first season crown.
Castellana took the lead with his late-model Camaro after the Mac Tools U.S. Nationals presented by Auto-Plus in Indianapolis and built on that margin at the following two races. He and his Al-Anabi Racing team have recorded one win, two runner-up finishes and three No. 1 qualifying positions this season. The car ran well at the start of the season, but that doesn't mean this campaign hasn't been without adversity.
"It started out very consistent for us, and as the summer went along, it has been a real hot season, the tracks have been hot, and we've struggled a little bit when the tracks got hot," Castellana said. "Now this time of the year, the weather and the track conditions have become more favorable with what we have been consistent with, so we feel pretty confident."
Smith is in second with two wins, including his first NHRA Pro Mod Drag Racing Series presented by ProCare Rx victory, at the season-opener in Gainesville, and his first No. 1 qualifying position, which he secured in Bristol, Tenn. This accomplished racer, who is also an NHRA Pro Stock winner and has earned exhibition NHRA Pro Mod victories, will rely heavily on experience at the final event of the year.
"I have been through this before, years ago, when it was down to one or two races," Smith said. "It is always a good deal when it comes down to the end and you still have a chance at the championship."
Launching himself into title contention on the strength of his first win in the series at the most recent event in St. Louis, Coughlin sits third, just 42 points out of the lead. After two runner-up finishes this season, breaking through for his first Wally trophy in the series was a special day for him.
"It's always great to win," said Coughlin, driver of the twin-turbocharged JEGS.com Corvette.
"It's the reward for the dedication, commitment and focus your team makes every week on and off the track. Everything is coming down to the wire, and that's exciting for the fans. It's a good time to be performing well on the track because it's something very tangible your competitors see with their own eyes. If you are running well, some teams will push a little harder against you and make mistakes."
For all the racers going into the final event of the season, the championship battle can make for a stressful weekend. The slightest miscue could dash dreams. But the competition also can be rewarding and provides an exciting weekend for the racers and the fans.
"When you are battling it out and going back and forth and it is tight racing changing points leads, who's catching up and who's leading it, it makes it really fun," said Castellana. "You just take it round by round and concentrate each round."
Added Coughlin, "You have to look at it as being fun. Because at the end of the day, this is the position you want to be in as a team, to have a shot at winning a championship. It is very easy to get wrapped up into looking at the past and find errors that were made that could have turned on more win lights throughout the season. The past is the past, and as a team, you need to look forward because that's what you have control over."
NHRA Pro Mod Drag Racing Series presented by ProCare Rx qualifying sessions are scheduled for Friday, Oct. 26, at noon and 2 p.m. and Saturday, Oct. 27, at 10:30 a.m. The first round of eliminations is scheduled to start at 4 p.m. on Oct. 27. Eliminations will continue on Sunday, Oct. 28.
(Photos by Ian Tocher; Courtesy of JEGS; Click to enlarge)