There's no questioning what family means to Bob Rahaim. It is the basis for his racing operation, it is pivotal for the tremendous success he has enjoyed over the past half-decade, and it is necessary for him to continue to keep racing on the NHRA's highly competitive Pro Mod circuit. It was also important enough for him to give up the sport he loves so dearly for 15-years.
The Grosse Point, Michigan-native had enjoyed a successful run in the sportsman ranks, getting his start in a street car after watching a Funny Car show at now-defunct Detroit Dragway. "It really caught my eye, just from the power and noise aspect," Rahaim said.
He had graduated from motocross and hockey for the bigger adrenaline rush and chance to go even faster, eventually ending up in a Jerry Bickel-built car he campaigned in Quick Rod. Rahaim moved from racing at local tracks to competing at the likes of Indy, Bristol and St. Louis, even winning the 1990 IHRA World Nationals at Norwalk in Quick Rod. A year later, it appeared his time in the sport was done. He had three daughters to raise – Jennifer, Sarah and Kristen – and that took priority. Rahaim had always hoped he could eventually return, but it was going to have to be on his terms.
"I didn't get my fill of it, that's for sure," Rahaim said.
It took 15-years for Rahaim to come back to drag racing, but this second act has been even better than the first. He has gone from competing in Super Gas in 2006 to winning an ADRL Pro Nitrous world championship in 2012 to the latest chapter in his thrilling journey, cementing himself as a championship contender in the loaded NHRA Pro Mod ranks.
Rahaim posted his first victory in the class a year ago and advanced to back-to-back final rounds this season, leaping into the championship mix.
"It's unimaginable really," Rahaim said. "I think it's really a testament to the type of people I've been so fortunate enough to cross paths with over the years. That all comes with time, people trusting one another and having the chemistry to be able to spend as much time together as you do, all those things. It's a monumental thing just to qualify at one of these events, particularly in the last couple years."
Through it all, his family has been a mainstay in this journey. Jennifer is at each event and an integral member of the crew, while Sarah and Kristen, along with Rahaim's longtime sweetheart, Debbie, fly to as many events as they can.
"We have a lot of fun together," Rahaim said. "They're always supportive and just an integral part of every little thing. I just love having them there and want them to be there."
The family aspect is the backbone of Rahaim's operation and something that carries over to every segment of the team. And the success hasn't happened overnight, but Rahaim has been able to take advantage of every opportunity that has come his way during this impressive second stint.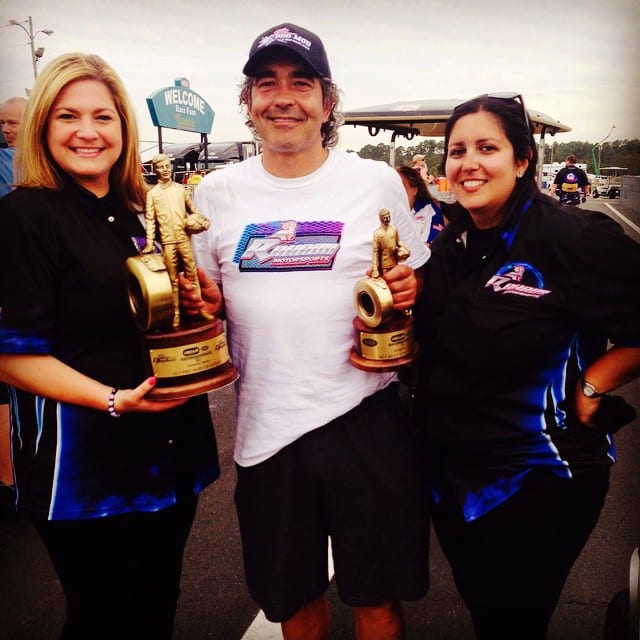 Rahaim's Super Gas return in 2006 was a start and after there was what he called a "greater need for speed," he heard about an ADRL race at US 131 Motorsports Park in Martin, Mich. in 2008. He attended that and then the ADRL's event in Norwalk that year before making his debut in Pro Nitrous in 2009.
After showing impressive signs in 2011, advancing to his first semifinal, Rahaim was dynamite a year later, winning the world championship on the strength of three victories and five final-round appearances. It was an incredible opportunity for Rahaim to celebrate as a team and it would have been just as easy for the then 52-year-old to go out on top. But there were other opportunities to be conquered and Rahaim didn't want to leave any "what-if" moments out there.
"Everything you in life in general, from the time you're born almost, is about competition, you know," Rahaim said. "Whether it's school or athletics, even if it's competition to have the best grade-point average, there's competition involved. As you get older, you try to be successful in business and I just think competition built this great country we live in, and many of the role models that were influences on my life were just people that helped fuel that passion to be competitive and strive to be the best. You can't sit still because you're going to get passed up or you're going to age quickly. It's better off to keep yourself active, keep challenging yourself and God-willing, you're going to get there."
But it didn't come without adversity in 2013, the likes of which has strengthened Rahaim and his family-first beliefs even more. The 2013 doorslammer season will go down as a year of chaos after the rise and quick death of the X-DRL, along with the ADRL's financial struggles that led to its own downfall. It forced some racers into picking sides, but what most saw, Rahaim included, was an instability that led to more questions than answers. Sensing what was coming, Rahaim started to toy with the idea of quarter-mile racing with the NHRA Pro Mod class, which was showing significant signs of growth.
But before making the final decision, Rahaim and his team were dealt a significant blow with the death of crew chief Kevin Bowen, who was killed in a single-car accident on October 4th of that same year. Doing his best to recover from that tragedy, Rahaim was approached by Brandon Switzer of Switzer Dynamics to begin working on a fuel-injected application for his nitrous car.
It was appealing, seeing the success of it with the likes of Jim Laurita and Pat Stoken, but Rahaim also needed a crew chief, one who also lined up with his own family-first approach. Rahaim asked Switzer and when Chris Bell's name came up, it didn't take long at all for Rahaim to become convinced.
"It was great and it was another huge stepping-stone," Rahaim said. "We were discussing who could take over (as crew chief), and I had a good relationship throughout the years with Chris Bell and we had been running his shocks anyway. I wasn't up to speed with how well versed he is at so many different things – as far as being a crew chief is concerned. I just called him to see if he was interested, and through the course of a few conversations we just put something together. We clicked instantly."
As simple as that sounds, it's an ideal illustration of how Rahaim operates, both on and off the track. Rahaim's successful career as a businessman is rooted in trust and family values, two matters he takes very seriously. It's also two aspects that are expected of each member of the team. Though Rahaim's transition from up-and-comer to perennial contender, it's been those aforementioned morals that have served as the foundation for his team.
"I think you're only as good as your word," Rahaim said. "As long as you're honest with somebody and do what you're say you're going to do, I think that's the basis of what everybody has got going here and it's just a pleasure to be involved with people of this caliber.
"I kind of view myself as the manager of the team. You just have to be supportive and still kind of see things they might need. These guys have all been really, really good as far as communicating as what we don't need and what we do need. They're real innovators, with the stuff Chris has on our car with the shocks and the struts, and the same with Brandon and the guys over at Reher Morrison."
The relationship was formed and it didn't take Rahaim long to be all-in. By the time Bell, who shares the same even-keeled demeanor as Rahaim, was named crew chief, Rahaim was ready for the next step of his career. He advanced to the final round of the ADRL World Finals in Houston and then went directly to his first NHRA race at the Pro Mod finale in Las Vegas.
Rahaim's first pass at the event was the first actual quarter-mile pass he ever made in a Pro Mod car, an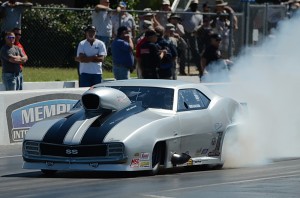 obvious sign of the immediate trust he had in guys like Bell and Switzer. They proved themselves quickly, Rahaim felt comfortable and he was instantly hooked by the time he finished that first run in 6.113-seconds at 234.61 mph, qualifying him for eliminations.
"I really just loved it to death," Rahaim said. "You're a little bit awed by it because of where you are, who you're with and what you're doing. But we did manage to qualify and that was really how we got started over there."
Taking several massive steps forward at the tail end of 2013 meant taking a couple minor steps back to start the following season. Rahaim had not earned enough grade points to compete in all the NHRA Pro Mod events, which were now busting at the seams with interested participants. Being the ever-opportunistic man that he is, Rahaim simply took matters into his own hands.
"That's when we had to get real creative," Rahaim said.
He raced in Competition Eliminator at a handful of NHRA Divisional races and also raced at some NMCA races, where NHRA was still giving grade points. By the time the midway point rolled around at Norwalk, Rahaim was a full-time racer on the NHRA Pro Mod circuit, competing against a talent-loaded field where 30-plus standouts is now the norm.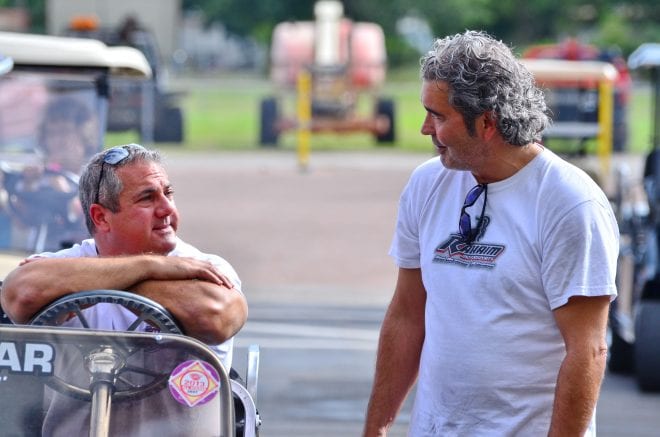 It's been a fortuitous stretch for Rahaim, but he doesn't chalk it up to chance, not in the slightest. From working with Switzer, Bell and Reher-Morrison, to the Jerry Bickel car – though far different from the one he bought from Bickel 25 years ago – to his current place in the NHRA Pro Mod ranks, Rahaim has recognized every minor opening and hasn't been afraid to take chances, staying confident in those risk-taking moments because of the people surrounding him.
"Like so many things in life, you work so hard to get where you want to be and you have an opportunity, but it's a window of opportunity," Rahaim said. "You never know when that might happen and you just have to be poised that everything lines up right and you can try to seize the opportunity. I saw that working with those guys would be awesome and I could develop a competitive quarter-mile team through their guidance.
"With their track record, I figured this would be the best opportunity to be successful at a new challenge because it was definitely going to be a challenge. With where I was at the eighth-mile stuff, I needed to get a new challenge going."
This new challenge has kept Rahaim energetic and continuing to have the time of his life. He won the season-opening NHRA Pro Mod race in Gainesville a year ago, finishing third in points. To repeat that finish would be another stout accomplishment in Rahaim's career and it's something that doesn't go unappreciated.
"It's a feather in everybody's cap for everybody that has a hand in this," Rahaim said. "I'm thankful to be a part of it and I'm proud of everybody. It's tough out there and when you can put yourself in the position we're in and you're up with the JEGS guys (Troy Coughlin Sr.) and Rickie Smith, that's pretty good company to keep. Everybody has just done a fabulous job with everything that comes with improving like we have. We've had a fabulous year and we've come a long way in a short period of time. I'm just proud of everybody and I appreciate everyone's hard work."
That's enough to leave the smile permanently on Rahaim's face, though that's pretty much the case with him anyway.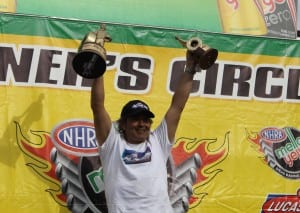 Admittedly, he remains in a constant state of amazement by the advances in Pro Mod racing over the last few seasons alone, and is truly excited as to what Bell, Switzer and the rest of his team have in store for 2017. Beyond the camaraderie, though, and the all-time high level of competition that exists, Rahaim simply gets a kick out of dropping the bomb on his sleek, silver 2016 Chevy Corvette Pro Mod – a thrill he hopes to enjoy for as long as humanly possible. "I can't deny it," he admitted. "It's basically a second-to-none experience taking that thing down the quarter-mile."
But if not for the people involved, none of it would be worth it – and that's as family-oriented as it gets.
"This is probably one of the most technologically advanced classes out there," Rahaim said. "There's constantly people working on things, whether it's from the tire aspect or the transmission, the engine and making power, obviously, and the chassis. I think what's equally important – and something I keep falling back on – is the people. You can go buy any combination you want, but what sets everybody apart is the people you have running the car down the racetrack. There's no doubt about it."
Photographs by NHRA/National Dragster and Ian Tocher
This story originally appeared in Drag Illustrated Issue No. 114, the Technology Issue, in October of 2016.