The site of his first career NHRA Mello Yello Drag Racing Series Top Fuel win as well as his most recent, Wild Horse Pass Motorsports Park has always held a special place in the heart of three-time NHRA world champion Larry Dixon.
Add in the fact that Dixon is competing in a full-time role for the first time since 2011 and it is pretty easy to understand why the longtime Top Fuel star cannot wait to arrive in Phoenix for this weekend's 31st annual CARQUEST Auto Parts NHRA Nationals.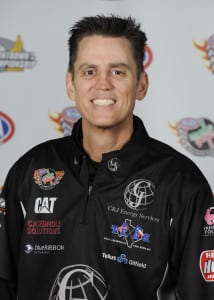 Driving his 10,000-horsepower C&J Energy/Casehole/TEAS/Tiger dragster as part of Bob Vandergriff Jr.'s two-car Top Fuel team, Dixon will take plenty of good vibes to a track that has produced three of his 62 career victories, including his first in 1995 and his most recent in 2011.
"I have a lot of good memories racing in Phoenix and I love racing there," Dixon said. "It can be a challenging track but having good memories at a track where you've done well gives you a good mindset going in."
The top drivers in Top Fuel, Funny Car and Pro Stock will all head to Phoenix for the second of 24 races on the 2015 circuit. Antron Brown (Top Fuel), Alexis DeJoria (Funny Car) and Allen Johnson (Pro Stock) were last year's winners of the event that will once again be televised nationally on ESPN2.
It might be the perfect place for Dixon to return to the winner's circle after a solid start to open the season in Pomona. He qualified seventh and advanced to the semifinals, giving his young team, led by crew chief Mike Guger, plenty of early-season momentum.
As for Dixon, he is beyond elated to be competing in a full-time role. That moment hit him in Pomona right before eliminations and Dixon, who last won a championship in 2010, plans to take full advantage of it in 2015.
"Overall, with it being a brand new team I thought we did well," Dixon said. "We qualified well, went some rounds and are sitting in a good spot in the points. We're definitely looking forward to going to Phoenix. It's not a right to be driving one of these Top Fuel cars; it's a privilege. I've been given that opportunity and I'm really looking forward to it."
Adding to Dixon's enthusiasm for the 2015 season is his pairing with teammate Dave Connolly, a longtime standout in Pro Stock who made his Top Fuel debut in Pomona. Dixon has embraced the role of teacher in aiding Connolly's Top Fuel progression and the end result could be both teams competing in the Mello Yello Countdown to the Championship.
"We ride to the track together and we have been able to spend a lot of time together," said Dixon, who beat Connolly in a first-round matchup in Pomona. "He'll ask me some questions and I'll try to relay the experiences I've had and things that I've done. He's going to be great in his own right. The better he does the better the team as a whole does."
A strong two-car team will be needed against a loaded Top Fuel field. Brown picked up the first of his six class wins a year ago in Phoenix, but it was Tony Schumacher, who has four victories at Wild Horse Pass Motorsports Park, who claimed his eighth world championship in 2014. Doug Kalitta, Spencer Massey, rookie of the year Richie Crampton, Pomona winner and 2013 world champ Shawn Langdon, rising star Brittany Force and second place points finisher J.R. Todd also all figure to be in the running to grab the Wally trophy in Phoenix.
But Dixon fully believes his team can compete with anybody on the NHRA Mello Yello Drag Racing Series circuit. He has been around championship teams throughout his impressive career and sees plenty of those same attributes on his current squad.
"What really stood out (in Pomona) was the calmness from everybody," Dixon said. "Our test session in West Palm Beach went well and everyone is doing a great job. I'm pretty excited to be part of this team. The guys have been around good drivers, crew chiefs and teams and I don't see any reason why this team can't compete for wins and a championship. We just need more runs. That experience is vital."
In Funny Car, DeJoria claimed her first career victory at this event, becoming the fourth female driver to win a Funny Car event. She claimed two more victories during the season and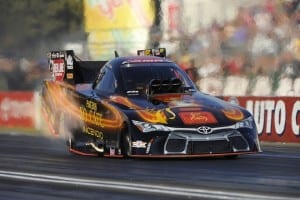 will be one of the star attractions at Wild Horse Pass Motorsports Park. Others include reigning world champion Matt Hagan, who opened the season with a win at Pomona, John Force, who has eight Phoenix wins, three-time Phoenix winners Jack Beckman and Ron Capps, two-time winner Del Worsham and Funny Car's winningest female, Courtney Force.
Reigning Pro Stock world champion Erica Enders-Stevens won at Phoenix in 2013 and will be looking to open her championship defense in style. Jason Line, a two-time world champ and 2012 Phoenix winner who also won in Pomona to kick off 2015, is among the top challengers in Pro Stock, which also includes four-time world champ Greg Anderson, Gray Motorsports teammates Shane Gray and Jonathan Gray, rookie sensation Drew Skillman who was runner-up at Pomona, 2014 Phoenix winner Allen Johnson and last season's runner-up V Gaines.