The Pro Extreme class made its final run on June 2, 2018, spelling an unfortunate and, ultimately, abrupt end to a class that almost immediately captured the attention of the sport just more than a decade ago.
At its peak, fans and drivers alike marveled at the screw-blower outlaw doorslammer class, both in its wild unpredictability and eye-popping performances. It was a special kind of magic and it led to a meteoric rise almost overnight. As for the drivers trying to tame these monsters, it was also the ride of their life.
Terry Leggett (veteran standout who raced Pro Extreme from 2009-2018): It was a class of pioneers, to some degree. It was really just wide-open. It was entertaining, it was a challenge. It was just a fun thing to do.
Jason Scruggs (two-time Pro Extreme world champion): In the heyday, it was the hottest class around, in my opinion.
Tommy D'Aprile (veteran standout who raced Pro Extreme from 2008-2017): It was exciting. You never saw more fires and blow-ups. Using a clutch, swapping feet, it was the most exciting thing ever. Guys were driving.
J.R. Todd (current Funny Car standout and former Top Fuel driver who raced Pro Extreme in 2011): Outside of Funny Car and Top Fuel, I thought those were the most badass cars out there. They looked cool and driving them was a lot of fun.
With the once-incredible class coming to a sudden end due to a lack of driver participation, DRAG ILLUSTRATED talked to a number of key figures who were there from its inception to the peak and then eventual decline. It happened at a seemingly break-neck pace, too, perhaps fitting for a class that became known for the quickest eighth-mile runs in doorslammer history.
THE BIRTH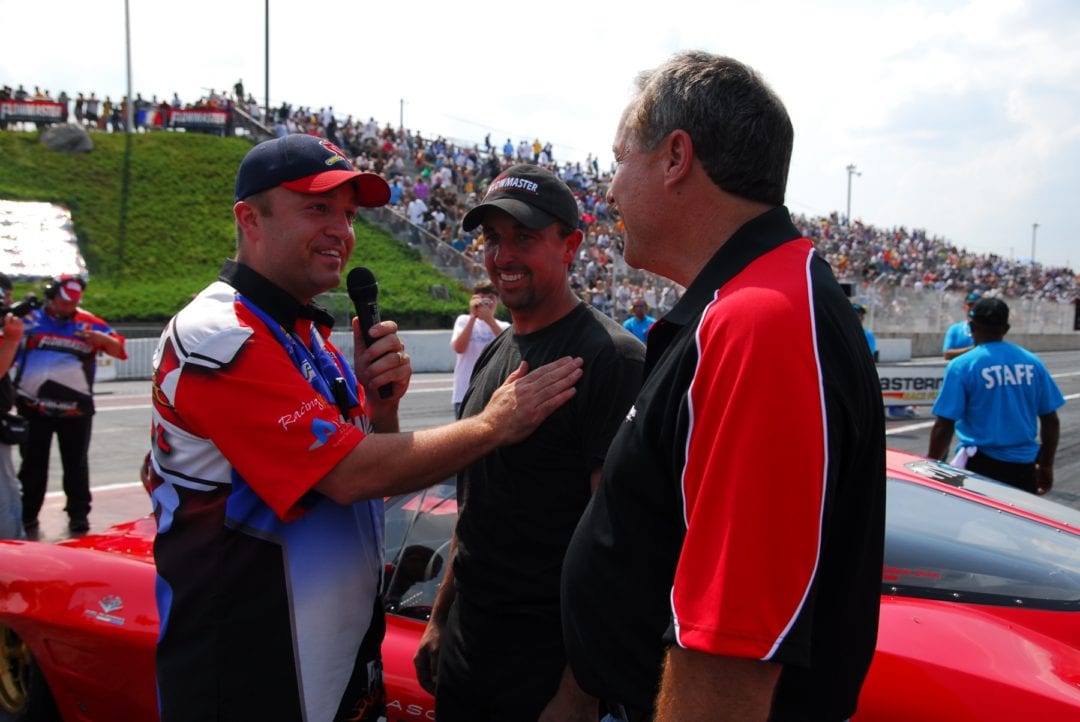 Pro Extreme was born in February 2005 at the American Drag Racing League (ADRL) Winter Drags in Hattiesburg, Mississippi., with Michael Neal beating Troy Critchley in the first event. The class was the brainchild of then-ADRL President and CEO Kenny Nowling. He held the inaugural Dragstock event in 2004, giving Nowling his first look at Outlaw Pro Mods, which got his wheels spinning.
The success of that initial Dragstock event – more than 100 Pro Mod cars showed up – led to the birth of the ADRL and the creation of an unlimited class in Pro Extreme, where the screw-blown cars could call home. John Lynam won the first Pro Extreme championship in 2005, with the class starting with eight-car fields that year.
Nowling: At the first event, heck, I think we only had 17 Pro Extreme cars and 9 Pro Nitrous cars show up, if memory serves correct. It actually worked out great. The fans had a great time. In the winner's circle I remember telling (ADRL Executive Vice President of Competition) AJ Ashe I might have stumbled onto something. These guys are badass and this is the coolest thing. They're just balls to the wall, they're all-out and they just want to go as fast as they possibly can, and it's entertaining as heck.
Scruggs: At the time, when Pro Extreme first started, Kenny had come out with the ADRL and I had been racing Pro Mod-type outlaw cars for close to 10 years at that time, and basically we were already running no-rule type races. When Pro Extreme came out, it basically took the same thing we were doing and put it on a little bit better tracks and more publicity.
Todd Tutterow (North Carolina doorslammer racing hero, who raced Pro Extreme from the outset and won a world championship in 2009): It was basically no rules, bring what you got. It was really exciting.
By Dragstock in 2006, the class was ready to explode. The ADRL started its free-ticket promotion for its debut event at Rockingham Dragway, and fans flooded the track, many seeing the class for the first time. The class caught on quick and it rocketed into the limelight.
Scruggs: It was new and everybody likes new and fresh. (The ADRL) was packing the
grandstands at the time, it was larger than life and it was pretty cool. And it also gave everybody who was used to running on kind of bad tracks, they could come run on a good track. In 2006 and 2007, they weren't as good as they were when the Traction Twins (brothers Cody and Cale Crispe) started doing the track, but they escalated into better and better tracks. At the same time, the same things that brought everybody also went away with the downfall a little bit.
Nowling: The racing at the events was just crazy. The Pro Extreme guys, specifically, they had never raced in front of anything like that. If you had ever driven a Pro Mod, you had never driven in front of a crowd that size.
Scruggs: When Pro Extreme first started, everybody had clutches and all that, and the tracks were good, but they weren't as good as they are today. You could go out and run 3.70s and 3.80s back then, but sometimes you weren't quite as consistent because the clutches were harder to make consistent and the tracks weren't quite as good. So a guy could take a 3.90 car, a 3.95 car and still win some races. A lot of cars had a chance, so that helped the car count back in those days. For the most part, it was one of those things that escalated into everybody wanting to be part of it because it was the hot ticket in town. It was exciting times.
THE PEAK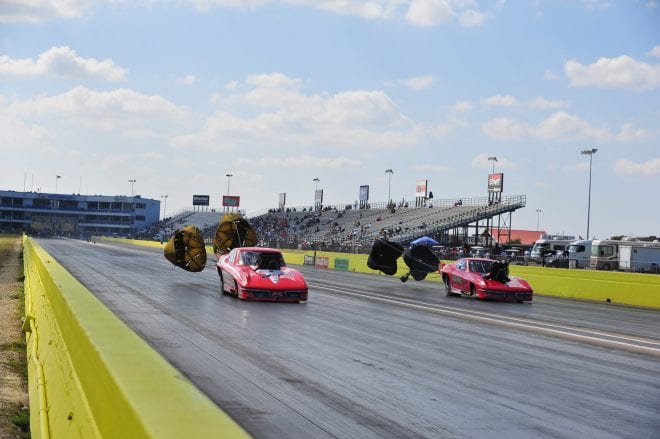 Exciting times would be an understatement. At its peak, Pro Extreme was drawing more than 40 cars a race, all wanting to get their taste of the action in front of big crowds and better tracks. In fact, an unreal 50-plus Pro Extreme cars packed Texas Motorplex in Ennis, Texas, one year for the World Finals.
Bubba Stanton won the 2006 championship, with Scruggs dominating the scene the next two years with back-to-back titles. In that, though, was a live-on-the-edge style that always pushed the envelope. Scruggs was at the forefront, making the first 200-mph pass, also becoming the first to a number of magical milestones. Those shots-heard-around-the-world with such massive fields made the class larger than life, putting even more mystique in the suddenly thriving class.
Scruggs: At the time, we were breaking a lot of records and stuff that people had never seen with a doorslammer at the time. You look back on it, we were the first to the 3.80s, first to the 3.70s, first to the 3.60s and the first over 200, and we went 210 mph in testing. Everything was kind of like a milestone at the time.
That part of it was exciting and with the no-rules format, it enabled you to try different things. It was exciting to be able to go out and try those things.
Jason Hamstra (Ran IHRA Pro Mod before becoming ADRL Rookie of the Year in 2009, world champion in 2011, now running well in NMCA and Mid-West Pro Mod Series): It was the best deal at the time. You didn't have to spend a lot to get in at the time. It started and there weren't a lot of lightweight cars at the time. You could put a screw on a Pro Mod car and run the deal. It looked like something we could get into and be somewhat competitive.
Nowling: If you look at the history of drag racing, I don't know if you can find a category over a four-year period that ever advanced the way Pro Extreme did.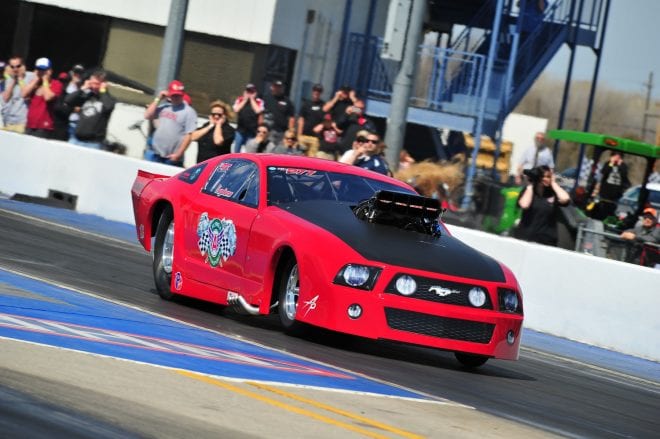 I remember when the bump got into the 3s, and I thought, 'This is just insane.' A few short years later we're running 3.50s and approaching the 3.40s at over 210 mph. In a 10-year period, the class had basically picked up a half-second and well over 40 mph. That's just staggering, and I don't think you could find anywhere in drag racing history where any category had picked up that ET and speed in a short amount of time. It was a testament to the fact that the rules were wide open, and the fact these guys were so ahead of their time. They were pushing the envelope every single time.
D'Aprile: We had a really good field in those years. Guys were pushing the envelope. To qualify and win, you had to push yourself to the limit. To do that, you better be ready to spend a lot of money.
After Tutterow's championship in 2009, the milestones continued to pile up, as Frankie Taylor blasted off to become the first in the 3.50s at Rockingham in 2010. He won the world championship that year – a true underdog story that encapsulated the class at its finest – as new faces continued to climb into the class.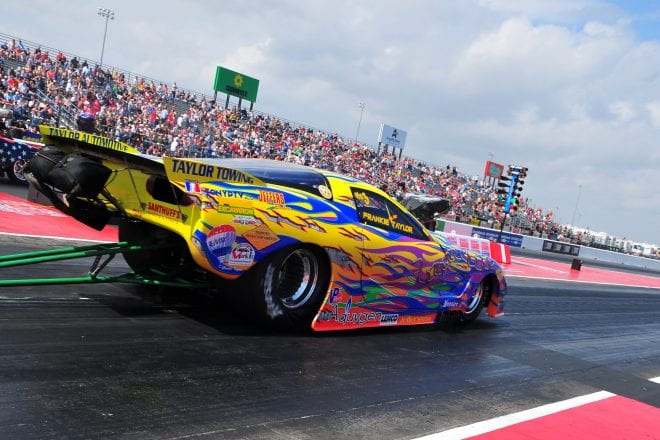 Mick Snyder (ADRL Rookie of the Year in 2010, world champion in 2012): At the time, we were running Alcohol Funny Car and it looked like it was going the other direction. Pro Extreme was the cool thing to do at the time and it more fit our personality. There was a lot of excitement. It was a bunch of cars, running fast and a ton of competition. Qualifying was hard enough and to go rounds was even more impressive. There's just something cool about how fun those cars were to drive.
Nowling: These guys were now racing on the big stage where they really deserved to be racing. Their personalities and hot rods were as cool as anything in motorsports. They were our Top Fuel. They were our marquee class. Pro Nitrous was right there with them, but, man, even the Pro Nitrous guys would come up to make sure they didn't miss a Pro Extreme session because you just never knew what was going to happen.
Leggett: To me, way back when there were no rules and it was wide open, all of that was just really good. I think it had a lot more crowd appeal than people realize. People came to run Pro Extreme because it was the fastest and most exciting thing there was. But I think time will only let something like that go on for so long.
THE DECLINE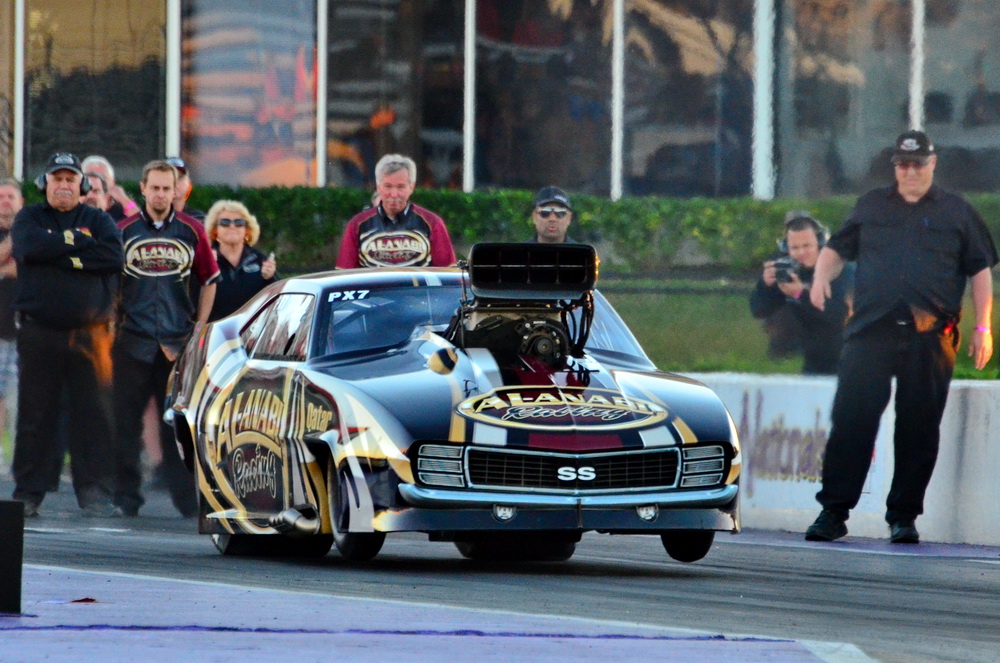 No rules meant an unlimited budget for some, and many believe that's where the class started to go downhill. Nowling resigned his position in 2010, the start of a tumultuous three-year stretch for eighth-mile racing in general.
In the midst, names such as Al-Anabi Racing came into the sport, bringing people like Todd, Frank Manzo and even Sheikh KH Al-Thani into the mix. It brought notoriety, but some believe the essence of the class was at stake. By most accounts, the magic was fading.
Tutterow: Money got involved and money ruins anything that is unlimited. It pushes out the small guy. We saw that. Bil Clanton and everybody else, they just didn't have the money. Some people had unlimited funds. Everybody spent money to run fast. If you didn't spend the same, you might as well stay home.
Hamstra: They needed to put a reasonable weight limit on it, 2,450-2,500 pounds. If they had it that way, they might still be running.
I said back then, (not having a weight limit) was going to kill the deal. You can't have something with no restrictions, no minimum weight. You're going to get out of control. What's it good for anyway? If they put a minimum weight on it, that would have really helped.
Leggett: To me, that was kind of the ultimate downfall, that swath of money to come in there, and buy them cars and a certain few had them. I just think that kind of really got it screwed up.
Not even a huge payout could change the direction of the class. Hamstra won the Pro Extreme title in 2011, earning a $75,000 check, which was the largest payout ever for the class. But Hamstra saw the writing on the wall and never raced another Pro Extreme race after that year.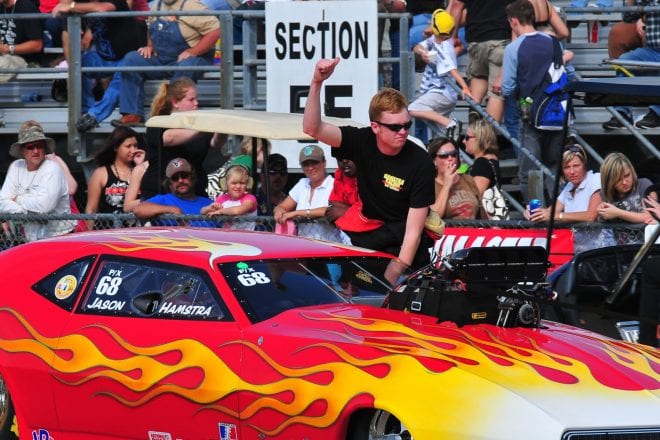 Hamstra: The class wasn't the same as it was at the beginning. We didn't have a light car and we would have had to build a light one to keep running. It's hard to spend that kind of money on something that's going to fall apart. Big power and a lightweight car is not a good match. It's too bad because it was such a neat deal at first.
Snyder: Times change. As stuff progressed, the costs got out of control and you couldn't maintain the interest. Is ego and spending this type of money worth the fun you're having? Obviously people started thinking no. As the cost went up, it wasn't as much fun. Plus, it's a hard class to drive. Not everyone can just jump in one, so your driver pool is limited.
Nowling: Here's the thing, and ask yourself this question: Wouldn't the Pro Extreme guys rather have a high 3.60, low 3.70 class, $10,000 to win and $2,000 to qualify and $50,000 to the champion, and have 30 guys to compete against rather than ultimately not have a class at all? I would have to think the answer would be yes.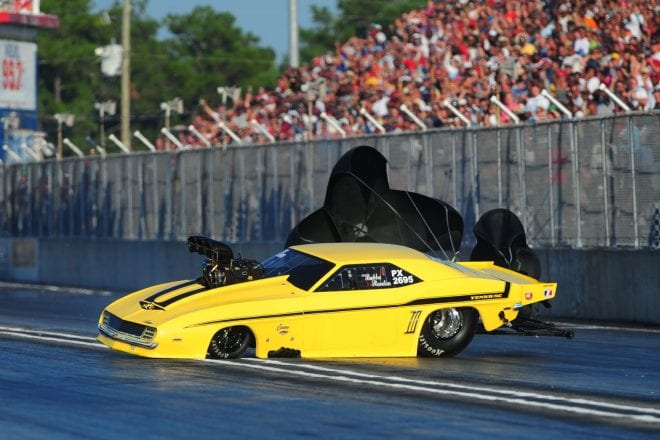 It only got worse after 2012, as the ADRL dissolved, only to resurface the following year with Nowling again at the helm. The ill-fated X-DRL also formed in 2013, adding to the friction. It didn't last a season, while the ADRL disappeared at the end of the year after financial controversy. The PDRA picked up the pieces in 2014 and kept the class going, but the mystique was waning. Taylor became the first in the 3.40s, yet the class appeared on a path that couldn't be reversed.
In the end, numbers told the story. Interest dropped each season since 2014, and some in the class expected it to be done in 2017 after low participation. In fact, only three drivers raced at all eight events in the class that year. It took another severe dive in 2018, with drivers and teams choosing a number of alternatives like the NHRA Pro Mod class, PDRA's own Pro Boost class, the NMCA Xtreme Pro Mod class and the Mid-West Pro Mod Series. After a decade, it wasn't just Pro Extreme and Pro Nitrous anymore.
In short, there were more – and perhaps better – options, especially as Pro Boost moved into the 3.60s as a much more cost-efficient option.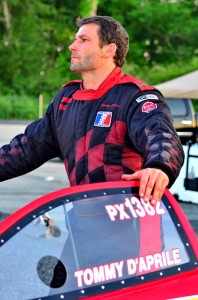 D'Aprile: There was a big difference between Pro Boost and Pro Extreme, a good half a second. That's a pretty sizeable margin. Well, Pro Boost teams did more and more research and it got to where half the field in Pro Boost could qualify for Pro Extreme. If you ask any fan, they don't know the difference between the cars. And the cost to run a Pro Extreme car was way more. You changed a belt every couple runs. If it hiccups, you were changing a bunch of stuff. The Pro Boost car is way easier on parts, on the pocketbook.
Tutterow: (Pro Boost) wasn't as much money. The blower belt is the biggest thing on a Pro Extreme car. Max, you got three runs if you could even get three and those were $300 apiece. On a Roots blower, you can run one for a whole season. The cost just kept going up. Pro Extreme cars hit a flatline right around 3.50 flat. In Pro Boost, the blower cars are going mid-3.60s, and they're still getting better all the time, still creeping up.
Scruggs: Pro Extreme was still good during those times, but over time, truthfully, the splits I think hurt the class. Truthfully, some people just got sick of it, some people didn't know where it was going, some people changed classes. It was just a little bit of everything. You could see it was going downhill the last few years. And then the PDRA rolled along and you just really never had the car count. (But) Pro Nitrous is still pretty healthy and Pro Boost is pretty healthy.
Leggett: I was an advocate and I tried to promote it, and I tried to get people to come. I called, I done a lot of things to try to get cars to come and for whatever reason people wouldn't come.
THE END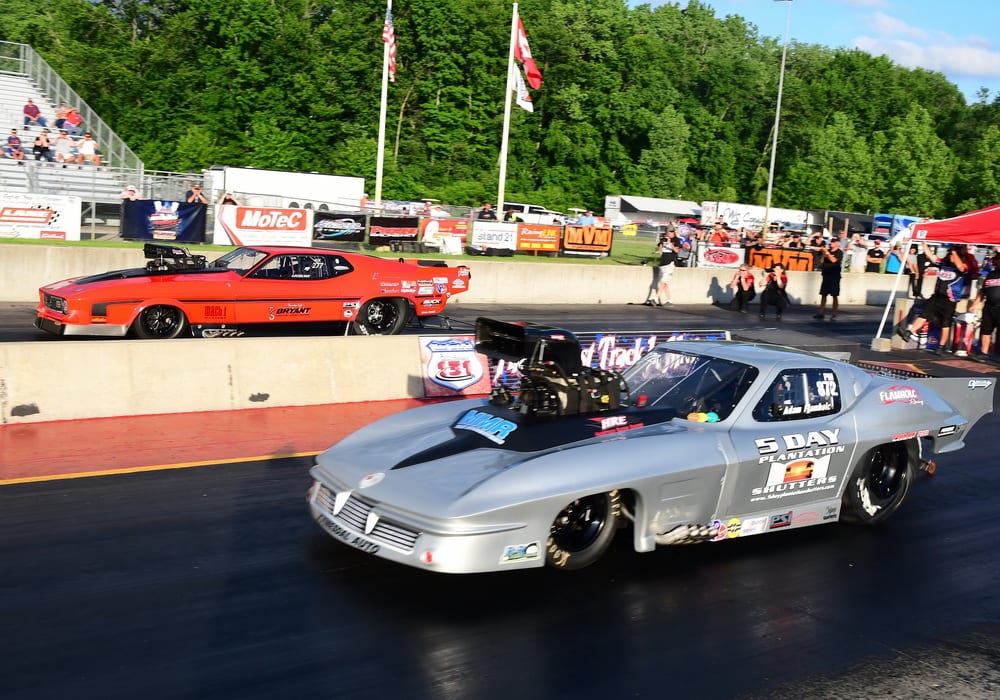 The final Pro Extreme pass came at the PDRA Summer Drags in Martin, Michigan, as Leggett grabbed the final win against a miniscule three-car field.
Less than two weeks later, the PDRA announced the end of the class, with race director Bob Harris stating, "Although the incredible speeds and outlaw nature of Pro Extreme and screw blowers have great appeal, it's a unique niche in Pro Mod that has, at least for a time, run its course."
Not everyone sees this as the definitive end – this is drag racing, after all – but most agree that Pro Extreme is likely done for good.
Scruggs: I wouldn't be surprised on some level if you had 2-3 big-money, no-rules-except-weight races, kind of like what (Donald Long) does. I think that would be exciting a couple times a year.
Leggett: I honestly believe it's done. I really do. I believe it's done.
Tutterow: I think it's done. Nobody is going to spend the money to do that. I don't see it ever coming back. It's a shame, but that's the nature of the beast. It was a good class, but it ran its course.
Photographs by Joe McHugh, Roger Richards, Ian Tocher and Mark J. Rebilas
This Drag Strip Affairs feature appeared in DI #135, the State of Drag Issue, in August of 2018.