Rockingham Dragway kicked off the 2023 bracket points season on April 1-2, as racers were anxious to experience numerous offseason renovations, and also meet and welcome the brand-new track owners who are responsible for the litany of improvements at "The Rock." Dan VanHorn and Al Gennarelli became the new owners of Rockingham Dragway in early November, after purchasing the track from its longtime owner, Steve Earwood.
"Obviously, when we took the track over, it was at the end of the season last year, so there wasn't really a whole lot of racing left, although we did have one really good event called Dig or Die, which was a no-prep event we held in December," says VanHorn.
Afterwards, VanHorn and Gennarelli began a massive track renovation effort with a goal of getting as much accomplished during the offseason as possible. "Considering our timeframe, we weren't able to complete one task, then move on to the next, so instead, it was a situation where everything was going on simultaneously," explains VanHorn.
The list of things that were accomplished is impressive to say the least. The duo knew that the track surface was among the most important tasks on their plate, so they went right to work on ripping up the old surface and pouring 800 feet of new concrete. With the new surface came a lot of little touches that you don't catch right away, including dyed concrete for the center section, new water spigots near the burnout box, the installation of air at the starting line, and even concrete walls around the center section that extend out to the Christmas Tree, replacing the old V-shaped guardrails. Additionally, a massive overhaul to the electrical system was performed, including a brand-new Accutime timing system.
They also knew that every bathroom on the property needed attention, but the larger facility that stands on the hill on the pit side of the track would be the easiest to showcase, so that's the one they started with. "Amazingly, that's the one project that has taken a surprising amount of time to get finished," says VanHorn.
Many cans of paint were opened and applied during the offseason too, as well as replacing tons of aging signage. The fan reception and accolades made it all worthwhile, and also energized their efforts moving forward. "It's been great!" smiles Gennarelli. "So many people have walked up at this season-opening bracket race and mentioned that they've been following the improvements on social media, and they can't believe how much we've gotten done in this short timeframe."
As much has been accomplished, the reality at Rockingham is that the renovations have only just begun. VanHorn and Gennarelli have lofty goals for this legendary facility, including a new tower renovation, improving the pits with new asphalt, and updating the shutdown area. Building a bar and grill onsite is even something the duo will likely accomplish in the future. For a grand bucket list item, restoring the concrete grandstands is something they dream of doing someday.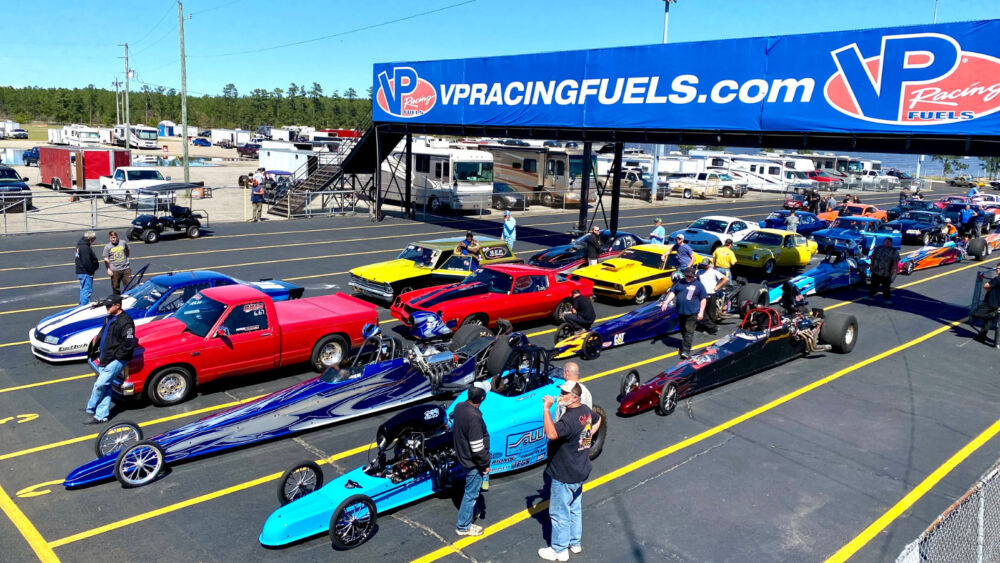 In addition to a significant amount of offseason sponsor support, the timing of the track purchase couldn't have been better since a motorsports grant from the state of North Carolina was approved right around the time the duo was closing a deal with Earwood. Moving forward, they're also very optimistic that additional funding from the state will be approved for the dragstrip, as well as the neighboring speedway.
"We spent years talking about buying a track, and I reached out to so many people who were so supportive, and I want to mention people like Royce Miller, Jimmy Halsey, the Franklin family and Tyler Crossnoe, Ozzy Moya, Lennie from Atco, and Nelson and Maria Hoya from No Problem Raceway," says VanHorn.
To kick off the 2023 season, Jim Howard was named track manager, while his wife, Jackie, accepted the role of office manager. Together they bring tons of experience from their tenure at Montgomery Motorsports Park in Alabama. Longtime race promoter Tony Saraceni is heading up the bracket series at Rockingham.
The schedule this year is as robust as ever, with great events that include staple attractions such as NMCA, Super Chevy, Rudy's Diesel, AHDRA, and Carolina No-Time, just to name a few. The Modern Street Hemi Shootout is a series VanHorn co-founded and now solely owns, and will visit Rockingham multiple times this year.
There's also much anticipation for the return of the legendary Civil Wars, slated for June 9-11. "We're bringing the whole thing back!" smiles VanHorn, as he referenced Civil Wars' 14 different race classes, swap meet, car show, and fireworks.
Brand-new this year will be Michael Beard's Staging Light Promotions Carolina Footswap Nationals. There will also be big-money bracket racing from SFG, and also the NHRA Lucas Oil series in October. Pretty much every weekend is accounted for from April to December.
"I never anticipated such an attachment to this place that I've developed," says VanHorn. He and Gennarelli figured they'd stay at the track four days at a time, then return home for three days. Instead, they each brought motorhomes to the track and pretty much live here. "I've been home twice since Christmas!" says VanHorn.
Gennarelli shares the same energy and vision, and they're willing to do whatever it takes to make Rockingham Dragway new again. "If we could do that, we feel that we could get a lot of people to come back to Rockingham," concludes Gennarelli.