Antron Brown (above) joked that he wouldn't mind making a couple of left-handed turns the next time he's on the track. Ed Carpenter thought it'd be fun to ramp up the speed by about 100 mph.
Maybe they ought to swap rides.
Brown, the reigning NHRA Top Fuel champion, stopped by his old pal's garage at Indianapolis Motor Speedway May 22, slipping into Carpenter's No. 20 Chevrolet and getting a quick lesson in paddle shifting on the car that will sit on the pole for the Indy 500.
The two drivers from far different disciplines have known each other for about 15 years, Carpenter said. So after he posted a four-lap average of 228.762 mph to lead the field for Sunday's race, Brown decided it was time to swing by on his day off for an afternoon chat.
"I always love coming out to the 500," said Brown, who grew up in New Jersey but lives in suburban Indianapolis. "It's just good times to come out and especially support Ed, pulling that pole off. That's just a great feat for his team."
Carpenter, of course, is the hometown hero – the Butler University alum, avid Indiana Pacers fan and stepson of former speedway executive Tony George, who also happens to be the only owner-driver in the series, all of which means plenty of pressure on his shoulders this weekend.
If not for his car sitting on the pole, the first eight spots for the Indianapolis 500 would be claimed by Team Penske and Andretti Autosport, two of the marquee teams in the series.
Brown spent time chatting with members of Carpenter's team Wednesday before sliding into the driver's seat, where Carpenter explained some of the technology on a modern IndyCar.
"Everything these cars have evolved into, the way these new cars are, they're so much safer, so much more sound," Brown said. "The paddle shifters are complex, everything in the steering wheel – that's what we need in NHRA, everything in the steering wheel. Small, turbo-charged engines going the speeds they go, that's just phenomenal. That just tells you how far they've come.
Brown made sure to point out that IndyCars run on E85, an ethanol fuel blend that the series switched to a couple years ago, and "what I put in my regular vehicle I drive every day."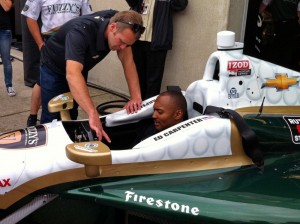 Brown said he wouldn't be worried about the speeds Carpenter was turning in last weekend's qualifying, but the left-hand turns to get around the speedway would take some adjustment.
He doesn't have to worry about that when he's racing Top Fuel.
Carpenter, meanwhile, said he wouldn't mind sliding into the driver's seat of Brown's dragster, which typically covers 1,000 feet in about 3.8 seconds at speeds surpassing 320 mph.
"That's what we learned here really: If Antron fits in my seat, I probably sit just fine in his seat, too," he said with a smile. "So I'd like to go down and check it out sometime."
Carpenter said there are some similarities between IndyCars and dragsters once the bodywork is stripped away, at least on the technological side. But he also admitted that switching rides would be a bit more complicated than hopping into the seat and waiting for the green light.
"I'm sure we could both adapt if we had time. Like anything, seat time is key," Carpenter said. "There's a lot of technology, a lot of things that aren't totally different, even though they're totally different disciplines. But underneath it all, there are a lot of common parts and things. We do speak the same language."