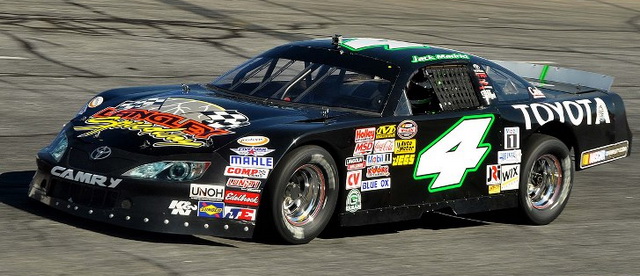 In a partnership between Rev Racing and Toyota, Antron Brown, the 2012 National Hot Rod Association (NHRA) Top Fuel champion and the first African American to win a major auto racing championship in the United States, will test his skills behind the wheel of a Camry stock car at Virginia's Motor Mile Speedway in Radford, Va., on Tuesday, May 28.
Brown will be testing at the Virginia short track (.416-mile oval) alongside NASCAR Drive for Diversity drivers Bryan Ortiz, Daniel Suarez, Mackena Bell, and Ryan Gifford. Both Gifford and Suarez have won races this season in the NKNPS East and NASCAR Toyota Series, respectively. Last year, Ortiz finished fifth in the NKNPS East standings in his rookie season, and Bell is currently third in the Sunoco Rookie of the Year battle.
"I can't tell you how thrilled I am to have this opportunity," said Brown. "I've known the leadership at Rev Racing for a long time. Their operation is top notch and I can't think of a better platform or program with which to test my oval racing skills."
"I have a passion for NHRA drag racing and love driving the Matco Tools dragster at Don Schumacher Racing (DSR) — there's nothing like 10,000-horsepower," added Brown. "But, I'm very competitive at anything I do and I always love a new challenge. I'm excited to have this opportunity to turn left."
Both Rev Racing and DSR captured championships racing Toyotas last season — Rev Racing won the NKNPS East championship and DSR the NHRA Top Fuel World championship, and continue to have a strong partnership with Toyota.
"Antron Brown has been a great partner for Toyota through Don Schumacher Racing, and we're delighted to support his opportunity to achieve success with Rev Racing. Toyota is proud of our relationship with both organizations," said Keith Dahl, Toyota's national manager of motorsports and engagement marketing.
"Toyota has been a supporter of diversity in the work place, within its organization and specifically with the Rev Racing program for many years. Not only are DSR and Rev Racing committed to winning championships, but they are also committed to pioneering diversity efforts in motorsports."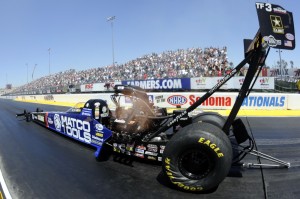 The test will take place between 9:00 a.m.- 4:00 p.m. at Motor Mile Speedway and will be open to the public. Media are invited to attend the test session.
"We are excited that NHRA champion and world class competitor Antron Brown has chosen Rev Racing as his entryway into stock car racing. He is a great ambassador for the motorsports world, and his commitment to diversity is something that makes this partnership really work." said Max Siegel, CEO of Rev Racing.
Following the test, Brown will head to New Jersey to compete in the NHRA Toyota Summernationals (May 31-June 2) at Raceway Park in Englishtown. Brown, a New Jersey-native, has 23 career NHRA Top Fuel wins. In Englishtown, the 37-year-old racer will be seeking his first Top Fuel win at his 'home' track after winning there twice in Pro Stock Motorcycle in 2002.
(Photos courtesy Toyota Racing; Rev Racing; NHRA/National Dragster)