As NHRA Top Fuel points leader Steve Torrence heads for the Texas Motorplex next weekend (Oct. 5-7) for the AAA Texas NHRA FallNationals, he can't help but think of all the passes he's made down the all-concrete racing surface.
"I enjoy racing there. I grew up racing (NHRA) Division 4, so it's home for me. I've made a lot of laps there in every race car I've ever driven, so I've got a lot of experience on that track," said Torrence, who lives in Kilgore, about a two-hour drive east of the track just south of Dallas. "More importantly, though, it's about getting to race in front of the hometown crowd and friends and family."
Torrence also confirmed that his father, Billy, who secured his career-first Top Fuel win earlier this year at Brainerd, Mn., will be piloting a second Capco dragster at the FallNationals, too.
"It's a double-edged sword for us. You've got a lot of people there vying for your attention, but you just need to stay focused on racing," he said. "I mean, we get to see some people that we don't get to see too often, race with some friends that I grew up racing with in the Sportsman ranks and they'll be racing, too, so it's neat. I'm looking forward to it."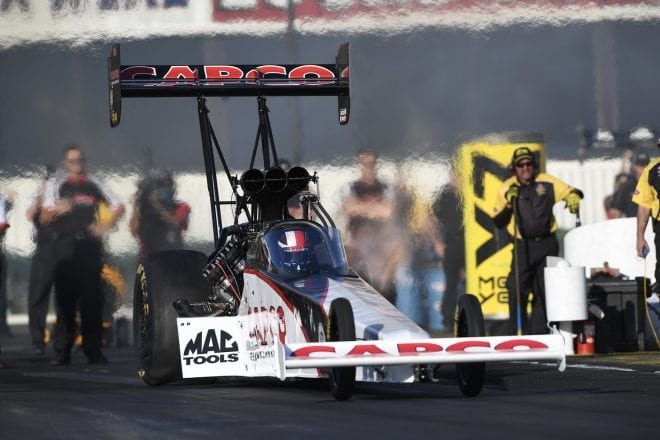 Torrence started the NHRA's six-race Countdown to the Championship in first place after scoring five wins in the NHRA's "regular season." He solidified his lead with another pair of victories after events in Reading, Pa. and St. Louis to start the Countdown. Just one win away from matching a career high of eight last season, Torrence currently counts 23 total race titles, placing him a solid 10th on the all-time NHRA Top Fuel winners list.
Torrence won Top Alcohol Dragster in 2005 at the Motorplex and finished as Top Fuel runner-up there in 2016, but considers last year's FallNationals as the one that got away. After suffering a spectacular and scary accident in round two of eliminations, he remarkably emerged unscathed and his Richard Hogan-led, Capco Contractors team managed to ready his back-up car in time for the semis, where Torrence lost a close one to Brittany Force. It was the first of three straight race victories for Force, who eventually edged Torrence out of the points lead in the final day of competition for the 2017 championship.
"That was probably the best car I've ever had and I feel like if that (crash) hadn't happened, we probably would've won (at the Motorplex) last year," he said. "So yeah, we'd like to win at our hometown track, but more importantly just keep the momentum going in the Countdown. We're just going to go in there, make sure we get qualified, and then go one round at a time.
"It's the same attitude we had last year. Maybe we're a little bit better prepared for anything that could happen, but it's the same intensity, same focus. It's the same mindset of take no prisoners and just try to win 'em all."