There are plenty of variables in drag racing that must be accounted for, and the condition of the racing surface has always been one of the most mysterious ones. Since the sport's early days, a simple twist of the shoe or a check of the surface temperature were the only ways to get an approximate idea of the level of traction available at any given time during a race.
All that changed a decade ago when Chicago native Larry Wolyniec founded Competition Motorsports and debuted the Track Meter. The Track Meter is a simple-to-use tool that provides consistently accurate measurements of the race track's surface.
Working with Austin Coil and Frank Hawley on the legendary Chi-Town Hustler then being immersed in the early 10.5-inch tire movement are just a few milestones during Wolyniec's motorsports journey. The list of people Wolyniec has been involved with reads like a Hall of Fame inductee list. His ability to innovate, develop and manufacture has benefited many race teams, and his role in Sandvik, a tier one manufacturer servicing GM, Toyota and Harley Davidson, is also a testament to his abilities. Larry first debuted the Track Meter device while working with Top Fuel team owner Bill Miller and the Bill Miller Engineering team in 2006, and numerous patents and countless hours of research since then have led to today's version of the device.
When it comes to its operation, the Track Meter's simplicity has been its foundation. By standing on the unit's machined aluminum foot tabs, an internal spring applies a determined amount of pressure to the Track Meter's bottom rubber pad. This rubber pad has a durometer hardness similar to most drag racing tires. The user then turns the Track Meter's included torque wrench attachment to a specified number of degrees. The tattletale marker on the device's torque wrench will then indicate the level of torque measured at that particular spot on the race track surface.
Shoe-twisting and guessing were instantly a thing of the past.
Even a dyed-in-the-wool old school racer like Charles Carpenter, known for being at the forefront of the Pro Modified movement, has seen the advantages using the Track Meter can provide.
"My first exposure to the Track Meter came in 2011 when I was crew chief for fellow Pro Mod racer Dan Stevenson," Carpenter said. "This was also around the same time we began to see 'superprepped' race tracks, and using the Track Meter allowed us to detect even small changes in the track surface throughout the race or from one track to the next. Using the device in tandem with Track Meter's data tracking software allowed us to build a database of the tracks we visited during the 2011 season that proved invaluable the next racing season.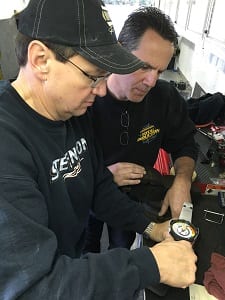 "Not only did we build a database, but it allowed me to get a better feel for the track surface and determine if what we were seeing was actually a good rubber base, or if it was simply a lot of traction compound," Carpenter continued. "That's a big deal for a Pro Mod or any car that runs a slick tire, but I truly believe the Track Meter is a tool that would prove to be valuable for a racer at any level, even your weekend-warrior bracket racer."
Track Meter offers the ability to create and archive data based upon many key areas. Racers now have the ability to document their track readings as well as pertinent weather conditions, time of day and location. The end result is a simple metric that can be used to achieve a baseline on how you tune the car at any given track or atmospheric condition.
Each Track Meter unit is proudly made in the USA, and the housing and select components are CNC precision machined from 6061-T6 billet aluminum for strength and maximum weight reduction. The outer housing is black anodized for durability – to stand up to the harsh conditions and abuse that can be seen at the race track. Plus it would be hard to argue the two-tone isn't a winning look.
"It's truly the only accurate way to gauge a track. I've been doing this a long time and looking back on my career, there are innumerable situations where I wish I had a tool like the Track Meter," Carpenter admitted. "When the track is rapidly cooling off at night, or after an oildown, all that guesswork on how many grams of counterweight to add to the clutch or what to do with the starting line RPM could have been eliminated. Anything other than the Track Meter is truly a guess."
For more information, visit www.trackmeteronline.com.