Street Outlaws: No Prep Kings started off season six Thursday night with the first ever Team Draft. The opening event on the 14-race schedule takes place this weekend at National Trail Raceway in Hebron, Ohio, and will feature eight teams of five drivers each.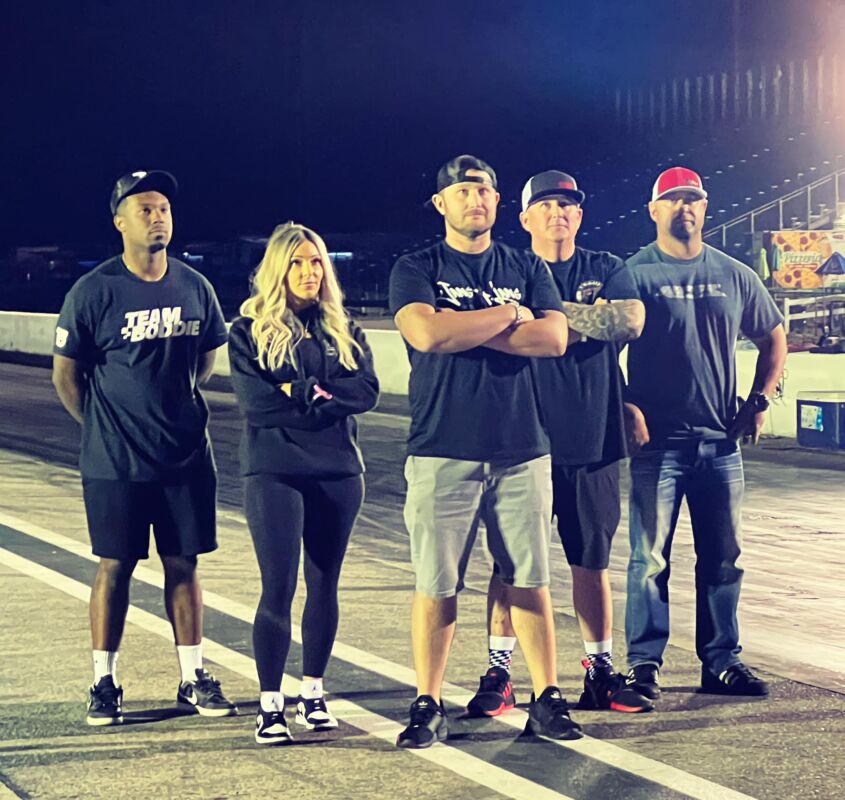 The evening began with the announcement of the People's Choice winner for the final team captain, with "Daddy Dave" Comstock beating out Lizzy Musi after a month of intense online lobbying. He joined Ryan Martin, Kye Kelley, Shawn Ellington (Murder Nova), Justin Swanstrom, Mike Murillo, "Disco" Dean Karns, and Jay Boddie as the captains for the 2023 season.
Chips were selected to determine the draft order, with Karns drawing the first overall pick. He chose Jerry Bird, who will be debuting a brand new '67 Mustang. Swanstrom had the second pick, and used it on two-time NPK event winner Jim Howe. The remaining first-round selections were Scott Taylor (picked by Murillo), Nate Sayler (Boddie), Jeff Lutz (Ellington), Robin Roberts (Martin), Kayla Morton (Comstock), and Lizzy Musi (Kelley).
The draft order was reversed for round two, then chips were drawn again prior to the third round. Mike Bowman, winner of the inaugural Drag Illustrated World Series of Pro Mod, was selected in the second round by Boddie. NHRA Pro Mod driver Marty Robertson was also taken in round two by Karns.
With the selections winding down, Swanstrom found himself with the final pick in the draft. After questioning a few drivers, he selected Tony McKinney to close out the night – giving him a team composed entirely of screw-blown entries.
As was expected, there were some racers faced with the disappointing prospect of not getting drafted. Notable names that did not get picked include James "Doc" Love, Joe "Dominator" Woods, Shawn Wilhoit, James "Reaper" Goad, and David Adkins. Undrafted drivers will be put in a "reserve pool," and are eligible to join teams that lose a member due to parts breakage or other circumstances.
TEAMS
CAPTAIN: Ryan Martin
Robin Roberts
Giuseppe Gentile
Rich Bruder
Chuck Seitsinger
CAPTAIN: Kye Kelley
Lizzy Musi
David Gates
Jay Boddie Jr.
Chris Rankin
CAPTAIN: Justin Swanstrom
Jim Howe
Kallee Mills
John Odom
Tony McKinney
CAPTAIN: Daddy Dave
Kayla Morton
"Axman" Larry Roach
Kyle Canion
Brody Melton
CAPTAIN: "Disco" Dean Karns
Jerry Bird
Marty Robertson
Larry Larson
Greg Chandler
CAPTAIN: Mike Murillo
Scott Taylor
Brandon James
James "Birdman" Finney
Randy Williams
CAPTAIN: Shawn Ellington "Murder Nova"
Jeff Lutz
Chuck Parker
Brad Eglian
Manny Alvarez
CAPTAIN: Jay Boddie
Nate Sayler
Mike Bowman
Bobby Ducote
Damon Merchant