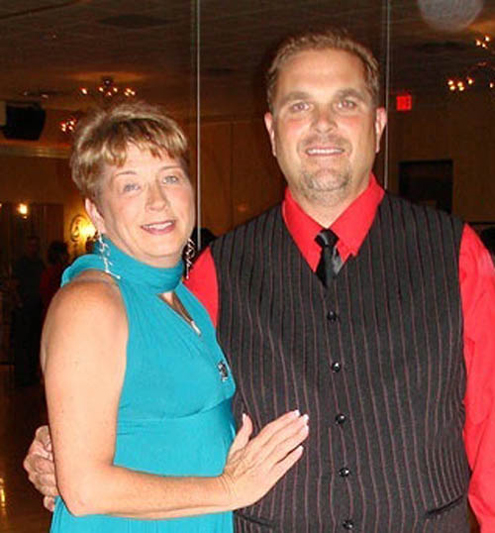 This week the team led by Conrad "Connie" Kalitta lost a dear family member, Tammy "O" Oberhofer. Tammy, 53, succumbed to cancer June 18, after fiercely battling the disease for over a year.
Tammy, husband Jim "O" (together, right), and daughter Ashley have been an integral part of the Kalitta Motorsports family for 30 years. Tammy first served as the team's public relations representative and most recently as the team's office manager. She was the daughter of drag racer Keith Ferrell.
"My sincere condolences go out to Jim-O, Ashley and their families for their loss," said Doug Kalitta. "Tammy, hands down, has been the driving force of making things happen behind the scenes at Kalitta Motorsports. Her passion towards her family and work was second to none, and I believe we had to hire at least three people to cover the workload she did over the years by herself.  I personally will miss her smiling face and that can-do-make-it-happen attitude she displayed in everything she did."
After taking the provisional pole in Top Fuel June 21, after day one of the inaugural New England Nationals at Epping, New Hampshire, Doug Kalitta again remembered Tammy's influence on the team.
"We're definitely on a mission," he said. "It's just kind of heart-wrenching to go through what we've gone through this week, but we're out here, and I'm sure Tammy's riding with us this weekend.
"We've been trying to get a win, and she's our biggest supporter out here, I think, over the years. Hopefully, we can do some good here this weekend and dedicate the win to her."
Visitation and services for Tammy Oberhofer will take place on Wednesday, June 26, at Michigan Memorial Funeral Home, 30895 West Huron River Dr., Flat Rock, MI 48134.
Private visitation will be 9-10 a.m. Public visitation will be 10 a.m. to 1 p.m. with services following. Tammy will be taken to her final resting place via horse drawn carriage.
In lieu of flowers, the family has requested donations be made to the following charities that were dear to Tammy: B.R.A.K.E.S.,DRAW (Drag Racing Association of Women), Racers for Christ, and Pandas International.