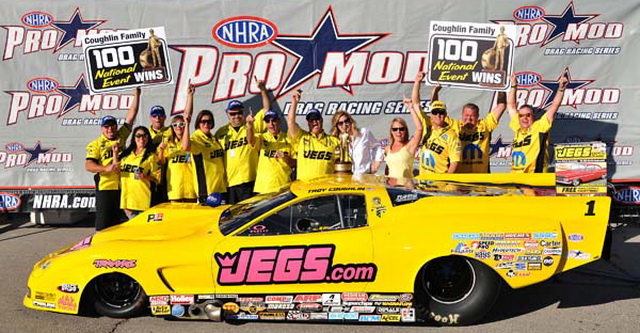 Troy Coughlin picked up his second win of the 2013 season in the NHRA Pro Mod Drag Racing Series at the NHRA Toyota Nationals at The Strip at Las Vegas Motor Speedway. The race is the final in 2013 for NHRA's popular 250-mph doorslammer touring series.
Coughlin, the 2012 world champion in the class, also earned his fourth career NHRA Pro Mod Drag Racing Series victory and the 100th for the Coughlin family in NHRA national events by taking his turbo-powered JEGS.com Chevy Corvette past Danny Rowe in the final round.
It topped off a strong display in eliminations for Coughlin, who finished second in the points standings. After qualifying No. 2 with a 5.922 at 245.99, Coughlin claimed a victory in the first round over Dan Stevenson by going 5.918 at 245.72 on Saturday. Coughlin's Sunday started with a bye run and weekend-best pass of 5.889 at 246.75 to move into the semifinals, where he knocked off Mike Knowles before taking on Rowe.
As soon as Coughlin won he dedicated the Wally trophy to his younger brother Jeg Coughlin Jr. The Vegas win was the 100th for the Coughlin family in NHRA national events, with Jeg earning 72 of that total.
"I thought about it for a long time," Coughlin said. "We've all raced about the same amount of years, and every now and then, someone asks, 'Which one of you guys is the better driver?' I said, 'You'll have to let the trophies speak for themselves because Jeg's got a ton of them. The rest of us have a good amount, but he's got quite a bit."
Troy signed the base of the trophy with, "To Jeg: You've paved the way to the 100th. This one's for you. Love, Troy."
"I handed it to him down at the finish line," Coughlin said. "It's pretty neat. It's a proud moment for the family, and to be able to dedicate this to him, there's nothing better."
Jeg Coughlin had just lost in the semifinals of Pro Stock, but watching his older brother blitzing Danny Rowe in the Pro Mod final put a wide smile on Jeg's face.
"I had just gotten beat by V Gaines in the semifinals, and I was making my pass in front of the stands," Jeg Coughlin said. "We've had such a fantastic crowd here all weekend. I saw Troy leave, and I said, 'Please get down, please get down,' because it looked like he tattooed (Rowe)on the Tree. He came screaming by us for a commanding win.
"That's pretty special. Not many teams in any form of motorsports can say they won 100 major titles. To my entire family: Congratulations. It's been a lot of fun getting to those 100, and we're going to celebrate this 100th shortly."
The Coughlin family, including John, Troy, Mike, Jeg Jr., and Troy Jr., has combined for 100 NHRA national event victories since 1990. The Coughlins have won in nine different categories, including Pro Stock, Pro Stock Truck, Pro Mod, Comp, Super Stock, Super Comp, Super Gas, Top Sportsman and Top Dragster.
Troy now has seven national-event victories, including two this season. His victory Sunday moved him to second in the final points standings a season after winning the Pro Mod championship.
"What a milestone for any team," Coughlin said. "I couldn't be any more proud to be a part of our team and our family. To win the 100th race – and to do it at the last race of the season – it's the icing on the cake."
Coughlin was thankful for his team, his family and all the JEGS employees in what was a shining moment in his career.
"What can I say about (crew chief) Steve Petty; Brian Metzenheim; Mike Rees; Kyle Pettus; my wife Julie; my dad; my kids T.J., Meghan, Paige and Kelly; the whole family back at home – what can I say when you've got a support group like that who stands behind you," Coughlin said. "And all 400 folks back at JEGS.com sticking behind you, it's pretty awesome. They make it easy for us, that's for sure."
Coughlin came to Las Vegas fifth in the points after a bit of an up-and-down season. He's raced to four final rounds but also failed to qualify in Charlotte last month and lost in the first round three times.
But a recent test at Osage Casino Tulsa Raceway Park proved fruitful for Coughlin and the team, as they were the fastest car in Vegas from the final qualifying session on.
"We had a fantastic season, no doubt," Coughlin said. "It was kind of roller-coaster, but Steve and those guys worked on this thing in testing in Tulsa, Okla. What a great place to test, and they just kept working difference pieces and parts and got it to where it would repeat and be fast. We just kept picking on the tuneup. What can I say about Petty? He's the man."
Coughlin was quickest in three of the four rounds of eliminations in Vegas. He had a bye in the second round Sunday, but still made a solid pass to advance to the semifinals. There, he and Mike Knowles had identical reaction times, but Coughlin's run of 5.902 seconds at 247.29 mph overpowered Knowles' 5.938-second pass at 243.85 mph.
Against Rowe, Coughlin had a stellar .047-second reaction time to get an .056-second jump, and then ran 5.913 seconds at 248.34 mph to take down Rowe and his supercharged Agave Underground Tequila Camaro, which posted 5.975 at 242.63 mph.
"I couldn't tell you who staged first or who staged second," Coughlin said. "When you're in the zone, you're in the zone. We just need to stay there."
Unfortunately for Coughlin, he'll have to wait until 2014 for the next NHRA event, in Gainesville, Fla.
"I wish it was next weekend," Coughlin said. "We could shove it in the trailer and take it straight to Florida. We've got a PSCA race here (Las Vegas) in a couple weeks, and it should be pretty cool. It's a pretty big payday, so it should be exciting."
(Photos courtesy NHRA/National Dragster; JEGS/Kommel; Click to enlarge)