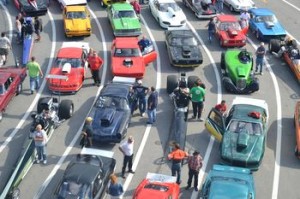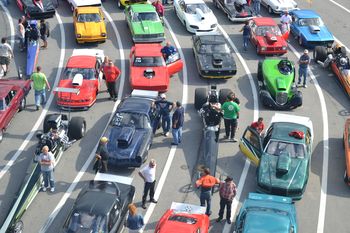 After a weekend of great weather and tough action on the track in Thunder Valley, Seth Street made his Super Chevy Show even more memorable by taking top honors in Bracket I after defeating a challenging field of competitors.
The Cedar Bluff, Va. native defeated Richard Goins of Louisville, Tenn. in the final round at Bristol Dragway on Sunday. The run was a double-break-out affair with Street running closer to his dial. Street left the line with a .015 reaction time, and raced through the line with a 5.857 elapsed time (5.86 dial-in) at 117.54 mph. Goins matched a .053 R.T. with a 4.674 E.T. (4.68 dial-in) at 142.88 mph on his run.
Chad Dotson of Mill Spring, N.C. drove to victory in Bracket II by ousting Russ Almand of Spring Hill, Tenn. in the final round. Dotson left the line with a .058 R.T. and finished in 6.734 seconds (6.72 dial-in) at 98.53 mph. Almand left with a quicker .054 R.T. and finished his run with a 6.601 E.T. (6.58 dial-in) at 102.84 mph.
Josh Curtis won the Sportsman category over Cody Spears. Curtis, of Warrenville, S.C., won the race on the line when Spears went red in the final. Curtis left with a .048 R.T. and finished in 17.444 seconds (17.42 dial-in) at 82.59 mph.
Junior Dragster Division I went to Jackson Bailey of Princeton, W. Va. when Alexis Whitaker of Telford turned on the red light at the starting line. Bailey turned in a .052 light with an 8.989 E.T. (8.92 dial-in) at 71.32 mph on his winning run.
Jr. Dragster Div. II honors went to Bluff City's Austin Roberts. Roberts defeated Dillon Lemaster of Louisa, Ky. in the final round. Roberts had a .016 R.T. and an 8.299 E.T. (8.15 dial-in) at 70.31 mph in the final round.
Bristol Dragway always hosts one of the most impressive Super Chevy Shows and this season was no exception. The highlight of Saturday's action was the Beef O' Brady's Thunder Valley Mayhem presented by Thompson Metal Services. Fans were treated to Nitro-powered Pro Mods, Jet Dragsters and quick Top Fuel motorcycle passes by Larry "Spiderman" McBride during the Pro Show rounds of Thunder Valley Mayhem.
Randy Moore drove the World's Fastest Monster Truck, Maximum Overkill, down the legendary quarter-mile, while members of the outrageous Team FMX motocross group took to the skies high above Thunder Valley. Megasaurus ended the evening by taking a bite out of a junked car as fireworks filled the air.
On Saturday afternoon, True Street participants went for a 30-mile cruise through the area surrounding Bristol Dragway, before returning to Thunder Valley to slug it out for the top spot in their respective index. After proving their road-worthiness, the machines took three passes down the legendary quarter-mile.
Adam Green drove to the overall win from his position in the 11.00-second index. Green's overall average time was an 11.018, putting him closest to his chosen index.
Adrian Whitson (9.00-second index), Garnie Peterson (10.00-second index), Bobby Green (12.00-second index), Logan Austin (13.00-second index), Darrel McGlothlin (14.00-second index) and Tracey Cannon (15.00-second index) earned wins in their respective categories during Saturday's True Street competition.
(Photo courtesy BristolDragway.com)