If there's any thought to how one Steve Jackson is viewing the upcoming Drag Illustrated World Series of Pro Mod presented by One Cure and J&A Service at the legendary Bandimere Speedway, it comes down to this: Stevie Fast gonna Stevie Fast.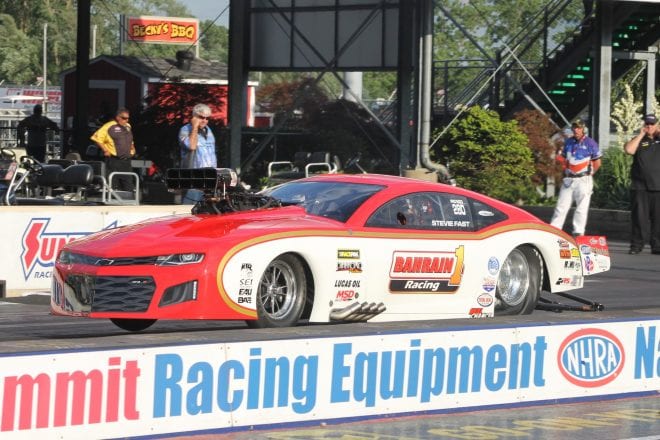 Appearing on Drag Illustrated Editor-in-Chief Wes Buck's Facebook Live show Wednesday, Jackson spoke on a number of topics, including the WSOPM and his thoughts on the current state of Pro Mod racing within the NHRA. While the Georgia native is still in his first year in the class, earning the pole in his debut at Gainesville and then earning his first Wally four events later in Topeka, years of racing all over the world has given him the perspective and expertise to opine intelligently on anything and everything regarding dropping the hammer at the starting line and earning the win light at the finish.
"It's the hardest thing I've ever done in racing," he said to Buck, describing his rookie season in NHRA Pro Mod. "It's awesome. The competition is so tight and at times, we've got some lopsided rules to contend with and the conditions are crazy. We had some really good air at the beginning of the year and really bad air at the last couple of races, but some really awesome race tracks and some challenging race tracks. It's the whole deal."
The Pro Mod fields have been, hands down, the most robust of any of the NHRA Pro classes in recent years. This, despite the sanction's inexplicable lack of desire to promote it in the same manner as, say, Pro Stock, a class many consider to be in its death throes.
Pro Mod's a different beast, though. Taking nothing away from any NHRA Pro or Sportsman class, Pro Mod racers and fans live and breathe the action like no others. There are classes where drivers will stay home if their field looks to be too crowded. Understandable when funds are hard to come by. Why race when there is a solid chance you could go home empty-handed for your troubles?
Like just about anything racing-related, Stevie Fast has an opinion on this.
"Man, this is America!" he said. "You want to win over here, you want to win at this level? The competition, the way it is, will weed out the people who aren't serious about it. I think it's fine. You could open the field up to 50 cars, 60 cars. I don't worry about how hard it is to run people away because if you're a true competitor, that don't make you want to quit. It makes you want to work harder and put more effort into it.
"We go out there and make strong runs and qualify 14th. I've DNQed a race and a lot of other guys who are talented have done the same thing. I don't worry about that at all. I think we get the rules tight and right and let's go racing."
For the WSOPM, instead of qualifying, the first round of eliminations has been decided based on a random draw, giving fans an opportunity to possibly see some of the biggest names in the sport go down in E1 and giving drivers time to really study their opponents. There are no gimmes at the World Series. Having said that, Stevie isn't above hoping for some gremlins to visit the other 15 teams.
"I'm not glad to have any of these guys first round," he said, laughing, regarding his first-round opponent Mike Janis. "I hope all their cars shut off and I win by default, what are you talkin' about?
"Those guys are innovators, they think outside the box and I like that and respect that. Anytime you think outside the box, you're going to fail more than you win, but you don't take those guys lightly because they can slap outrun you. The way I approach that and the way I'm going to approach that is I'm going to assume they're going to hit that homerun ball and I'm going to try to have a bigger bat than they do."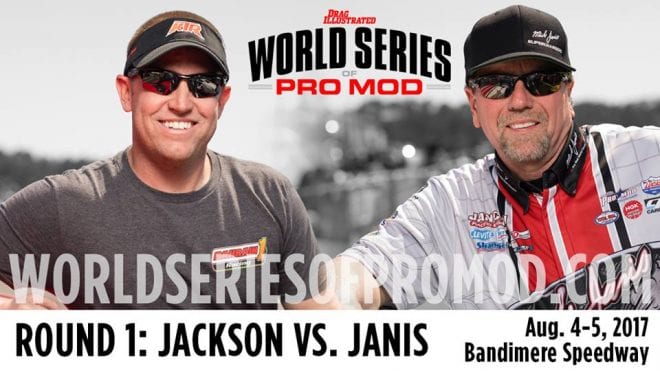 Regarding the blueprint of having a random opponent in the first round instead of a traditional qualifying schedule, Stevie Fast is all for it.
"Hell yes! It's awesome, it's different," he said. "You're not finding out 12 hours before you run the guy. I like it. I like anything different. I could care less who we run. You could put me against a Top Fuel dragster and I think I could win most of the time. But that doesn't affect me at all; I like it.
"People are calling me and asking me about it and stuff, about who we're racing and all that, it's got a little bit of buzz behind it. I like it. I think it's a good thing. I think it's a cool concept and it shakes things up."
The other interesting aspect of the WSOPM is the fact only the winner goes home with the cash. Not only is the runner-up the first loser, the runner-up is going home with the same money they came to the track with. Only one driver is leaving with a $100,000 paycheck. The rest are leaving with only memories.
A grudge racer from way back who is not interested in your plan to split the winnings, Stevie races for the trophy, not the check.
"You can believe me when I say this," said Jackson, "I don't care if it's a hundred billion to win and nothing to finish second, I want to win just as bad every single round, every single test pass, every single round of qualifying, every first round in every event, I approach them all the same. I run it just as hard as I think the thing will run to the finish line and I want to crush the guy, or girl, in the other lane. Just the same, I could care less about that money.
"If you're thinking about that money, I've got you already."
The World Series of Pro Mod is Aug. 4-5 at Bandimere Speedway near Denver. Be one of the cool kids. Get your tickets now.