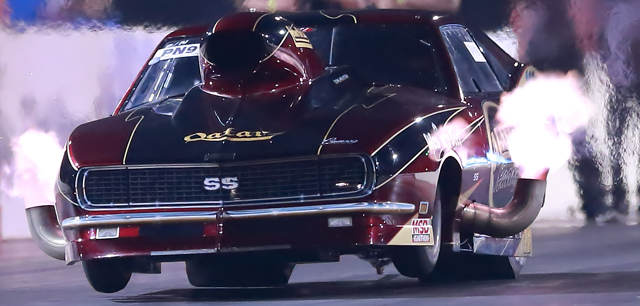 After just the first round of qualifying for the ADRL Summer Drags it was clear that the Pro Nitrous eliminator was shaping up to be one for the ages. By the end of four sessions, it was undeniable that assembled on the property of US 131 Motorsports Park in Martin, Michigan, were 16 of the quickest, fastest and most competitive nitrous oxide-injected doorslammers on the planet.
Amongst those heavy hitters was relative newcomer to Pro Nitrous competition, "Stevie Fast" Jackson – a name well known in Outlaw Drag Radial racing circles – who qualified 4th in the field with a 3.808-second elapsed time in the Al-Anabi Racing '68 Camaro.
"There were a lot of bad ass, fast hot rods there this weekend," said Jackson. "When we got there, we knew we had a good car – a consistent car. We made 6 runs on Thursday and Friday in testing and went between 3.83 and 3.86. When we saw everyone really start hauling the mail on Saturday – Mike Castellana, Jim Laurita, John Hall, Bob Rahaim, everybody ran good – Billy [Stocklin, crew chief] and I got together and talked about it, and decided not to push the car to run that fast on Saturday because we knew the sun was going to come out on Sunday.
"We knew we'd get our chance to go fast on race day, but we didn't want to get into one of those deals where you get the car so jacked up trying to go fast in qualifying that you lose your handle on it."
Led by the aforementioned veteran tuner Stocklin, Jackson and crew headed to the staging lanes for the opening round of eliminations preparing for the first battle of a sure-to-be war-like race day against John DeCerbo, but mechanical issues prevented him from making the call, affording Jackson a competition single in the opening stanza. Looking to gain data and procure lane choice in the following round, Jackson reeled off a clean 3.842-second, 193.89-mph pass, besting his next opponent's time by two-thousandths.
"Conventional wisdom would say, being that the ladder was stacked and we had a bye run because Decerbo broke, to go out there and see how hard you can run – swing for the fences – but we elected to make a good, smooth, consistent lap to see if the car was where it was supposed to be," admits Jackson.
"We'd changed some stuff overnight and, honestly, Billy and I went back and forth on the starting line Sunday morning about it, but we wanted to make sure the guy in the next round knew he wasn't going to have a gimme – we wanted whoever it was to know that they were going to have to come beat us, that we weren't going to beat ourselves."
In the quarterfinal round, Jackson squared off with former IHRA Pro Stock champion Robert Patrick. When the ambers flashed, "Stevie Fast" was off the starting line first with a 0.024-second reaction time to Patrick's 0.038, and never wavered – pulling away on big end and taking the win with a 3.838 at 195.39 mph. Jackson would then face the most recent ADRL Pro Nitrous winner, Jim Laurita, in the final four.
Though Laurita had a small advantage at the start, it wasn't enough to hold off the hard-charging Jackson and his Reher-Morrison/Speedtech Nitrous-equipped Camaro, who earned a bit of redemption from the previous ADRL event at Virginia Motorsports Park with his 3.825-second, 195.30-mph victory – a performance that earned him a spot in the final round with Virginia-based Tommy Franklin.
"Looking at the ladder, we knew we were going to have a chance to stick it in [Jim] Laurita in the semis," said Jackson. "Those guys outran us in Virginia and I'm the type of guy that when someone outruns us – their name goes on the list. It's the kind of thing that keeps me up at night and I was just dying for the chance to get them back. He was at my door all the way up to 600-feet, but then that Speedtech Nitrous just carried me off into the sunset."
In the final, Jackson's first since his monumental season-opening victory at ADRL Dragpalooza IX at Rockingham, North Carolina, he crept slowly toward the staging beams only to step on the brakes and realize that he had none.
"I get up there and I go to pre-stage and the thing has no brake pressure – the pedal goes straight to the floor," said the always excitable Jackson. "It was rolling and I actually stopped it with the transbrake. I came over the radio and told Billy [Stocklin, crew chief], 'Listen, this thing has no brakes, so tell 'em to get the fire truck ready 'cause I'm taking this thing down through there."
Jackson left with a 0.047-light only slightly behind Franklin, and had him caught and passed by just beyond the 60-foot markers, taking the ADRL Summer Drags IX title with a 3.834 at 192.58 mph – over a car length ahead of Franklin at the finish line.
"With the brakes, I poked it in kind of deep and had kind of a bad light, but it went straight down the race track," explained Jackson. "I got the chutes out a little early 'cause I really didn't think I was going to stop, but it doesn't really matter now; I've still got a great hot rod I just feel bad that I scrubbed a little off what could have been a .78 for Billy. And I've got to say that Tommy Franklin and those guys came to race. They stepped up and we didn't take them lightly.
"The bottom line, though, is that when we got to this race, I told my guys, 'This is the midpoint of the season, this is the measuring stick for how we're going to run the rest of the year – this is the time when the players play and the boys go home.' I told 'em, 'We are winning this race. We are not going home without a trophy.' We tore some stuff up, but we got it done. Winning by intimidation is something we try to do. We have a car that we can tell you what it's going to run – we're not out here tuning blindfolded, pointing and shooting.
"At this race I wanted to let these guys know that if they're going to beat me, they have to be ready to do it," he continued. "In Petersburg, Virginia, we gave out a free round gimme. Well, the free round stand is closed down. If you are going to beat us, you better have your hard hat on and be ready to come work because we're going to make you earn it."
Jackson concluded by thanking the people that helped make the big weekend in Michigan possible.
"Have to say that it was a great weekend for my guys," he said. "They worked their butts off and I can't tell you how happy I am about getting this win for them and for KH [Sheikh Khalid bin Hamad Al Thani], who's letting me live the dream out here. None of this would be possible without them."
The American Drag Racing League returns to action at the ADRL Memphis Drags IV on August 3rd and 4th in Millington, Tennessee, on the grounds of Memphis International Raceway.
To learn more about Al-Anabi Racing's ADRL teams and follow their progress, visit www.facebook.com/alanabidoorslammers