Steven Boone is feeling pretty good. Entering the PDRA World Finals at Virginia Motorsports Park in mid-October, the soft-spoken North Carolinian has a three-round lead in Liberty's Gears Extreme Pro Stock. He just won his second-ever PDRA 660 Man trophy at the Fall Nationals at Darlington Dragway. Extreme Pro Stock, the PDRA's brand of mountain motor Pro Stock, is regularly attracting fields full of seasoned veterans and newcomers. Boone's businesses – he has three of them – are doing well.
All things considered, it's not hard to see why Boone always has a smile on his face – and, of course, one of his signature bucket hats on his head.
"My goal when we started the season was to finish in the top 5 in points," Boone says. "I was really concentrating on this 3.99 barrier that Pro Stock is trying to hit. Now, even though I would love to be the first person to run 3.99, my focus has changed now to be more consistent and try to win rounds. I've never been in this position, and it feels good."
Boone's venture into mountain motor Pro Stock started in 2009, first competing in IHRA Pro Stock before the class was eliminated from the sanctioning body's roster. Boone then moved to ADRL Extreme Pro Stock, where he earned his first win in 2010 at the Georgia Drags in Valdosta. A so-so season followed in 2011, then Boone parked his operation for a few years while the state of big-inch Pro Stock racing was in limbo.
The PDRA added Extreme Pro Stock to its lineup for the 2016 season, drawing Boone back to competition for the last two races of the year. He's enjoyed racing since then, running a limited campaign last year and a dedicated full season this year.
"The PDRA has been a great organization to race with," Boone offers. "I'm very appreciative that they give us a place to run."
Beyond the PDRA as whole, Boone goes on to explain how the camaraderie in the Extreme Pro Stock pits keeps him coming back. The class has become a branch of Boone's family, and it all began with his relationship with his engine builders, Allen Competition Engines.
"Ever since we've started, we've been with the Allens," Boone says. "They're just like family, really. Everybody that we race with, even the other engine builders – Jon Kaase and Sonny (Leonard) – everybody's treated us great.
"The Pro Stock group just seems like a big family to me. I know there's controversy out there between some people, but not with us," Boone adds with a laugh.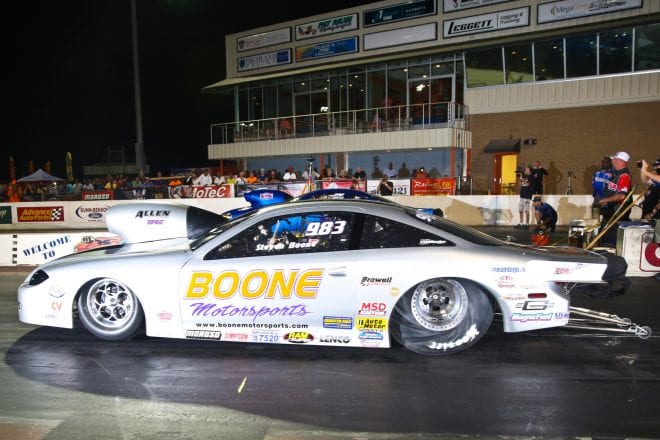 Extreme Pro Stock isn't just a bunch of buddies getting together to race, though. Car counts are steadily climbing back to the brimming fields of the "good old days", while on-track performances are creeping up on unprecedented numbers and close racing. All of this is encouraging for Boone.
"When we started racing again, the class wasn't having cars show up like I was hoping they would," Boone admits, looking back on the short eight-car fields of 2016. "Now we're having 15-16 cars. The class is growing. I really think that by next year we'll have even more cars show up."
Mountain motor Pro Stock, by some accounts, was on its deathbed just a few years ago. But with a reliable place to race and a bevy of sponsors – like title sponsor Liberty's Gears – supporting Extreme Pro Stock, Boone is confident the class can continue its naturally aspirated climb.
"We would all like to see it get back to it was in the old IHRA days when you had 20-21 cars, but if we had 18 cars, that would not be out of the realm," Boone says. "We sat and figured up there's about 26-28 cars still left in the United States that could come out and race. I honestly feel like some of these guys will come back."
Trying to run at the front of a thriving class has required Boone to step up his program this season. His Boone Motorsports '07 Chevy Cobalt has been consistently running in the 4.0-second zone all season, carrying him to victory at the North-South Shootout and the Fall Nationals, plus a runner-up finish at Drag Wars at GALOT Motorsports Park.
Boone, who services the engine and handles the suspension between rounds, shares credit for the car's performance with tuner Mike Allen Jr. and the Boone Motorsports crew, adding that it all comes down to one thing.
"Hard work," Boone says. "Very, very hard work, between the engine shop and testing different things. My engine builders work hard on my stuff. My team doesn't give up. My team is one of the hardest working teams that I've ever been around. We had a bad year last year and we had some struggles, but they never gave up.
"We've tried some new stuff. Adam Lambert with Precision Racing Suspension has helped us with the suspension. But the main thing has been hard work. Sometimes you don't have to have the biggest pocketbook, you just have to work hard."
The always-humble Boone also offers his thanks to supporters like Hoosier Tire, Pat Norcia at Ram Clutches, Penske Shocks, and Richard Boling Race Cars, as well as the employees of his three businesses: Boone Concrete Works, WNC Refab, and Boone Motorsports, a high performance automotive shop.
This story originally appeared in DI #138, the Photo Annual, in November of 2018.