With an eye on outside-the-box and innovative thinking, Steve Matusek and Elite Motorsports' Pro Mod operation announced a key partnership with Turbosmart, a leading worldwide manufacturer of performance accessories for forced induction vehicles, that will stretch across the entire Elite Motorsports Pro Mod group.
On the heels of the recent announcement utilizing Garrett Advancing Motion turbochargers, this represents another major move for Matusek, Elite Motorsports, crew chief Shane Tecklenburg and Modern Racing's Justin Elkes as they prepare for the 2019 NHRA Pro Mod season. Tecklenburg's previous relationship with Turbosmart was instrumental in putting together the deal between the company and Elite Motorsports, and Turbosmart's creative and forward-thinking designs and applications will be apparent on Matusek's turbocharged Mustang. It adds up to another exciting incentive for the veteran standout heading into the upcoming year.
"We want to create a package that is the best package available and it's exciting to team up with a company like Turbosmart," said Matusek, who is also the president of Aeromotive, Inc. "We're finding manufacturers that want to be involved with us, looking at the talent involved with this team, and they're not going to get involved if they don't have something to offer that moves the needle. This is the best of the best with what Turbosmart does. They have innovative ways to do things, they want to learn and they want to evolve their product line, and those are the things that excite me."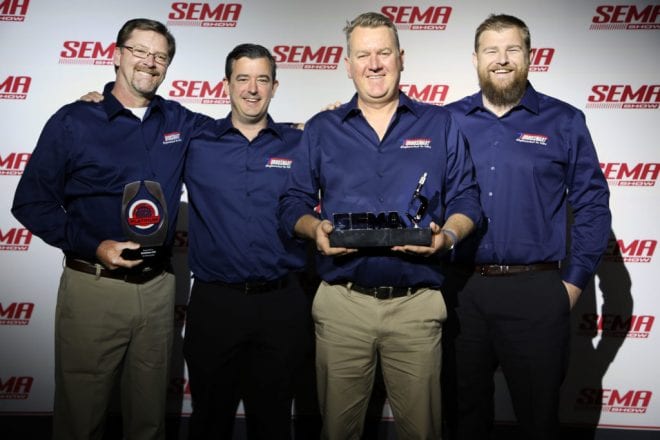 Founded in 1997, Turbosmart started in a small garage in Sydney, Australia, developing into a dominant force when it comes to performance products for turbocharged vehicles. Turbosmart opened its North American office in 2007 and has racked up a slew of industry awards for its high-quality blowoff valves, wastegates, boost controllers, gauges, pressure regulators and hoses. In 2018, Turbosmart claimed six awards at the SEMA show for its revolutionary Gen-V Wastegate range.
"Turbosmart is incredibly honored to be helping the Elite Motorsports teams and Shane Tecklenburg in their pursuit of NHRA Pro Mod wins," Turbosmart General Manager & VP Marty Staggs said. "Drag racing is in our DNA and we are excited to bring our 22 years of experience in manufacturing world class boost control products to these teams and do our part in helping them go after those Wallys."
Adding Turbosmart's innovative line to an already talented team that includes Tecklenburg and Elkes adds to the big expectations for Matusek and the rest of the Elite Motorsports Pro Mod teams, which also include two-time Pro Stock world champ Erica Enders and Alex Laughlin.
"Turbosmart are my go to for boost control," Tecklenburg said. "With the integrated sensors available for both the wastegates and blow off valves, they really make a big difference when you are trying to extract every last bit of performance from a turbo combination. The gates are very consistent, particularly at low boost, which is important for launch. I'm really happy to have Marty and Turbosmart on board with us. As a race engineer, it gives me real peace of mind."
Matusek has been impressed with the way his team has come together, adding exciting partnerships with companies like Turbosmart along the way. He has maintained a steady dialogue with Elkes and Tecklenburg as the team prepares to put its best foot forward in Gainesville, the site of the 2019 E3 Spark Plugs NHRA Mod Drag Series season opener in March.
"We're excited to partner with Turbosmart and utilize their waste gates and boost controllers not only on the Elite Motorsports Pro Mod cars, but on each and every turbo project that comes through the shop at Modern Racing," Elkes said.