Rick Jones and his staff at RJ Race Cars have been busy this winter preparing the Elite Motorsports stable of Pro Stockers for the 2016 season. With a new manufacturer and the introduction of sweeping rule changes for the Pro Stock class, the Galesburg, Illinois-based shop certainly had their work cut out. Jones sent over this update with photos of Jeg Coughlin Jr.'s 2016 Dodge Dart, complete with the new intake duct to comply with the recently mandated EFI system.
"When NHRA said that we were going to be running fuel injection with no hood scoops in 2016, it created a huge discussion on how to efficiently get air to the engine from the lower grill area of the front end," Jones said.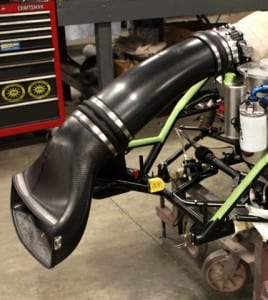 "It was no easy task to accomplish in just a couple short months, but we had the privilege of working together with Tim White, Glenn Gray, and Bob Blackwell from NHRA, along with Steve Williams and Jonathan Fiello from K&N, during the development and design of this system. The final product is manufactured out of carbon fiber by K&N, and they did a fantastic job. To have the first one in our hands and install it this week on Jeg Coughlin's new Dodge Dart, and I can't say enough about the great job everyone did on this project.
"The 2016 season is fast approaching. We will have Erica Enders' new car back from the paint shop this week, and will be doing final assembly after the first of the year. The conversion to the duct system and other NHRA Pro Stock rule changes are also well underway on Drew Skillman's and Vincent Nobile's Chevy Camaros, and we expect to have the repainted front ends back from the paint shop any day. In the next couple weeks we plan to finish all four cars and have them ready for Elite Motorsports to do some pre-season testing before Pomona," Jones concluded.