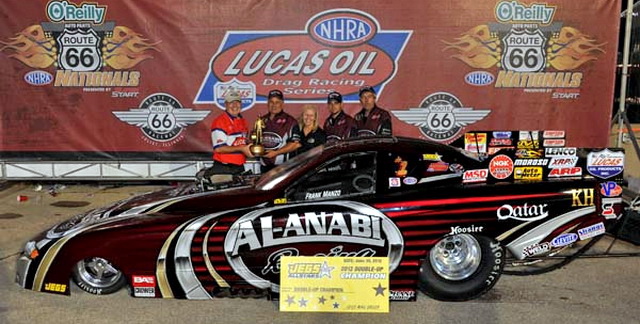 JEGS took its annual Allstars competition for Sportsman racers to another level in last Saturday's race (June 30) at Route 66 Raceway, with four drivers "doubling up" with big cash prizes for scoring both a JEGS Allstars victory and the national-event win on Sunday.
Frank Manzo in Top Alcohol Funny Car, Bruno Massel in Comp, Sherman Adcock in Super Gas and Ricky Shipp in Super Street not only won the JEGS Allstars race in Chicago, but they also took home the national-event Wally form the 15th annual Route 66 NHRA Nationals.
"On behalf of the 350-plus associates of JEGS High Performance, my family and the hundreds of thousands of Sportsman racing enthusiasts around the world, I congratulate Ricky, Bruno, Frank and Sherman on this incredible accomplishment," said John Coughlin, vice president of JEGS and a decorated drag racer himself.
"Anyone that's ever attended a drag race or strapped on a helmet knows just how hard it is to win a race. To win a national event and the JEGS Allstars race in the same weekend is impressive. These guys beat the best of the best not once, but twice in the same weekend. Incredible! We would love nothing more then to be paying a JEGS double-up bonus to each of the eight eligible classes. What a way to end a great weekend of NHRA Lucas Oil Drag Racing."
Manzo, one of the top Alcohol Funny Car drivers of all time, earned $7,000 for his JEGS Allstars win and an additional $7,000 in "Double Up" money by taking home the national event victory in the class.
"For myself, and I think most of the Sportsman racers agree, it's pretty cool to do something like that," Manzo said. "To win just the Allstars race is an unbelievable thing to do. To come back the following day and win the race, it's great. It's tough competition. That's why they call it the Allstars because it's all the all-stars in there racing.
"Really, the all-star of the whole race is the JEGS family who puts it on. As a Sportsman racer, I really appreciate what they do for us. They always go the extra mile and make it even better for the racers. This double-up money is an unreal thing that they do."
Massel turned the trick in Comp, earning $6,000 for the JEGS Allstars race win and another $6,000 for winning the national event.
"Serious highs and lows this weekend," Massel said. "It was great to double-up and take two wins like that, but I found out our shop took some major damage due to a fire so we are sorting through all that.
"I'm thankful the family was here with me at the track. Winning the JEGS Allstars was really special. All the racers appreciate what JEGS does for us and the way they take care of all the participants makes you feel very special. Everyone talks about this race all year and a big part of that is the way JEGS does it up."
Adcock and Shipp both earned $4,500 each for the Allstars victory and for the national event win.
"I can't say enough about JEGS and the support they show for Sportsman racers," said Adcock, who swept the weekend in Super Gas.
"The JEGS Allstars race is such a big deal because it's the one day of the year when we're the stars of the sport. It's really special to be involved and a real honor to win that race. It's the one that sticks out the most. The national event was just icing on the cake."
Shipp's weekend was memorable, too, as he doubled-up in Super Street.
"It feels good. I had no idea I'd go do it. I don't know how to explain it. It's definitely my best weekend racing so far," Shipp said.
"Saturday, the car was really good, probably the best it's ever been. Come Sunday, the air changed quite a bit, and we missed the setup a little bit, but things just worked out in the end. It really hasn't even sunk in yet."
Also winning a JEGS Allstars class on Saturday were Chris Demke (Top Alcohol Dragster), Jerry Emons (Super Stock), Dylan Stott (Top Sportsman), Slate Cummings (Stock), Aaron Kinard (Super Comp) and J.R. Lobner (Top Dragster).
(Photos courtesy JEGS; Click to enlarge)