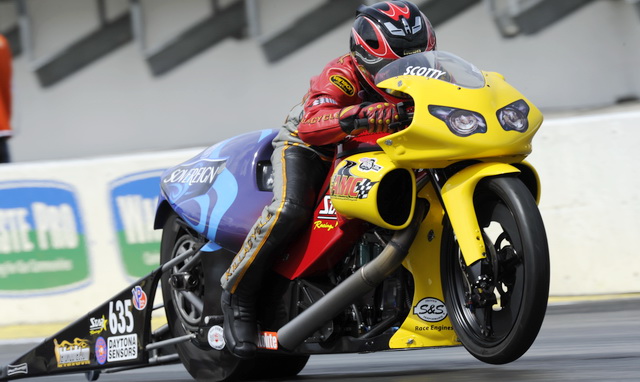 According to a decision handed down Sep. 26, by Graham Light of NHRA's Competition Department, the Sovereign-Star Racing team will not be permitted to enter 19-year-old developmental driver Chaz Kennedy as the replacement racer following Scotty Pollacheck's surprise resignation from the team two days earlier.
Through an unexpected Tuesday (Sep. 24) morning phone call, Sovereign-Star Racing team co-owner George Bryce was informed by two-year team racer Pollacheck (above) that he would be departing as the team's No. 6 racer for the remaining four races in the NHRA Mello Yello Series Countdown to the Championship.
Pollacheck stated he will continue racing independently in the Countdown on a Pro Stock Motorcycle purchased from Matt Smith Racing, beginning with this weekend's AAA Insurance NHRA Midwest Nationals in St. Louis.
Since joining the Sovereign-Star Racing team as a rookie for the 2012 season, Pollacheck had posted 27 round wins, including competing in three final and two semi-final rounds of competition. He also posted his career best ET (Elapsed Time) and the low ET of the event for Pro Stock Motorcycle at the 2013 NHRA Four-Wide Nationals in Charlotte, N.C.
Following the news that one of the Sovereign-Star championship contenders would be leaving the team and taking his points with him, Bryce scrambled to find a replacement driver on Tuesday for his two-motorcycle team.
Later that day, NHRA's Competition Department initially allowed Sovereign-Star Racing to register Kennedy for this weekend's event, even though the deadline for registration had passed as of Monday at 1 p.m. (PST) prior to the original phone call from Pollacheck. This decision by NHRA was based on the assumption that Kennedy would be replacing Pollacheck's entry.
"We've been planning all year for Chaz (Kennedy) to get some seat time at a national event to get more experience before his official rookie season in Pro Stock Motorcycle. Originally, we thought that he would drive our Suzuki at Vegas and Pomona, as long as it wouldn't take away from our championship runs with Scotty (Pollacheck) and Michael (Ray)," Bryce explained.
"With the current situation, we thought Chaz would be the best option to allow our team to fulfill our sponsorship agreements."
Upon further review of the situation, however, NHRA returned on Thursday (Sep. 26) to inform the team that Kennedy would not be permitted to register because he was not replacing Pollacheck's entry, but was an additional entry after the Monday (Sep. 23) 1 p.m. deadline.
"I had no idea that NHRA wouldn't let us fill in the blank that was left on Tuesday morning. It never crossed my mind," Bryce said.
"It doesn't allow us to do our job. I'm very surprised first of all about the news and decision from Scotty and second of all that NHRA wouldn't allow us to remedy the situation to meet our obligations to our team, our sponsors and our fans. This new development from NHRA adds to the unfortunate situation that Scotty left us in."
The 2013 Sovereign-Star Racing Team is a partnership between Georgia-based Star Racing and the Hungarian-based Sovereign Racing Team, the 2011 UEM European Pro Stock Bike Championship Team, owned by sugar distributor Jenõ Rujp.
(Photos courtesy NHRA/National Dragster; Click to enlarge)